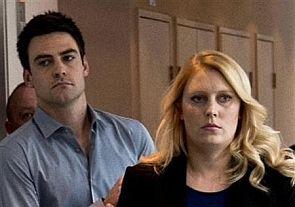 One of the two Australian radio jockeys, involved in a hoax call to a United Kingdom hospital treating a pregnant Kate Middleton that apparently led to the suicide of an Indian-origin nurse, has said she was depressed and ashamed of herself and the prank call should never have been aired.
"I don't ever want to listen to it (the recording of the prank call) again, because I'm ashamed of myself. I should have tried harder not to let that prank call air. It never should have aired," a tearful Mel Greig said during an interview. "You're meeting a Mel that has no confidence, a Mel that's so lost with her life, a Mel that feels so much blame and so much guilt nine months down the track. This Mel's depressed," said Greig.
Indian-origin nurse Jacintha Saldanha, 46, had been found hanging days after the call from 2Day FM radio jockeys Greig and Michael Christian posing as the royal family in late 2012. The duo had posed as Queen Elizabeth II and Prince Charles on the phone.
Saldanha had answered the call at the King Edward VII Hospital in London and put them through to another nurse who gave an update on the Duchess of Cambridge's condition.
Greig said she wanted the voices of the two nurses at the hospital to be disguised, but station bosses said no. Saldanha left a note blaming them for her death. Greig said she has been depressed and is no longer the fun-loving person she was before the notorious prank call, broadcast by the Sydney radio station 2day FM.
She said she and her family had received death threats. "They'd ring my mum and say, 'Eye for an eye, you need to die because she died.' So many horrible calls. Dad was rushed to hospital from the stress and I thought, 'Great, now I've killed my dad too'."
When asked if she wanted to apologise to the nurse's family, Greig said, "I think it goes both ways, I honestly do. By saying sorry I acknowledge that I know I've done something wrong and am deeply sorry for it, but for them as well if it's going to give them closure, if they need to know I cared about their mother then I think that's useful to them as well."
The prank call had sparked international outrage against the radio station following Saldanha's subsequent suicide.
Image: Australian radio jockeys Michael Christian and Mel Greig (right) posed as members of the royal family to pull the prank on the hospital staff.