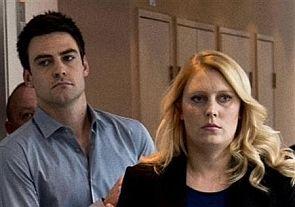 An Australian DJ involved in a royal prank call to a premier London hospital that resulted in the death of an Indian-origin nurse has settled her lawsuit with the radio network and resigned.
Southern Cross Austereo, the licensee for radio station 2Day FM, confirmed it had settled "amicably" a dispute brought by Mel Greig, one of the two DJs who made a prank call last December to the King Edward VIII hospital where Kate Middleton was being treated for acute morning sickness, The Australian reported.
Greig faced a global backlash after the death of hospital nurse Jacintha Saldanha, who was found hanged three days after transferring the hoax call to staff caring for Prince William's pregnant wife Kate.
Grieg had filed a claim against Southern Cross Austereo (SCA) with Fair Work Australia, accusing it of failing to maintain a safe workplace.
The SCA said it had "at all times taken complete responsibility for the hoax call and the company maintains its view that the recording and broadcast of the call was not unlawful."
"Mel Greig wishes to make it clear that as an announcer she was not responsible for the decision to broadcast the hoax call," the SCA said in a statement.
"Prior to the call being broadcast she made suggestions for changes to be made to the recording of the call. 2Day FM decided that the call should be broadcast without alteration," it said.
SCA also said it "greatly regrets the unforeseeable tragic aftermath of the call" and has contributed "a substantial amount" to a trust established to assist Saldanha's family.
The radio host Greig also wished to pass on her "personal condolences and regrets to the Saldanha family".
Greig has resigned from her employment with Southern Cross Austereo and will end her services to the company on December 31.
Greig reiterated she will provide a statement to the UK Coroner's inquest into Saldanha's death.
Meanwhile, the other DJ involved in the prank which aired on the Today network's nationally-syndicated evening show, Michael Christian, returned to air and in June was named SCA's "top jock".

Image: Sydney-based 2DayFM radio announcers Michael Christian (L) and Mel Greig
Photograph: Reuters