Australian Prime Minister Anthony Albanese on Wednesday paid rich tributes to Mahatma Gandhi, saying his values and philosophy continue to inspire the world and a lot can be learnt from his life, as he visited the Sabarmati Ashram in Ahmedabad after arriving in Ahmedabad on his first India tour.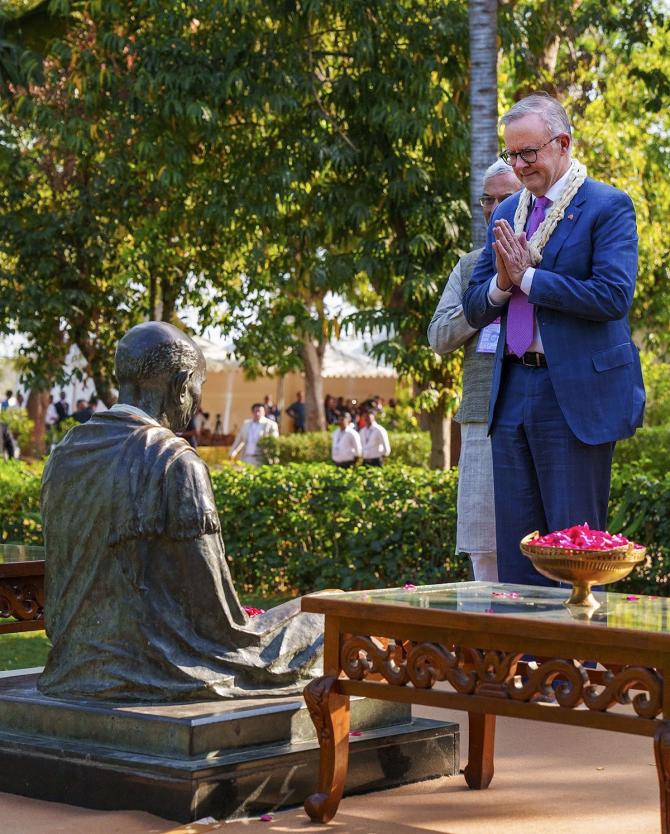 He arrived at the Sardar Vallabhbhai Patel Airport in the city in the evening and headed straight to the Ashram, the former home of Mahatma Gandhi which also served as one of the main centres of India's freedom struggle.
The Father of the Nation had established the Ashram on the banks of the Sabarmati river in 1917 and lived here till March 1930, when he launched the famous 'Dandi March' and vowed not to return to the place till India attains freedom.
Albanese, who is on a four-day trip to India, was welcomed at the airport by Gujarat Chief Minister Bhupendra Patel, who also accompanied the visiting leader during the Ashram tour.
Though it was not mandatory for visitors to remove footwear while walking on the open ground of the Ashram, the Australian PM did so out of respect for Mahatma Gandhi and the iconic place, said Ashram trustee Kartikeya Sarabhai.
The visiting dignitary also saw 'Hriday Kunj', a room inside the Ashram where the Indian independence hero lived.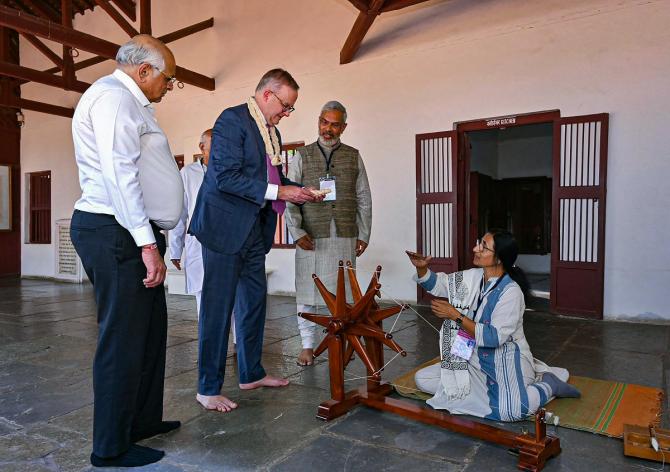 "He (Albanese) was amazed to see how khadi is weaved using a spinning wheel. The word 'khadi' was new to him, so our trustee Amrutbhai Modi, explained the entire process to him," Sarabhai told reporters.
On behalf of the Sabarmati Ashram Preservation and Memorial Trust, Sarabhai and other trustees gifted to the visiting leader a book written by Australian author Thomas Weber on Mahatma Gandhi's historic salt march.
The Ashram gifted another book depicting the Father of the Nation's life in Ahmedabad from 1915 to 1930, and a replica of charkha, or spinning wheel, to Albanese, who spent nearly 20 minutes on the premises.
In the visitor's book, the Australian leader wrote that Mahatma Gandhi's values and philosophy still inspire the entire world.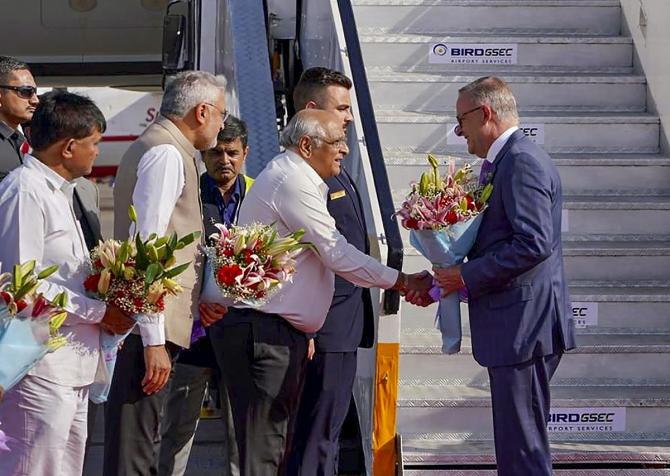 "It is a great honour to visit, to pay homage to Mahatma Gandhi whose philosophy and life values continue to inspire the world today. We have much to learn from his example," wrote the Australian PM in the book before leaving for Raj Bhavan.
He will attend a Holi programme at Raj Bhavan in Gandhinagar, as per schedule shared by authorities.
Prime Minister Narendra Modi will arrive in Gandhinagar at around 8 pm.
Both the prime ministers will watch the first day of the fourth cricket Test match between India and Australia beginning at the Narendra Modi Stadium on Thursday.