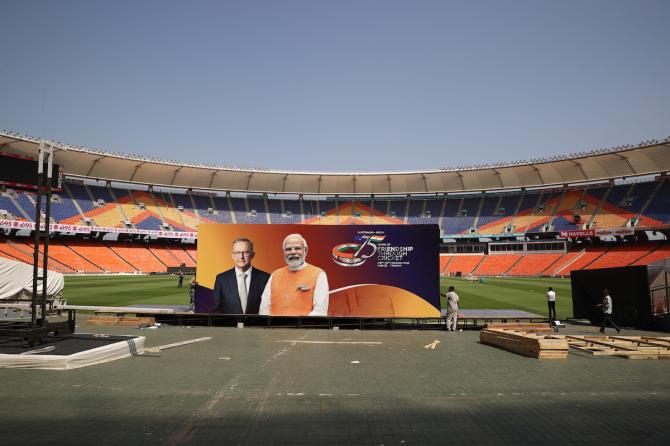 The air is festive but security has been beefed up for Prime Minister Narendra Modi and his Australian counterpart Anthony Albanese's visit on the opening day of the final Test of the Border-Gavaskar Trophy in Ahmedabad on Thursday.
While PM Modi has earlier visited the refurbished 1.10 lakh capacity stadium during the inauguration of the National Games last year, this is the first time he will be watching a Test match after its renaming.
Modi and Albanese's visit is a part of the celebrations relating to the 75 years of Indo-Australia friendship.
Both the PMs are expected to take a round of the stadium on a gold-plated golf car.
"It was the same golf car on which the honourable PM had also taken a lap of honour during National Games at this very venue," a local official told PTI on conditions of anonymity.
The Special Protection Group (SPG) has taken charge of the stadium and one can expect a record 100,000 people turning up on day one, which would beat maximum attendance at the Eden Gardens (88,000-90,000) during Christmas Test matches before its capacity got reduced to 67,000.
A portable dais has been set up on one end in front of the sightscreen for a short function before the start of the match and it will be removed once the programme is over.
On Wednesday, even watching optional practice session of the two teams became difficult due to security protocols put in place.
Asked if the presence of the two heads of state and a near full capacity stadium create more pressure on the players, India captain Rohit Sharma said that his men are focussed on the job in hand.
"Yeah, the Prime Ministers of both countries are coming. Obviously, it's an exciting time. For players, we've got a job at hand. So the talk is just around that... how we're going to come on top of this Test match and try and do everything we can to win this Test," Rohit said on the eve of the match.
Head coach Rahul Dravid had earlier said that big crowd won't put pressure on the Indian players as many of them are used to playing in front of jam-packed stadiums.