Of the total 259 candidates contesting the February 16 Tripura assembly election, 45 are crorepatis, according to a report.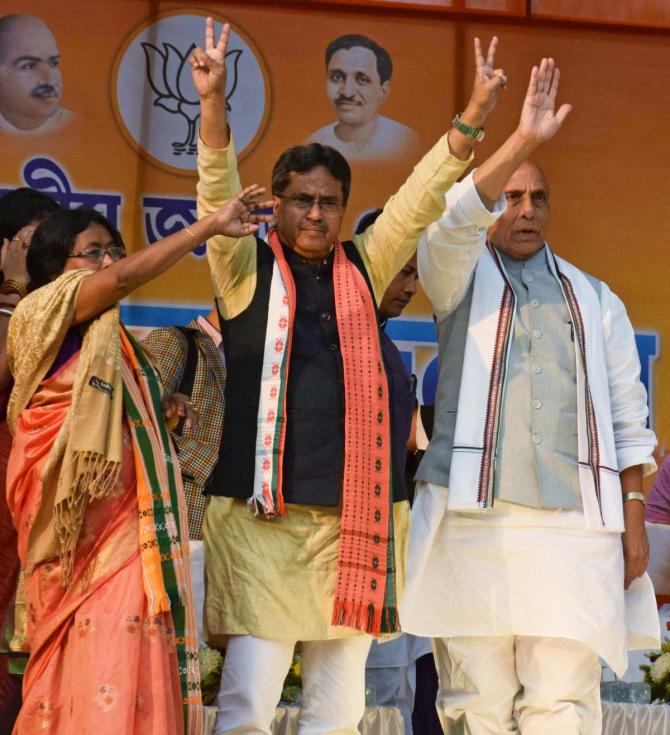 The ruling Bharatiya Janata Party has 17 crorepati candidates followed by Tipra Motha with nine and the Communist Party of India-Marxist seven, the report by the Association for Democratic Reforms (ADR), a civil society organisation, said.
The Congress has six crorepati candidates, Trinamool Congress four and two Independent candidates are also crorepati, it said.
Deputy Chief Minister Jishnu Dev Varma of the BJP, who is contesting from the Charilam constituency, is the wealthiest candidate with Rs 15.58 crore of movable and immovable assets, the report said.
Chief Minister Manik Saha, a doctor, is the second richest candidate with Rs 13.90 crore assets, ADR's state coordinator Biswendu Bhattacharjee told PTI on Wednesday. Saha is contesting from Town Bardowali constituency.
The third richest candidate is Abhijit Sarkar of the Tipra Motha with Rs 12.57 crore, Bhattacharjee said.
The BJP, which has fielded 55 candidates, also has the highest average assets with Rs 1.86 crore, he said.
Congress candidate from the Dharmanagar assembly constituency, Chayan Bhattacharya, has the highest liabilities at Rs 3.07 crore, he said.
"Out of the total aspirants of the ensuing elections, 41 (16%) candidates have declared criminal cases against themselves. In the 2018 elections, out of 297 candidates, 22 (7%) nominees had declared criminal cases," Bhattacharjee said.
He said seven out of 13 Congress candidates (54%) have criminal cases while nine out of 55 BJP candidates have criminal cases.
"Of the 43 Left Front candidates, nine (16%) have criminal cases. Eight candidates have declared cases related to attempt to murder," he said.
Of the total 259 candidates, 65 are graduates, 55 are class 12 pass and 39 are matriculates. Thirty-six candidates are class 8 pass out and nine are class 5 pass out, the ADR report added.