The absence of Rajasthan BJP leadership in Narendra Modi's rallies in the poll-bound state is fuelling speculations. Shahnawaz Akhtar reports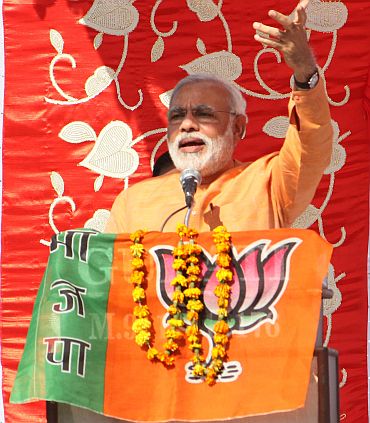 Bharatiya Janata Party's prime ministerial candidate Narendra Modi continued his tirade against the Congress party and Rahul Gandhi on Tuesday during his whirlwind tour of Rajasthan

However, more than Modi's jibes, the absence of state BJP leaders became the talking point after the five rallies that the Gujarat strongman addressed.

The BJP's star campaigner opened with a frontal attack on Chief Minister Ashok Gehlot, who had recently termed the Rajasthan model of governance as better than the Gujarat model.
Modi said his government had achieved much more than what the present Gehlot government and his party's previous governments had attained in over five decades of rule.
Modi said that his government had solved the acute drinking water problem in more than 9,000 villages.

Taunting the Rajasthan chief minister, Modi said: "I have laid such a huge pipeline that Gehlot can drive a car through it."
Later, the Gujarat strongman targeted Rahul over his inability to draw a sizeable audience during his rally in Delhi on Sunday.
But what was surprising was that none of the top state leadership, including chief ministerial candidate Vasundhara Raje and leader of opposition Gulab Chand Kataria, was present.

In Deeg-Kumher constituency in Bharatpur district, only local MLA Digambar Singh and MP Bhupendra Yadav were giving company to Modi.
In Sawai Madhopur constituency, again there were no senior leaders, except party candidates of the district, present.
While Modi was on a whirlwind tour of the desert state, Raje was holding rallies at Falaudi and Jalore.
"It clearly seems that the BJP lacks coordination with its party leaders. How would it be possible that the party's prime ministerial candidate is campaigning in the state and there's no senior leader accompanying him," said journalist Manish Bhattacharya who was present at Deeg-Kumher rally in Bharatpur.
BJP state unit leaders said that when Raje remains on stage with Modi, the crowd and the media gives more attention to the Gujarat leaders. So she is now avoiding being seen with him.
However, party spokesperson Jyoti Kiran ruled out any such speculation.

She claimed, "As time is less and we have to do extensive coverage of all the assembly segments, so there were not much leaders from the state unit."
She also mentioned that party will release it manifesto on Wednesday, which is being prepared under leader of opposition Kataria, so he could not attend Modi rally.
Photograph: Chandra Mohan Aloria