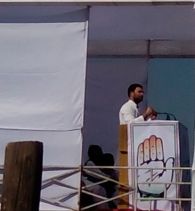 Congress Vice-President Rahul Gandhi on Tuesday said the Bharatiya Janata Party is number one in marketing and so are able to claim to have done more. He said the United Progressive Alliance had done more development work than the National Democratic Alliance.
On a day when BJP's prime ministerial candidate Narendra Modi took a dig at the low turnout for Rahul's rallies, the Gandhi scion's Chittorgarh and Bikaner rallies saw a huge turnout.
Rahul Gandhi in his speech said the BJP exercises divisive politics.
"BJP do not think for the future, they only want to live in the present. They are pitting people of Maharashtra and Uttar Pradesh against each other. But they do not know what they will get in future if people will be fighting against each other," he said.
The Amethi MP said the saffron brigade is against the poor. "During Parliament sessions I met BJP leaders and when I asked them why they are against MNREGA and Food Security Act they said that when you give free food, job, medicines, it makes the poor lazy. Actually, poor are poor because of the wall of poverty before them. But they think the poor themselves will hit their head at the wall of poverty to break it. But we say that it is the work of the government to break the wall for poor," said Rahul Gandhi.
Rahul also pointed out that free medicine schemes that were appreciated across the country was being termed as poison by Vasundhara Raje (former chief minister of Rajasthan) and BJP leaders.
"I have been told by Ashok Gehlot that senior leaders of the BJP say free medicines is actually poison. The generic medicines and branded ones are the same in power but the branded ones cost more. BJP understands that with marketing such medicines cost more. They do not want to think and say that these medicines are poison." After a pause he added, "After the election they will know what poison is?" he said.
"With the Barmer refinery, thousands of youth will get employment, while the Mumbai-Delhi industrial corridor will change the fortune of Rajasthan cities," he said.
Chief Minister Ashok Gehlot in his address attacked Raje for her comment that he had only worked in the last six months. "Where was she in the last four-and-half years, London or Delhi? She has no idea how many schemes were implemented in these years," he said.
Image: Rahul Gandhi addresses a rally in Chittorgarh, Rajasthan
Photograph: Shahnawaz Akhtar