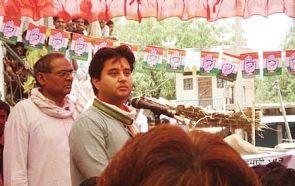 Dismissing the possibility of any gain to BJP due to Narendra Modi's campaign in Madhya Pradesh, Jyotiraditya Scindia, the Congress face in Assembly polls in Indore feels the Gujarat chief minister's arrival is a "good omen" for his party and shows that the Bharatiya Janata Party is "not confident".
Union Minister and Guna MP Scinda, a choice of Rahul Gandhi as the campaign committee chief of the faction-ridden Congress state unit, said politics or public service is a "marathon not a sprint", indicating he is in for a long inning in state politics.
Scindia, however, downplayed contentions that he is the chief ministerial candidate, saying he sticks to his 'lakshmanrekha' (boundary line) that he is the campaign committee chief of the party and only one among the team of senior party leaders working to oust the BJP government.
In an interview to PTI on board from Indore to Bhopal, the Scindia scion, who has been tasked to revive Congress in the BJP-ruled state reminds that Modi was the BJP's in-charge of polls in MP in 1998 that saw Congress coming to power.
"Obviously they (BJP) don't feel confident about the situation in Madhya Pradesh. As far as Modi is concerned, he is more than welcome in MP. He is not a stranger to MP. He was the party in-charge of MP polls in 1998, when the BJP got trounced and the Congress government was formed."
"Wherever Modi has gone in the assembly polls, the Congress has come to power, whether it is Karnataka, Himachal, Uttarakhand. So he is more than welcome in MP. He is a good omen for us," Scindia says.
Modi is on a campaign spree in Madhya Pradesh. One of Modi's rally is in Guna. The others are in Chhattarpur, Sagar and the state capital Bhopal.
The young Union minister has been on a whirlwind tour of the state from Gwalior to Indore and elsewhere assuring people that Congress is united and it's time to replace the BJP government, which he accuses of being "steeped in corruption".
The Union minister, who has already covered meetings in 60 constituencies so far, hopes he will be able to hold around 150 public meetings by the time campaigning comes to an end.
He, however, did not comment when asked whether it is true that there is area demarcation among party's regional satraps and one is not entering the domain of the other.
Asked why the people of the state want to replace the Shivraj Singh Chouhan government, Scindia said, "Because of mis-governance, corruption, the state of the economy, the state of the tribals and the scheduled castes and because it is a government, which is steeped in corruption."
Describing the Congress manifesto for the state as a "positive blueprint", Scindia slammed the chief minister for describing the Congress promises in the manifesto as a "dying declaration".
"When people get arrogant with power and make statements like this, then their fall begins. I think that politics must have a certain degree of grace, which is something that the BJP lacks," the Congress leader, who is referred to as Maharaj, said responding to Chouhan's barb.
Trashing Chouhan's frequent barbs that Congress had earlier brought a raja (Digvijay Singh) and now a Maharaja (Scindia) as its poll face in Madhya Pradesh, the Union minister reminded that it was his mother late Rajmata Vijayraje Scindia, who had given the BJP a foothold in MP.
Ahead of the 1984 Lok Sabha elections, Madhavrao Scindia had broken away from mother Vijayraje, a BJP stalwart and joined rival Congress. Madhaorao contested Lok Sabha election and defeated BJP leader Atal Bihari Vajpayee in Gwalior.
Jyotiraditya Scindia is representing Guna from 2002 after his father's seat death in a plane crash.
In 2007, BJP sprang a surprise nominating Madhavrao's younger sister Yashodhara, then a Cabinet minister in Madhya Pradesh government to contest Gwalior Lok Sabha seat.
This assembly election is important for both the family factions of Scindias in Madhya Pradesh.
While Yashodhara Raje has once more evinced interest in state politics, the performance of Congress in this election could have a bearing on Jyotiraditya Scindia's future role in the state politics.
"There is no point in talking about past in the context of present about those, who came out after fighting elections democratically. Perhaps BJP has no issue left with them now."
"As far as the charge of feudalism is concerned, I am surprised that when my grandmother gave a footing to the BJP in Madhya Pradesh, then the BJP did not feel that there was any feudalism."
"When my aunt is being projected as chief ministerial candidate of BJP in Rajasthan, they do not feel any feudalism and when my another aunt is contesting from Shivpuri on BJP seat, they do not feel it is feudalism but they feel it is feudalism, when it comes to Jyotiraditya," he said sarcastically.
Former Rajasthan chief minister Vasundhara Raje is once again the BJP face there in this election, while her sister Yashodhara Raje is contesting assembly polls from Shivpuri in Madhya Pradesh.
Analysts feel the move by the BJP to field Yashodhara from Shivpuri this time appears a part of its larger game plan to corner the Scindia scion Jyotirdaitya in his home turf after the late Madhavrao Scindia's son was made its party's campaign committee chief and the virtual CM candidate of Congress, which is out of power in the state since 2003.
Under the same strategy, another BJP MP Maya Singh related to Scindias, has been fielded from Gwalior East assembly segment.
Scindia downplayed questions on whether he treats the 2013 assembly election in the state as Shivraj versus Maharaj contest since he is the virtual CM face of Congress.
"In my family, whether me or my father, our vision is alike. He did his best based on the responsibility given to him. I will try to do my best based on the responsibility, I was given. I am today the campaign committee chief of Congress party. That's where I draw my Laxman Rekha," he said.
Scindia, however, makes it clear that his foray into the assembly politics of Madhya Pradesh is not for a short term and could go beyond this election.
"Politics is not a sprint. Politics is a marathon. Public service is not a sprint. Public service is a marathon. There is no short work in public service...I have already been in the state politics for 12-long years," he says when asked whether he is in for a long inning in Madhya Pradesh politics.
Scindia stated that despite being an MP from Guna, he has worked for the development of the entire state.
A graduate in economics from HarvardUniversity and MBA from Stanford Graduate School of Business, Scindia was elected as Guna MP in 2002 after the death of his father Madhavrao Scindia in a plane accident. He was re-elected in 2004 and 2009 Lok Sabha elections from the seat and became Minister of State for Power.
"Even when I was MP of Guna, I have done development in all of Gwalior-Chambal region. I have done development works for Indore like getting new trains, electrification and stadia...So my role is of an architect to do as much development as possible, I could do in whatever region, I can," he said.
With the faction-ridden Congress in Madhya Pradesh making an attempt to put up a united face amid allegations of some leaders "unduly" influencing the ticket distribution exercise, Scindia says, "Do not link the ticket distribution process to the unity of the party."
"Ticket has already been given to one person. Your perception of the winner might be different from my perception of the winner. Ultimately the party decides who in their opinion the best candidate is. And then whoever is decided the candidate by the party, all of us need to work together for him which we are doing," the minister said.
Scindia asserts that all party leaders are putting up a united face, "For last four months, we are working together. There is no issue of disunity. In MP, we are working as a team and all senior leaders are working together to oust this corrupt government. I am a worker of that team."
"That team comprises all senior leaders of Congress party be it Kamalnath, Digvijay Singh, Suresh Pachouri, Satyavrat Chaturvedi, Ajay Singh, Kantilal Bhuria besides Congress workers."
"I am among one of those, that team. I am quite confident that we will steer the Congress to victory. I want my party to come back to power and I am very confident that the work that we have put in as a team in the last three to four months, will yield good results on the 8th of December," when the results are out, he says.
Asked whether he believes that sufficient unity has been achieved in Congress state unit so as to ensure that the party fights the election as a cohesive force and comes back to power, Scindia refuses to hazard a guess saying, "only results will say that" as "the proof of the pudding is in eating".
To a direct question as to whether he is the projected chief ministerial candidate of the party, Scindia says, "That's not true...I am the campaign committee chief and that's where my role begins and my role ends. I have no ambitions. My father was also accused of being an unambitious person and I follow in his footsteps."
Asks if he is prepared to play a long role in state politics, he says, "It does not matter what you are prepared for. What matters is the role that is defined for you. And I see my role, from the inception I joined public service and not politics, is to be able to do as much development, progress and social responsibility. For that the arena is not limited."
Asked to define the Rahul Gandhi factor in politics, Scindia said what the Congress vice president represents is the aspirations of not only the youth of this country but the common man of the country.
"After a long time, we have got a leader, who understands issues that every segment of our population is facing. Not only does he understand that but he is willing to tackle and take that forward and upfront. He has done this with land acquisition."
"We need a leader in India, who understands issues and then provides solutions and executes that solution. This is what Rahul Gandhi represents," he said.