Some BJP and Congress leaders believe the Madhya Pradesh assembly building is filled with 'negative energy', reports Rashid Kidwai.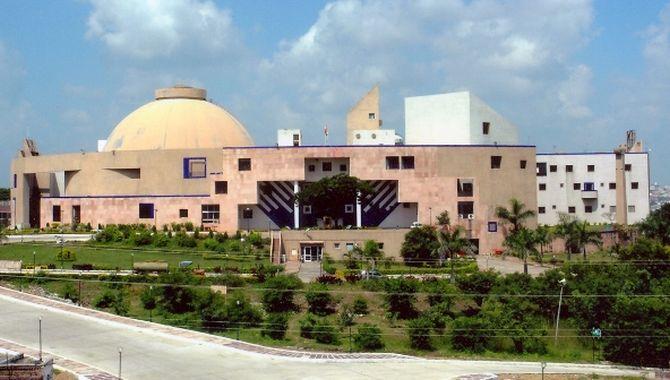 Is the Madhya Pradesh assembly building, a masterpiece designed by the legendary architect Charles Correa, jinxed?
Gopal Bhargava, leader of the Opposition in the MP assembly, recently raised the issue of 'Vastu dosh' (curse) in the state assembly while paying tribute to Congress legislator Banwarilal Sharma who died on December 21 after a prolonged illness.
Bhargava, a Bharatiya Janata Party leader and former state minister, alleged that 'Vastu dosh' in the building was causing the untimely deaths of state legislators.
As per his estimate, 32 sitting MLAs have died since 1998.
Bhargava asked MP assembly Speaker N P Prajapati to invite pandits from Varanasi to perform special prayers inside the assembly building;
'Ever since the new legislative assembly has been formed, our MLA colleagues have been dying untimely. MLAs are leaving us sometimes due to accident or illness,' Bhargava said ruefully, as many MLAs cutting across party lines maintained a stoic silence.
In November 2013, MP assembly speaker and senior BJP leader Ishwardas Rohani passed away just when the then ruling BJP and Opposition Congress was gearing up to face the assembly election.
Rohani's death prompted some senior BJP and Congress leaders to organise yagna to ward off evil spirits.
Some BJP and Congress leaders believe that the assembly building is filled with 'negative energy' as per Vastu Shastra.
Charles Correa had described his creation as 'a celebration of State, a palace of democracy'.
The 31,699 sq mt structure built over 16 acres of hilltop -- with murals inside and ponds outside -- has emerged as the most imposing structure in Bhopal, which already boasts another Correa-designed building, Bharat Bhavan.
The cost of construction was estimated to be Rs 60 crores in 1996. Correa died in 2015 and is remembered for several of his architectural works like the Surya Kund in Delhi; the Inter-University Centre for Astrology and Astrophysics in Pune; the Jawahar Kala Kendra arts complex in Jaipur.
Former Madhya Pradesh chief minister Digvijaya Singh remains dismissive about 'Vastu dosh'. 'When we shifted here in 1996, there was no stigma. Such talk is rubbish,' Digvijaya Singh said.
Digvijaya Singh's party colleague Sriniwas Tiwari, who served as speaker between 1996 and 2004, used to insist that the assembly building had 'faulty construction and layout'. Tiwari, who has passed away, used to claim that in 2000, he had organised a yagna to atone for a lapse.
"Somehow no puja was performed when the building was operationalised in 1996. It was a glaring lapse so I organised a puja which many termed as a yagna," Tiwari had told this correspondent.
BJP General Secretary Kailash Vijayvargiya insists it is strange that each year one or more sitting MLAs dies. "The history of this assembly building is not good. First, the Bhopal gas tragedy took place in 1984 when the construction of the assembly started. In 1996, when we shifted to this assembly, Madhya Pradesh was bifurcated into two states within three years," Vijayvargiya said.
Some Vastu Shastra experts believe the assembly building has flaws, pointing out that faulty Vastu could attract 'negative energy'.
Indore-based Pankaj Agarwal explains the reasons, "The assembly has a road on one side, the main entry is from the south-west direction. In addition, the assembly is in circular shape, which according to Vastu science is not considered good. The earth emits negative energy and the building is full of an electromagnetic field."
Aggarwal said in 2006, he had prepared a 46-page report suggesting 28 changes in the building.
"There are too many flaws in the building. For instance, the treasury benches face west while the Opposition faces east. It means that the government will always be in the dock with the Opposition dominating proceedings. Such mistakes affect the state's morale and performance. It also affects an individual's immune system and thought process," Aggarwal says.
Aggarwal heads the Indore-based Institute of Vedic Vaastu and Research Foundation. Expressing concern, he said the MP assembly was like the heart of a state. "The state will crumble if the heart is weak," he says, regretting that some of his suggestions were not carried out.
Ironically, the assembly building has been described on the MP government Web site as one designed by applying Correa's 'deep understanding of Vedic principles of architecture'.
Rohani too was apprehensive about the 'jinxed' titles attributed to the MP assembly. On several occasions, Rohani had taken up the Vastu issue with then chief minister Shivraj Singh Chouhan and had himself undertaken some measures to ward off the 'negative' effect. For instance, a water body facing the south-east was dried up.
Bhopal-based poet, playwright and Sahitya Akademi recipient Rajesh Joshi says it is sad that a building is being held responsible for deaths. "So many farmers in Madhya Pradesh have committed suicide. Does it mean that the state boundaries of Madhya Pradesh have Vastu dosh? Do we need to redraw them?" Joshi asks.
Joshi says it is unfortunate that in the 21st century, such unscientific talk should take place.
Rationalists have slammed claims by politicians like Vijayvargiya and Tiwari. 'Such fears are absurd and ridiculous,' Sanal Edamuruku, president of the Indian Rationalists Association, had said, adding, 'People die of old age, illness, or accidents -- buildings don't kill people.'
---
Rasheed Kidwai, author and journalist, is a visiting fellow at the Observer Research Foundation. He can be contacted at rasheedkidwai@gmail.com