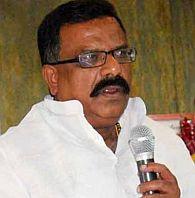 Minister of State for Railways, Kotla Jaya Surya Prakash Reddy, on Friday resigned from his post in protest against the Union Cabinet's decision to go ahead with the proposed bifurcation of Andhra Pradesh.
"The minister has gone to the PM's residence to submit his resignation from the Union Council of Ministers," a close aide of Reddy's told PTI.
Reddy, an MP from Karnool, had joined the Railway Ministry on October 29, 2012.
Reddy is the fourth minister from Seemandhra to have resigned in protest against the creation of a separate Telangana state.
While HRD Minister Pallam Raju, too, resigned today, Tourism Minister Chiranjeevi and Textiles Minister KS Rao had quit the Union cabinet yesterday.