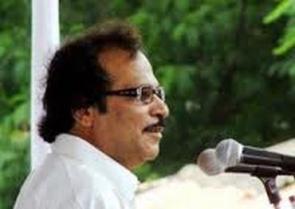 Minister of State for Railways Adhir Ranjan Chowdhury, against whom a non-bailable arrest warrant has been issued by a court at Behrampore, on Saturday accused the Trinamool Congress of pursuing vindictive politics.
"The Mamata Banerjee-led West Bengal government has been trying to use police to stifle the voice of the Opposition. They are following the same tactics pursued by the Left Front government to destroy democracy in the state. I am not bothered," Chowdhury said.
Additional Chief Judicial Magistrate of district court, Ali Biswas, on Friday issued a non-bailable arrest warrant against him after the police filed a charge-sheet against Chowdhury in the murder of a Trinamool Congress activist Kamal Sheikh in 2011.
"The police have been implicating Congress leaders in false cases to weaken the party in the state. I would inform Prime Minister Manmohan Singh and Congress president Sonia
Gandhi about the autocratic rule in West Bengal," he said.
"I have been falsely implicated in this case. I will soon give a full report of the incident to prime minister and Sonia Gandhi," Chowdhury said.
According to him, the Trinamool Congress, which failed to make any political dent in Murshidabad district, has been using police and the administration to corner Congress leaders and supporters by using false cases.
State Congress President Pradip Bhattacharjee, too, condemned the incident and termed it vindictive politics by the Trinamool government.
Meanwhile, Congress supporters blocked roads in Murshidabad district and organised protest rallies in all the 26 blocks of the district.