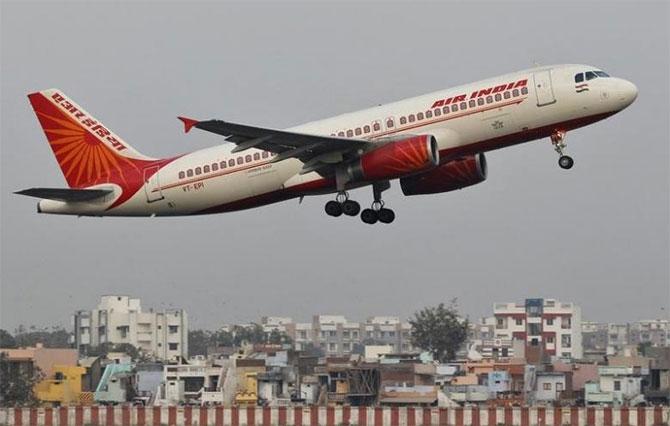 A United States-bound flight of Air India from Mumbai made a precautionary landing at London's Stansted Airport on Thursday following a bomb scare, forcing Britain to scramble its fighter jets to escort the aircraft.
United Kingdom Royal Air Force (RAF) Typhoon jets were scrambled to escort Flight AI 191 at around 09.50 am local time after the bomb scare that later turned out to be a hoax.
According to security agency sources, the flight was diverted to London after Mumbai airport authorities received an e-mail from two unidentified persons named -- Sergie Seliznev and Nataliya Zhmurina -- threatening that Air India flight will 'explode in air' along with two other airlines.
Besides, Air India, the alleged threat was also for the Lufthansa's Mumbai-Munich and Swiss Air's Mumbai-Zurich flights, which had already landed by the time the call was declared as 'specific at 10.30 am', sources added.
Queries sent to Lufthansa did not elicit any response.
The registered baggage and cargo, which were supposed to be loaded on the Air India flight but could not be uploaded, at the Mumbai airport were being extensively checked following the threat.
Mumbai airport has been on alert following Thursday's development, they said.
"AI 191 Mumbai-Newark of June 27 has made a precautionary landing at London's Stansted airport due to a bomb threat," the national carrier said.
All 327 passengers have been deplaned and the Boeing 777-300ER plane remains grounded at the Stansted Airport, an Air India spokesperson said.
All passengers are currently in the airport premises, he said, adding that the flight is expected to take off at around 9.30 pm (Indian time) after receiving all security approvals.
According to sources, the two men in the e-mail claimed that they are the 'members' of the Caucasus Emirate, who were fighting for the establishment of a global Shariah.
"We do not recognise the State of Israel, consider it an occupier of Palestine and lay down our heads for its destruction. For this, we have prepared and delivered a polysiloxane solution to be added to the jet fuel with the help of service technicians," the letter read.
In the e-mail they claimed, "For Air India flight, a nitrogen-free powerful explosive device has been placed in the flights baggage, which will explode in the air."
"These flights will suffer a plane crash," they threatened in the e-mail, according to sources.
Earlier, the airline, in a tweet, said that the plane made a precautionary landing at London's Stansted airport due to a 'bomb threat'.
Following the diversion, the Royal Air Force (RAF) Typhoon jets were scrambled to escort Flight AI 191 at 10.30 am.
However, the UK's Ministry of Defence (MoD) termed it a move for operational reasons.
"The Typhoon aircraft were authorised to transit at supersonic speed to escort Air India plane for operational reasons," an MoD statement said.
"An aircraft was diverted to Stansted Airport at around 9.50 a.m. today following reports of a security alert. The plane is currently at the airport and officers are making enquiries," local Essex Police added.
Following the incident, all flights at Stansted, the UK's designated airport for aircraft facing active security threats to land, had to be temporarily grounded but have since reopened.
"Our runway is fully operational following a precautionary landing of Air India flight. We are sorry for any disruption caused by the incident and would like to thank you for your patience," Stansted Airport said.
Local residents reported hearing loud bangs as a result of the jets being scrambled.
A Royal Air Force statement noted: "QRA Typhoons were launched this morning from RAF Coningsby to intercept a civilian aircraft. The aircraft was escorted to Stansted.
"The Typhoons transited at supersonic speed for operational reasons – any inconvenience caused to local residents is regretted."
Sources also said all the stakeholders at the airport, including the Central Industrial Security Force, local police and airline employees have been asked to maintain extra vigil in the wake of the e-mail.