'It goes without saying that Air India has now no imaginable reason to exist,' argues Mihir S Sharma.
Illustration: Uttam Ghosh/Rediff.com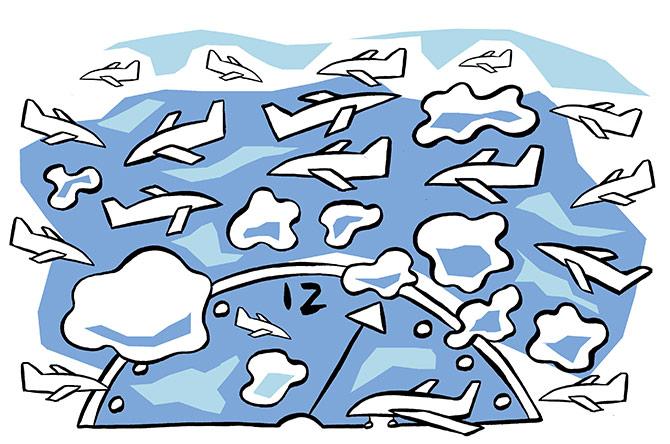 Perhaps the hardest part of analysing the Modi government's many schemes is getting beyond the absurdity of their names.
UDAN, for example, the perfectly reasonable name for the new air connectivity scheme inaugurated by the prime minister, is actually an acronym for Ude Desh ka Aam Naagrik -- a phrase that I will not translate, in order to preserve the happy innocence of non-Hindi speakers.
That said, it is an interestingly designed scheme. The original idea, as it emerged from the Prime Minister's Office, appeared to have an unworkable price cap and little more.
After some months of work from the NITI Aayog and the civil aviation ministry, it looks significantly better, and now focuses on reviving 43 existing, relatively unused airports.
The current plan will directly cost the government Rs 205 crore (Rs 2.05 billion) a year -- for example, to subsidise seats on the Delhi-Shimla leg at about Rs 3,000 a seat.
Indirect costs are, of course, much higher; fuel for these flights will be taxed at just one per cent and they are exempt from airport charges.
Let us examine why this makes sense. As matters stand today, half of Indian air traffic is between Delhi and Mumbai.
Only 10 per cent of traffic isn't between metropolitan cities.
Getting more airports operational is vitally important, and it is a worthy target for government intervention, if properly designed and market-friendly, in the aviation sector.
So, given the government has decided it knows how to be both 'pro-poor' and 'pro-market' in the aviation sector, may I humbly ask when it will withdraw its existing pro-rich, anti-market intervention in the same sector?
In other words, when are we getting rid of Air India?
One unfortunate consequence of the collapse in oil prices since this government came into power is that Air India is no longer suffering under crippling operating losses.
Like most other airlines, cheaper fuel has meant it is breaking even. The government claims it made an operating profit of Rs 105 crore (Rs 1.05 billion) in 2015-2016 though the CAG disagrees, claiming it made an operating loss of Rs 321 crore (Rs 3.21 billion).
Either way, it remains a hostage to fuel prices, even as its share of India's airline traffic has crashed to a mere 15 per cent.
It goes without saying that Air India has now no imaginable reason to exist.
Inter-city travel is taken care of by dynamic and competitive private sector companies. At the German Marshall Fund's India Trilateral Forum in New Delhi, Minister of State for Civil Aviation Jayant Sinha made the point that this country has the most open aviation market in the world -- and that, in fact, two-thirds of India's international traffic happens on foreign carriers.
(What he did not say -- could not say -- is that this is partly because some of the best routes out of India are occupied by Air India, and not by Indian private airlines.)
And, of course, now regional connectivity will be handled by the government's new, market-based mechanism.
And yet, we have Air India and its enormous debt hanging around our neck.
The last government began a Rs 30,000 crore (Rs 300 billion), 10-year bailout; but, as of last year, the airline still owed Rs 46,000 crore (Rs 460 billion).
Eventually, it is taxpayers that will have to pay for this; nobody seriously believes that a company struggling to break even in the best of times will ever be able to pay this back.
Let's think, for a moment, about what this lost Rs 46,000 crore means in terms of the stated priorities of this prime minister and his government.
It could pay for 38 million rural toilets under the Individual Household Latrine scheme-- almost five times as many as have been applied for so far.
It could pay the salaries of a million public school teachers for a year -- that's the number of teaching positions lying vacant.
It could fund the PM's vastly popular LPG subsidy for two-and-a-half years.
It could ensure that 10 million of the poorest Indians get completely interest-free home loans under the PM's Housing For All scheme.
So, now, the government has to ask: What does it really care about?
Does it indeed believe that it is pro-poor, and that it can find new, innovative and market-based mechanisms to achieve its objective of empowering Indians?
Or is instead no different from any government that has come before, and is willing to use taxes paid by India's poorest to subsidise an airline that inefficiently and incompetently serves India's richest?
This is something that only the government, and Narendra Modi, can answer. But the choice they make determines how we should judge their claims of being different from every other Indian government so far.
MORE FEATURES in the RELATED LINKS BELOW...