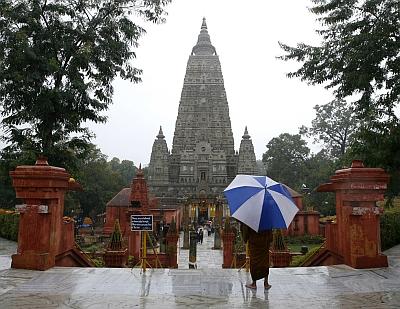 A year after serial bomb blasts hit the Mahabodhi Temple in Bodh Gaya, Bihar still awaits a security beef up. Central Industrial Security Force personnel are yet to be deployed at the shire, a police official said.
After the attack on July 7 last year, the then chief minister Nitish Kumar demanded CISF security for the 1600 year-old-temple. As special consideration, the United Progressive Alliance, which was in power then, had approved paramilitary cover for which the state government would pay.
The decision was taken as the Mahabodhi temple is an international heritage site like the Taj Mahal, the then Union Home Minister Sushilkumar Shinde had said.
But a year on, the promises are far from being fulfilled. "Personnel from the Bihar police force have been deployed at the shrine," a district police official said.
Gaya Senior Superintendent of Police Nishant Kumar Tiwari told rediff.com over the telephone, "You can approach high level authorities for information on temple security.s"
Tiwari said that his concern was to ensure tight security in and around the temple. "Security has been tightened following an intelligence report that alerted the state police on the possibility of another terrorist attack on the anniversary of the blasts," he added.
An officer at police headquarters in Patna said it is for the central government to decide whether to deploy CISF forces. "The state government had already requested for it last year."
However, this did not deter hundreds of Buddhists who gathered at the temple to pray for world peace on Monday. The Bodh Gaya Temple Management Committee has organised a special prayer on the premises of the temple, a Buddhist monk Bhante Chandila said.
Ten bombs had exploded in the premised of the Mahabodhi Temple in Bodh Gaya last year.

Image: The Mahabodhi temple compound in Bodh Gaya, Patna. Photograph: Reuters