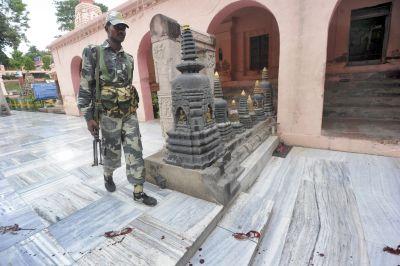 Yasin Bhatkal, the arrested Indian Mujahideen founder who has been taken to New Delhi for questioning, has admitted to his role in almost all blasts barring the Bodh Gaya incident which took place last month.
Investigators who have been tirelessly questioning him have found him a tough nut with no remorse.
"He is calm and cool, but arrogant", an officer part of the probe team told Rediff.com.
Yasin, who was also questioned by the National Investigation Agency, has put them in a spot of bother following his denial about the Bodh Gaya blasts.
"We have clear evidence to show that the Indian Mujahideen and a Bangladesh-based group carried out this attack. When asked about the blasts at Hyderabad, Bangalore, Delhi, Pune, Ahmedabad, he said he was aware of it. Although he did not say in as many words that he had undertaken the blasts, he gave a clear indication that the IM was behind it. However about the Bodh Gaya blasts he had this to say -- I do not know who has carried it out, but I am happy that the cause and pain of the Rohingya Muslims is being felt by others too," the officer revealed.
Yasin has not yet gone into the details of IM's Darbhanga operation, but the NIA expects more information from him in due course of time.
Most importantly what every police officer is trying to find out is how he managed to source and transport one truck of ammonium nitrate from Kudregundi in Karnataka. The ammonium nitrate sourced back in 2007 was used for the 30 odd attacks that the IM carried out.
Technology did Yasin Bhatkal in
An officer with the Intelligence Bureau informed that Yasin shied away from technology.
"He never used a cell phone or exchanged emails. However his two calls to his wife from a cell phone is what gave away his location," the officer pointed out.
The officer informed that Yasin made two calls to his wife from Nepal -- one on August 6 at 11.30 am and the other on August 9 at 4.30 PM. The calls of his wife were being constantly monitored.
"Following these calls we were able to track his location to Nepal. He had crossed over to Nepal from Uttar Pradesh in the first week of August itself and was awaiting orders from Pakistan to cross over, by which time the Indian intelligence finally got the better of him," the officer noted.
Image: Security personnel walk next to bloody footprints inside the Mahabodhi temple complex after the blasts
Photograph: Reuters