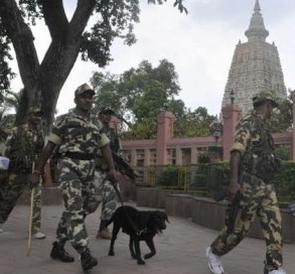 The National Investigation Agency has its task cut out as it commences its probe into the Patna serial blasts, which killed five people on Sunday. An officer with the agency told rediff.com that the attack appears to be similar to the one at the Mahabodhi Temple in Bodh Gaya carried out in July this year.
There is similarity in the composition of bombs and the manner in which they were planted. The Bodh Gaya blasts too were low in intensity, the officer pointed out.
NIA officials added, "We will study very deeply a political conspiracy, which could be behind this blast." Someone with an intention of targetting the Narendra Modi rally to ensure that it does not turn out to be a success could be behind this attack, intelligence agencies had said earlier today. After joining the dots, investigators said, Sunday's blasts were a reminder of the Bodh Gaya attack. The NIA has not yet reached a conclusion regarding the conspirators of the July blasts. The Indian Mujahideen was first blamed. However, there has been no concrete evidence of their involvement.
IM co-founder Yasin Bhatkal too had denied having anything with the Bodh Gaya blasts.
The NIA said that it would draw a direct comparison between the two attacks based on forensic evidence. The preliminary forensic reports on Sunday's blasts indicated traces of ammonium nitrate, sharpnel and the explosive fitted with a timer. The composition of explosives that went off at the temple was similar.
After the July blasts, agencies had found out that ammonium nitrate had been sourced from a village near Bodh Gaya. The bombs that went off on Sunday too were assembled a day before the attack and planted in the wee hours.

Image: Security agencies scout the premises of the Mahabodhi Temple in Bodh Gaya