Rediff.com's A Ganesh Nadar reports from Chennai on how Jallikattu protests in the city turned fiery.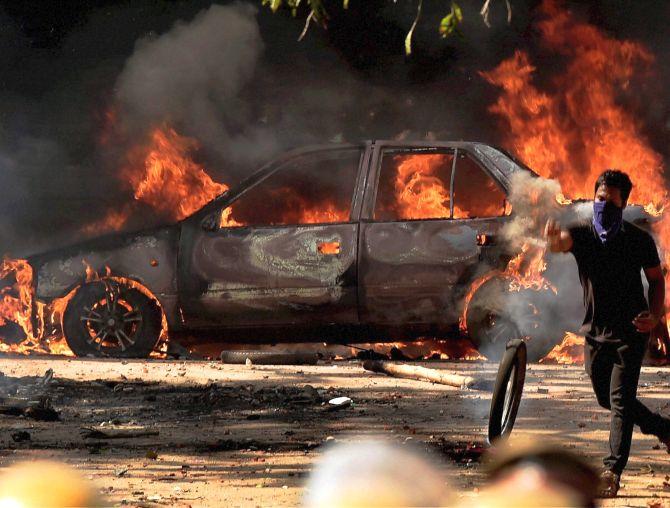 IMAGE: Pro-Jallikattu protesters during a violent clash with the police near Marina beach in Chennai. Photograph: R Senthil Kumar/PTI Photo
A burnt police station, around 20 policemen injured, buses attacked, traffic blocks, schools closing early.
After seven days of peaceful protests over Jallikattu, the agitation on Monday turned ugly.
Rediff.com's A Ganesh Nadar witnessed differing scenes on an emotional, charged-up day.
On the fourth day of protests, I had visited Marina beach and was amazed at how peaceful and disciplined the protestors were.
What I saw on Monday morning was in stark contrast.
The Ice House police station, near the Marina beach, is up in flames.
The protestors I met the other day would certainly not have done any such thing. Hoodlums and thugs appear to have infiltrated their ranks, determined to provoke trouble.
Moving away from Marina beach, I head to Kottivakkam where the road leading to Puducherry has been blocked. Cars use narrow side lanes to evade the blockade.
Thiruvanmiyur is calm and peaceful. The bus depot is functioning as usual, but the buses are nearly empty.
Most citizens seem to have stayed home after seeing the scary images of violence on television.
On one side of the road, about 20 autorickshaw drivers, black flags aloft, are shouting slogans in favour of Jallikattu.
"Don't these fools know that Jallikattu was held yesterday?" asks one passerby.
"They know," says another, "they just want to cause trouble."
IMAGE: A group of women chant pro-Jallikattu slogans near Santhome road. Photograph: A Ganesh Nadar/Rediff.com
In Adyar, the shops are open, but traffic is slow moving.
Local trains in the city have come to a halt. One official, who did not wished to be named for this report, tells me it is a precautionary measure, to prevent more people from thronging the Marina beach.
At 4 pm, there are no cabs or buses on Luz Church road. After an hour of persistence, I manage to book an Uber cab.
On Radhakrishnan Salai a large contingent of policemen block our way. Behind them: A tableau of burnt cars, boulders and broken glass.
On our way to Raja Annamlaipuram, near Santhome road, a group of around 50 women are protesting on the road, chanting slogans for Jallikattu.
"They don't look like they have eaten today and they want Jallikattu, someone must be instigating them," the cabbie remarks.
Near the Thyagarja theatre on L B road, miscreants have cut down a tree to block the road. They have also set tyres alight.
"Next, they will set fire to my car," the cabbie says as he takes a sharp turn and leaves the area.