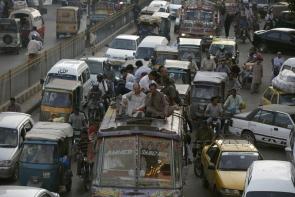 At least 42 people, 27 of them women and children, were killed and 17 others injured on Sunday when a speeding bus they were traveling in collided with a trailer on the National Highway in southeast Pakistan.
The accident took place near Pano Akil area in Sukkur district when the bus en route to Karachi from Dera Ghazi Khan collided head-on with the trailer coming from the opposite direction.he dead included 14 children and 13 women, they said.
The accident occurred due to reckless driving at a place where the road was under construction, a passenger injured in the accident said. The bus was carrying over 60 passengers when the driver lost control of the vehicle and collided with the trailer.
Most of the injured were in critical condition and many were transferred to hospital in Karachi after initial treatment in Sukkur. Police personnel and rescue teams immediately reached the site of the incident and cut through the wreckage of the bus to rescue the victims.
Prime Minister Nawaz Sharif has expressed his grief over the loss of 42 lives. Pakistan has one of the world's worst records for fatal traffic accidents, blamed on poor roads, badly maintained vehicles and reckless driving.
Image for representation only. Photograph: Reuters