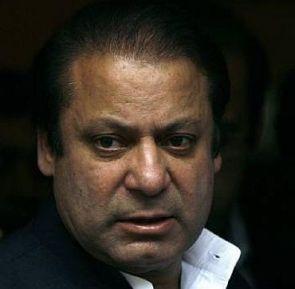 Pakistan Prime Minister Nawaz Sharif on Saturday praised the powerful Army and its chief Gen Raheel Sharif and stressed on the need to work together for a strong economy, democracy and containment of terrorism.
"Let me remind you that without a strong economy, democracy, rule of law and containment of terrorism, a credible defence system cannot be sustained. We therefore have to work together as a nation to achieve these goals," he said.
Sharif's address at the Kakul Military Academy in Abbottabad came hours after Defence Minister Khwaja Asif on friday night issued a statement praising the force and clarifying his position to soothe the nerves of the powerful Army which is upset with certain remarks made by members of ruling party.
"You must also keep in your mind the lives and conduct of officers like Gen Raheel Sharif, who are only known for their
professionalism, patriotism, dedication and commitment to their motherland," Sharif said in a rare praise of army chief.
He recalled that the army chief was the younger brother of slain Maj Shabbir Sharif "of whom the nation is proud".
Maj Shabbir, who was killed in the 1971 war with India, had won Pakistan's highest military award 'Nishaan-e-Haider'.
Sharif said despite calls of economy and austerity the state is providing the defence forces all possible resources needed for making the defence of the country impregnable.
Uneasiness had crept into civil-military ties and it was confirmed by Interior Minister Chaudhry Nisar A Khan who said an "irritant" had come up lately which "we will get over".
The uneasiness is primarily due to the ongoing treason trial of former military ruler Pervez Musharraf.
Gen Sharif had recently warned critics against undermining the military's institutional morale.
Defence Minister Khawaja Muhammad Asif and Information Minister Pervaiz Rashid also attended the function.