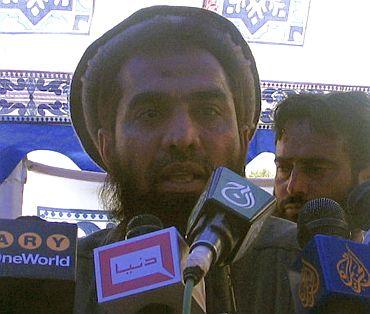 'We are not going to let him go free. Justice will be served,' a Pakistan official tells Rediff.com contributor Shahzad Raza in Islamabad.
Zaki-ur Rehman Lakhvi was detained at Rawalpindi's Adiala Jail by the Pakistan government on Friday under the Maintenance of Public Order act.
The Pakistan government will also appeal to the country's supreme court against Lakhvi's release on bail, a senior official told Rediff.com
"We are not going to let him go free. He has been detained and very soon we are filing an appeal in the supreme court. Justice will be served," the official said.

'Lakhvi was to be freed from Adiala Jail Rawalpindi this morning but the government detained him there for three months under the 16 MPO,' Prosecution chief Chaudhry Azhar said, adding the Pakistan government had also informed India about this.

Lakhvi, a senior member of the terror group, the Lashkar-e-Tayiba, is a key conspirator in the 26/11 Mumbai attacks case.
The move comes a day after a Pakistan anti-terrorism court ordered Lakhvi's release on bail, a decision that sparked international outrage.
Under the Maintenance of Public Order, the authorities can detain any individual for 90 days without trial.
Anti-Terrorism Court Judge Syed Kausar Abbas Zaidi had ordered Lakhvi's release if he deposited a bond of Rs 1 million.

India expressed its strong objection to the bail order and urged the Pakistan government to approach a higher court.
India also demanded that Pakistan hand over Lashkar-e-Tayiba leader Muhammad Saeed, the mastermind of the Mumbai attacks, and fugitive Indian gangster Dawood Ibrahim Kashkar if it was serious about fighting terror.
Lakhvi was among the seven accused who planned and executed the 2008 Mumbai attacks.
Six other men face trial in the Adiala jail for their alleged involvement in the terror strikes: Hammad Amin Sadiq, Shahid Jamil Riaz, Younas Anjum, Jamil Ahmed, Mazhar Iqbal and Abdul Majid.
Chaudhary Azhar, chief prosecutor in the case, had said, 'At the time of the attacks, Lakhvi was reportedly the operational head of the LeT.'
After Tuesday's massacre at the an Army Public School in Peshawar, which left 132 children dead, Pakistan is under immense pressure to prosecute terrorists like Lakhvi and Saeed.
In a major policy shift, the Nawaz Sharif-led government has decided not to differentiate between good Taliban and bad Taliban. It also announced the lifting of the moratorium on the death penalty after the Peshawar attack.
On Thursday, Pakistan army chief General Raheel Sharif signed the death warrants of seven convicts who had attacked the military headquarters in Rawalpindi in 2009. These men were convicted by a military court, but could not be executed because of the moratorium on the death penalty.

Image: 26/11 Mumbai attacks accused Zaki-ur Rehman Lakhvi
Photograph: Reuters