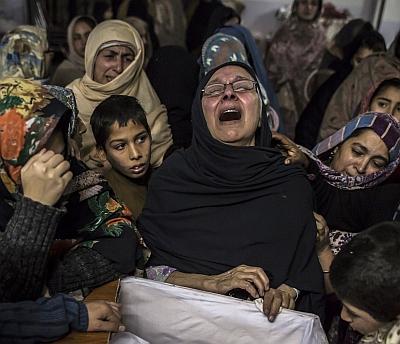 As many as 141 people, nearly all of them school children, were massacred on Tuesday when heavily armed Taliban suicide bombers stormed a Pakistan army-run school in Peshawar, firing indiscriminately, leaving another 130 injured.

Dressed in para-military Frontier Corps uniforms, the seven Arabic-speaking terrorists entered the Army Public School on Warsak Road around 10 am (local time) from the rear side and went from classroom to classroom shooting innocent children indiscriminately in one of the most gruesome terror attacks anywhere.

Chief Military Spokesman Maj Gen Asim Bajwa told a news conference tonight that 132 of the dead were children and another nine were staff members. A total of 130 people -- 118 students, three staffers, seven SSG soldiers and two officers -- were injured, he said.

He also said that 960 students and staffers were rescued.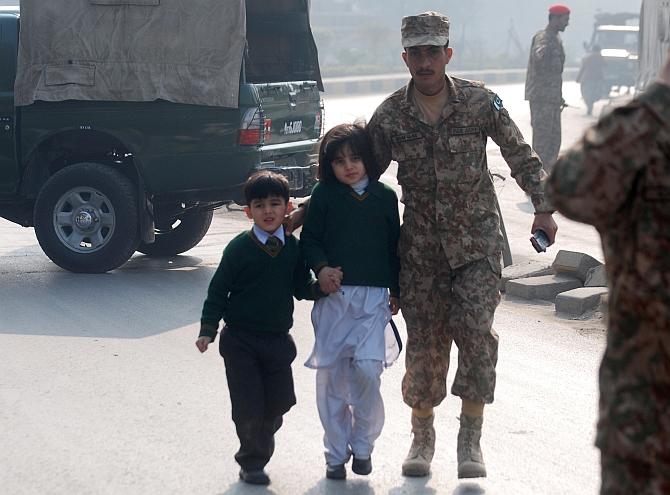 Image: A soldier escorts schoolchildren from the Army Public School that is under attack by Taliban gunmen in Peshawar. Photograph: Khuram Parvez/Reuters

Bajwa said all the seven militants were killed in the operations involving Special Services Group or commandos.

Some of them reportedly blew themselves up.

"The operation is over. The school has been handed over to its administration. SSG troops are withdrawn" he added.

Bajwa said about 1,100 students and staffers were in the school at the time of the attack.

Earlier, reports had put the death toll at 160 but later it was scaled down.

During the over eight-hour standoff, the terrorists also took several hostages, including teachers and the principal of the school, and used them as human shield during the assault.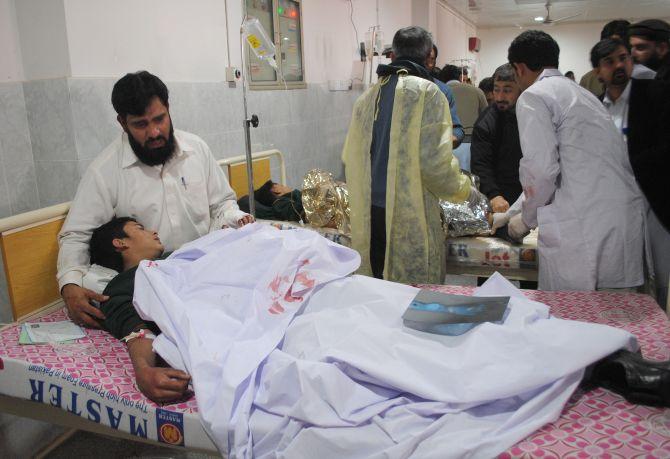 A man comforts his son, who was injured during an attack by Taliban gunmen on the Army Public School, at Lady Reading Hospital in Peshawar. Photograph: Reuters
The Tehreek-e-Taliban Pakistan claimed responsibility for the attack, the bloodiest in recent years since the 2008 suicide bombing in Karachi in which 150 people were killed.

The Taliban spokesman claimed that 6 suicide bombers were involved in the attack and that it was a revenge for the military's operation against militants in the North Waziristan tribal area close to Peshawar.

"We want them to feel our pain," the spokesman said.

Gen Bajwa said the militants came from the back side of the school and killed the students indiscriminately.

The attackers had plans for a long haul as they had a lot of ammunition and food to sustain them, he said. But they were cornered by SSG under a plan and killed.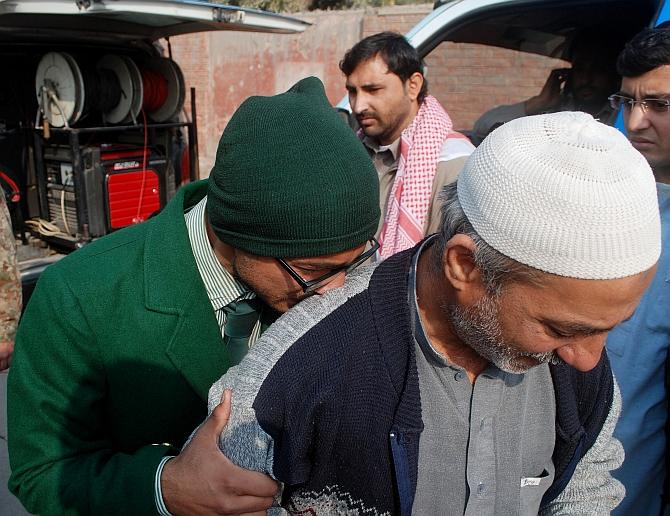 Image: A student cries on a man's shoulder, after he was rescued from the Army Public School that in under attack by Taliban gunmen in Peshawar. Photograph: Khuram Parvez/Reuters

World leaders united in condemning the attack as Prime Minister Nawaz Sharif termed it a "national tragedy" and chaired a security meeting in Peshawar where he was briefed about the attack and the operation.

Sharif reiterated that military operation 'Zarb-e-Azab' to flush out terrorists from the country's tribal belt will continue.

"It's a sheer act of cowardice...the country should unite to combat terrorism," he added.

A three-day nationwide mourning has been announced in Pakistan. Army Chief General Raheel Sharif also reached Peshawar to monitor the situation.

One rescued student told reporters that the attackers had long beards and they were wearing 'shalwar kamiz'. He said they were speaking Arabic and looked like foreigners.

Bajwa said the militants made no demands and they apparently wanted to kill as many people as possible rather than take them as hostages.

He said all militants had suicide jackets and it was not possible to tell how many were killed due to SSG bullets or they exploded after being hit by bullets. He said the school had no precise threat from militants but since start of Operation Zarb-e-Azb, there was threat of an attack.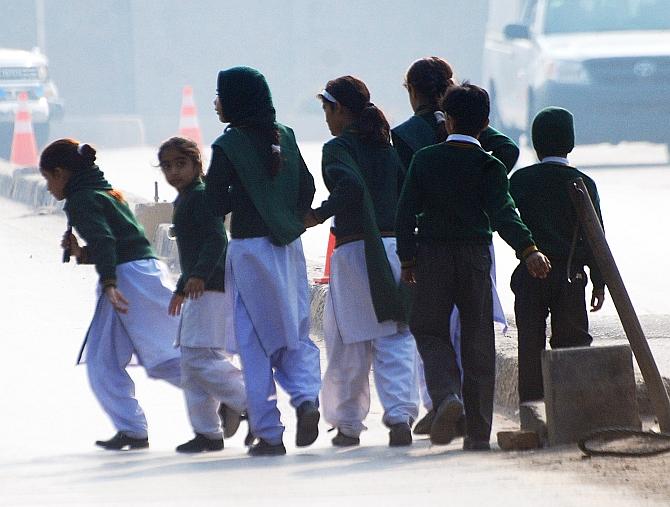 Image: Schoolchildren cross a road as they move away from a military run school that is under attack by Taliban gunmen in Peshawar. Photograph: Khuram Parvez/Reuters

Bajwa said a lot of information has been gathered through their communication but he refused to share the details. He said that there are reports that some of them spoke Arabic but it was too early to determine their nationality.

"Today is the blackest day of our history," he said.

The Taliban attack brought back chilling memories of the 2004 incident in Beslan in North Ossetia, Russia, when at least 32 Chechen rebels stormed a school and took more than 1,000 hostages, majority of them children. Over 330 people, mostly children, were killed in that assault.

About 500 students and teachers were believed to be inside the Peshawar school at the start of the attack. The attack ended after all the Taliban attackers were eliminated and a clean up operation was being undertaken.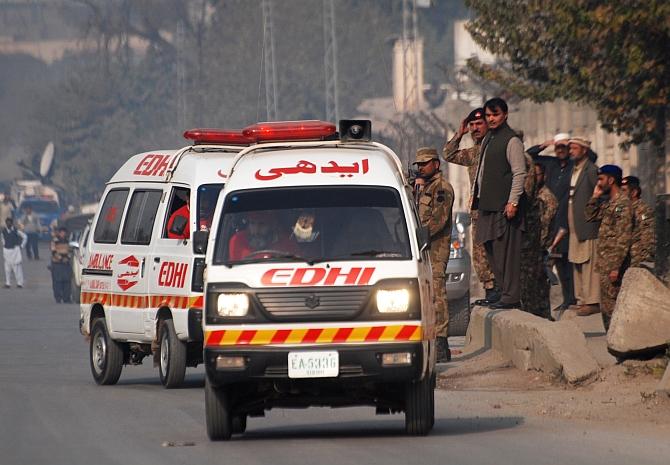 Image: Ambulances drive away from the school that is under attack by Taliban gunmen. Photograph: Khuram Parvez/Reuters

Mushtaq Ghani, provincial information minister, said the militants entered through a graveyard adjacent to the school.

The school is close to Saint Mary High School which has also been under threat since the last couple of days.

A heavy contingent of police and security forces blocked roads leading to the school, taking control of the whole area.

The army had launched the massive military operation 'Zarb-e-Azb' in June following a brazen militant attack on Karachi's international airport and the failure of peace talks between the government and the Taliban negotiators.

The military has said more than 1,300 militants have been killed during the operation in North Waziristan and adjacent tribal region and it will continue till militancy is completely wiped out of Pakistan.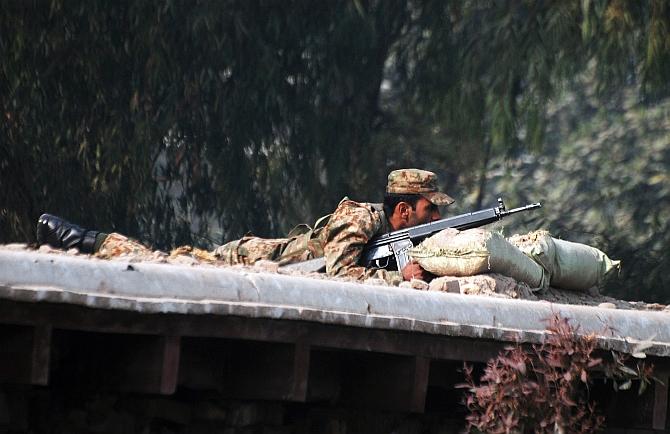 Image: A Pakistani soldier takes up a position above a road near the school. Photograph: Khuram Parvez/Reuters

Opposition Pakistan Tehreek-i-Insaf chief Imran Khan, whose party rules Khyber-Pakhtunkhwa province, termed the attack as an act of "barbarism".

In the wake of the attack, Khan postponed his plan to shut down the entire country that was planned for December 18.

Shagufta, who lives near the school, told Geo TV that she heard two explosions, a smaller one followed by a huge bang.

A student who identified himself as Shuja told Samaa TV that they were taking examination when firing started.

They were told by the teacher to lie down on the floor. He said they remained on floor for about one hour when army soldiers came and told them to go out.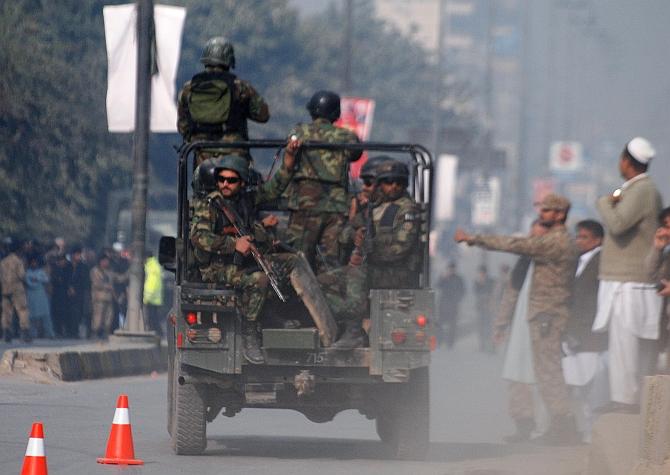 Image: Pakistani security forces drive on a road leading to the school. Photograph: Khuram Parvez/Reuters

Several students escaped through the back gate. One student who escaped said that the fourth period was in progress when they heard firing.

"First we didn't know what has happened. But later an army officer told us to escape through back gate," he said.

Defence minister Khawaja Asif said in a statement, "We are deeply fragmented today as a nation. For the sake of the children martyred today and our children fighting the enemy for our existence, we must have one message for the enemy (that) we shall overcome Inshallah and rid our land of this scourge. Zarb-e-Azb to continue with full force and (our) Armed forces remain undeterred."