'It is not the chief minister who would have rung up and told the local police station to botch up the case.'
'No chief minister or chief secretary or DGP would like a case like this happening in their state.'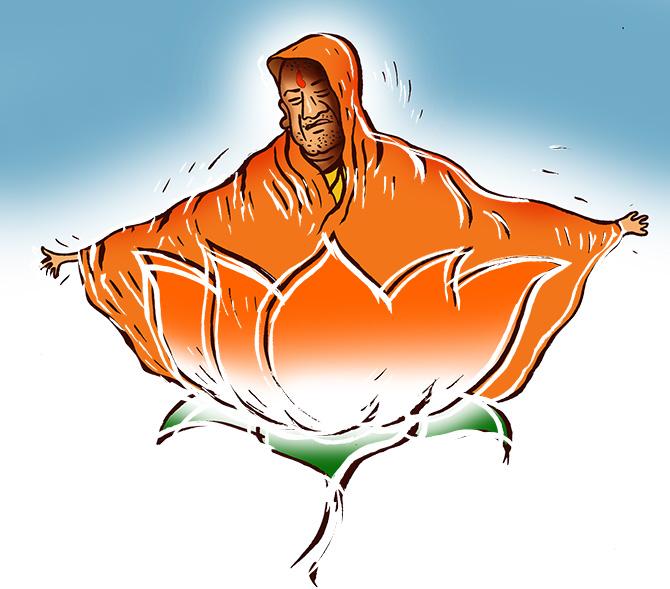 Retired Indian Police Service officer Yashovardhan Azad -- who served as a special director, Intelligence Bureau -- tells Prasanna D Zore/Rediff.com about his objections to the Uttar Pradesh government's special investigation team headed by an Indian Administrative Service officer -- UP Home Secretary Bhagwan Swarup -- and not a professional IPS officer, why he is opposed to Supreme Court-monitored inquiries, why the Opposition in the Hathras gangrape case is raising all the wrong questions.
The first of an eloquent, two-part, interview:
You have raised objection to the Hathras case SIT being headed by the UP home secretary. What could go wrong with a SIT headed by a UP home secretary?
A special investigation team should be headed by a young police officer, a crack professional at investigation.
A serious investigation is not like an inquiry report; investigation is investigation; you have to pick up the lead, you have to gather evidence, you have to be a professional cop, not even an ordinary cop; you have to be from the CID (criminal investigation department); you have to be somebody who has extensive experience in investigation and that is what CID is all about.
In this (Hathras) case, the local police might have botched up, and they did.
What you need is a seasoned professional who carries an investigation right from the beginning from how the FIR was registered, what were the charges which were levelled, and what will be evidence which will support each of the charges, and then see that the proper case is made out against the accused.
Then you have to look at all the physical evidence which has been gathered in the form blood, forensics, etc. It's very dedicated and hard work.
Investigation is not glamorous.
What could go wrong if this SIT is headed by the UP home secretary?
Why do you want to put a non-professional in a professional's job?
Nowhere in the world do you have an SIT headed by a bureaucrat.
It's like putting the head of AIIMS as a bureaucrat and say, what is wrong with it. AIIMS too requires a professional doctor to head it.
In fact, there are many, many, institutions which should be headed by professionals, but there are bureaucrats heading it.
That is the government's prerogative, but you can't fool around in cases like this. SIT is SIT.
The name itself suggests that you can't put a director of sports in charge of an SIT even if he is a police officer. You have to have somebody who's recognised and have people's faith.
There are so many IPS officers, guys who have returned from the CBI; there are people who have been in the CID; there is no dearth of good IPS officers (in Uttar Pradesh).
Some human rights activists have approached the Supreme Court for an court-monitored CBI inquiry. What difference could such a Supreme Court-monitored CBI inquiry make in this investigation and for getting justice for the victim?
I'm very sorry to see this trend of people's complete erosion of faith in institutions; in all institutions.
Today, even the AIIMS panel which gave its report on Sushant's (Sushant Singh Rajput death by suicide) case is being doubted by people. Now people are saying we want another one.
A panel of seven doctors of AIIMS, and if you don't believe it, there is nothing left.
If everyone starts asking for a Supreme Court-monitored investigation by the CBI, will the CBI be able to do its job?
Do you know what is happening to most important cases, being investigated by the CBI of corruption cases of high politicians at high places? Those are being absolutely put on the back burner because of these things.
Even Sushant's case was not rocket science; it was a simple case.
Looking into murder or suicide, it was just weighing enough technical evidence, the forensic evidence from both sides, that ligature mark is consistent or the viscera is contaminated or not.
Similarly, in this (Hathras) case, if you start putting the CBI into everything, because people don't believe in anything, then there is no end to it.
The problem is, immediately anything happens, the Opposition also starts baying for the blood of the chief minister.
Changing the chief minister doesn't help or doesn't change things on the ground.
It is not the chief minister who would have rung up and told the local police station to botch up the case.
No chief minister or chief secretary or the DGP would like a case like this happening in their state.
The Opposition goes (raises a storm through protests) for their own benefit, but they don't raise proper issues.
What were the issues to be raised?
The issue that should have been raised was: What happened to the call for ambulance scheme which had been started by the earlier regime (when Akhilesh Yadav of the Samajwadi Party was the chief minister) that you call for an ambulance or 108; why wasn't UP 100 used which is for distress calls and monitoring and things like that?
Why is it that the hospitals botch up all these cases and when the patient is barely alive, then they send her to Delhi. No one raises these issues.
Why only 35 per cent utilisation of Nirbhaya funds have been done by the states and five states have not even used one per cent?
No one raises these issues.
What should we do to repair the broken and the rotten system at the at the village administrative level?
Why is it that in Indian village, rural police stations, we have people of a particular mix who are insensitive, who are untrained and who have no knowledge (of how to register an FIR)? Even then they are short of almost everything from amenities to manpower. This will never change if another regime even comes.
What is happening is with institutions being broken at every level, and with no one having time to look at this issues, these incidents won't stop.
And therefore, tomorrow everyone will ask for a CBI-monitored inquiry. It looks very stylish.
Another stylish statement made was three-layered security given to Hathras victim's family. Who's interested in that security?
Everyone is for them. Everyone is for them; maybe even people would have made a layered-security around them.
In fact, by putting security they (the victim's family members) are complaining now that you are not allowing anybody to meet them.
So there is no end to this.