'Caste-based power politics made him think that he can get away with murder.'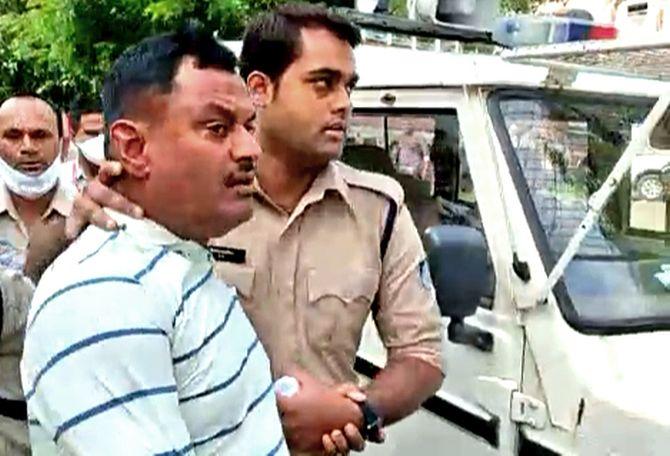 Was Vikas Dubey arrested by the Madhya Pradesh police or was it a staged surrender made to look out like an arrest?
Why was Vikas Dubey's close associate Amar Dubey killed in an encounter?
How did Dubey's alleged financier Jay Vajpayee escape being slain in an encounter?
What explains Dubey's audacity to kill eight policemen on duty?
How will the UP government now act against organised crime in the state?
Can Chief Minister Ajay Singh Bisht -- aka Yogi Adityanath -- cleanse UP's badlands of its bahubalis?
To understand the criminal-police-bureaucrat-politician nexus and the rise of Vikas Dubey, Prasanna D Zore/Rediff.com spoke with Dr Surya Pratap Singh, who after his retirement from the IAS in 2015 has become a social activist.
The UP government recently filed a case against Dr Singh for posting content that was 'inaccurate and insulting'.
This interview was recorded hours before Dubey perished after an alleged road accident on Friday morning. The first of a multi-part interview:
How do you look at Vikas Dubey's arrest from Ujjain in Madhya Pradesh?
There are two ways of looking at this arrest.
One, the way things are going on in UP, I think it looks like a totally planned surrender.
The chief minister of MP (Shivraj Singh Chouhan) spoke with his counterpart in UP (Yogi Adityanath) and told him that Vikas Dubey has been arrested and this is being widely reported by all news channels; it doesn't happen normally.
If you deep dive into caste and bahubali-based politics of states like UP and Bihar, he (Dubey) being a Brahmin, was considered a big vote catcher in several constituencies in that area (Kanpur).
According to me, the common people like a Robinhood kind of image of their leader and he is one of those Brahmins with that image.
He was absconding for several days (after the murder of eight policemen on July 2 allegedly at his behest), watching everything from close quarters: Demolition of his house, encounters and arrests of his close aides all the while travelling for eight hours from Shivli (in rural Kanpur, UP) to Faridabad (in Haryana, a neighbouring state, ruled by the BJP), crossing the UP border without being noticed by the cops in both the states, which one assumes, must have been in a state of high alert looking out for Dubey.
Most state borders were sealed and still no one noticed him crossing the borders of not just one state but two states. So if he went to Faridabad first, which some hotel's CCTV cameras showed, there must have been plans for his arrest in Haryana.
That plan might have leaked out and so another plan was made to get him arrested in MP, another BJP-ruled state.
The other narrative could be Dubey chose to surrender at a crowded place, in full public view, for fear of getting killed in an encounter.
He, or his henchmen or informers in the police department, might have tipped the police that he would be going to the Mahakaal temple to seek blessings.
There was a large queue for darshan and he shouted out that he was Vikas Dubey.
He must have planned it in a way to surrender at a crowded place because he knows the temple is always crowded and there is always some police bandobast, for the security of the temple.
That was his best insurance against an encounter.
He knew that the MP police would not encounter him because they would not get as much credit for the kill. Also, it is not a prestige issue for them unlike for the cops in UP.
He was sure the MP police will not kill him.
Being a hardened criminal produced in UP's caste factory, someone who has gained astuteness playing the Brahmin card in UP politics, he knew for sure that even the UP police will not kill him because that could lead to a huge sympathy wave among the Brahmins -- and they are quite influential in many constituencies in UP which could harm the BJP's poll prospects in the next assembly (2022) and general elections (]2024).
He is already being praised on social media by the so-called nationalist Hindus as 'Brahmano ka sher (a tiger among Brahmins)' and he knew his encounter, fake or real, would send a wrong signal to Brahmins.
Now that he has been arrested and the popular mood in the state is in support of coming down heavily on organsied crime, what are the chances that he will be convicted for the murder of eight UP cops?
I have some serious doubt about his conviction.
Why?
Reason being, there will be no witnesses against him and police witnesses will not be counted as unbiased witnesses.
Then the residents of the (Bikru) village where the eight cops were murdered will not come forward as witnesses.
They have the darkness, and the fact that there was no electricity and it was pitch dark when the killings happened, as their alibis.
History will repeat itself for Vikas Dubey.
What happpened in 2001 could happen again.
In 2001, he chased Santosh Shukla, a minister, no less, in the Rajnath Singh government at that time, and shot him dead in front of a two dozen policemen.
He was not convicted in that murder case as none of the cops stood witness; those who did, later turned hostile.
History will repeat itself in 2020 as well.
The people (of Bikru village) will say it was dark and they have no idea what happened during the crossfire that night (July 2); the cops who survived the brutal attack are already antagonised because many among them have been punished by transfers or suspensions. They are already penalised so they may not come forward as witnesses.
The possibility is the government will drag it on; they have already been doing that for three-and-a-half years (since the BJP came to power in March 2017); they will drag it on for over two more years, until the next assembly election because of the Brahmin votes, of course.
But, the question is who will suffer?
The surviving cops and families of those cops who died in the ambush. They will not get justice.
This has happened before and this will happen again.
This is a high-profile case and will remain in the limelight for some time to come. We will discuss it threadbare; but there are several such cases happening in UP everyday.
Do you know what is the conviction rate in the state? Just 3 per cent! Can you believe that?
97 per cent criminals walk out free because of lack of evidence.
How could Vikas Dubey murder eight cops without fearing about the consequences? What emboldened him so much?
He has been running his rackets rampantly using political patronage from all the ruling parties in the state since the last 20 years.
By doing this, he was slowly and slowly moving forward into the arena, gaining stature, to effect the killing of eight policemen.
Gradually, he started realising that the ruling party, the MLAs, the MPs, and local politicians, will support him because they really want him for the next election.
A couple of days before these murders, the SHO (station officer of the local police station in charge Vinay Tiwari, who is now under suspension) and the SSP (senior superintendent of police) could have taken action against him (the slain DSP Devendra Mishra had brought Vivek Dubey's criminal activities and his police connections to the notice of superiors).
Either the SHO did not inform his seniors or the seniors took their eyes off from what was happening, and he got the realisation that nothing is going to happen.
Again, he thought that the powerful lobby of one side of the police is with him and even if he kills them or defies the SSP or the DSP, nothing is going to happen to him.
The police are going to protect him. He still (after his arrest) might be thinking and he still might even get that protection.
What makes this bahubali assume that he is so untouchable?
He is a vote bank. He is a vote catcher.
You know the caste-based vote bank politics.
Anyone who has a chunk of the vote is powerful.
People don't get influenced by innocent people; they get influenced by Robin Hoods; people who have money, muscle power, have like 10 to 20 cars or, like 50 people traveling with him influence the voters. That's the unfortunate part of it.
And he (Dubey) was one of those; he was increasing his area of influence from Kanpur to Auraiya to Kanpur Dehat.
In politics, politicians like to harbour the image of a gentleman, but at the same time, they know they will need a bahubali, a vote-getter like Dubey, and that is what has happened in this case. He kept enhancing his influence in that area.
If you see one of the videos which are going viral on social media, that goes like 'Brahmano ka sher, pandit Dubey, Vikas Dubey zindabad'; the assertion is on his pandit/Brahmin identity just to send a message to his political mentors and supporters that he is a leader of the Brahmins.
He knows every politician in Kanpur would like to gain his favour. And if he favours a politician, in return, he would seek their protection and patronage.
This caste-based power politics got into his mind and made him think that he can get away with murder; and many times he actually did.
He has been out of jail on parole despite many murder charges.
All these factors made him realise that he can beat the system even if he kills eight of them.
Who have been Vikas Dubey's political masters?
He himself claims that his political guru was Harikrishna Srivastava, who is no more.
Wasn't Harikrishna Srivastava in the BSP in 2001 when Vikas Dubey allegedly killed Santosh Shukla, the BJP minister?
He was with the BSP and he was with the BJP also.
Vikas Dubey gained his stature under Harikrishna Srivastava for six-seven years when the latter was in the BSP.
While the BJP claims that he changed his allegiance to the Samajwadi Party, there is no evidence of that except a few posters.
But since the new government came into power, he belonged to the BJP.
The UP government could have taken action against him, but why did they not act against him for almost four years?