'The ideal of justice is ingrained in every human being.'
'I truly feel that if we empower our forces, the rich and the powerful will lose their hold on them.'
Additional Solicitor General Pinky Anand in an exclusive interview.

IMAGE: Manu Sharma, who is serving a life term for the Jessica Lall murder in 1999.
A trial court acquitted him, but the Delhi high court reversed the verdict and the Supreme Court upheld the life sentence in April 2010.
Manu Sharma's father was a leading politician in Punjab.
Additional Solicitor General Pinky Anand has been a part of several such cases which shook the national conscience.
Her recent book Trials of Truth reveals details about some high profile and complex cases Anand has fought in a long and distinguished legal career.
"We have stepped into an era of answerability. The police has to be accountable and answerable," Anand tells Rediff.com's Utkarsh Mishra in an e-mail interview.
Why did you call your book Trials of Truth? Was it because these particular cases reinstated the people's faith in invincibility of truth?
Trials of Truth is a book very close to my heart because it reflects my perception of how law has evolved and its interaction with society.
The title of the book was arrived at after a lot of thought as a message to the populace to never lose faith in the system.
When I look through these cases, there were many times when justice seemed to not have been done, but in the end, the system has always delivered.
It is my firm faith and belief that truth comes to the fore; the title of the book is my homage to that principle.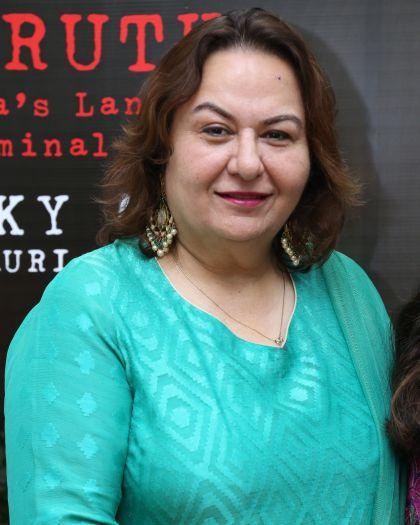 Although you mentioned the Aarushi case a couple of times while talking about media trials, you didn't include it in your book. Why? Is it because it hasn't yet reached its judicial finality?
The Aarushi murder case is still one of the biggest mysteries that we as lawyers have had to face, the media trial, the public ire, the judicial determination, all have left several questions still to be answered.
I believe that it is unethical for any person to try and give an opinion on such a sensitive matter when it is still under consideration.
Had I evaluated the case, I would have had an opinion that would have reached the readers of the book. I didn't want to do that when the final judgment is still awaited.
Eventually, maybe I will cover it in a sequel to this book.
You talk about both the positive and negative impact of extensive media coverage on high profile cases, but how far is it proper to presume that media coverage indeed affects the outcome of a trial?
Isn't it tantamount to doubting the court's ability to remain disinterested?
Every case, every issue that affects the public is an issue that will affect the justice system; we are all cogs in the same social system and no system is outside or oblivious to civil society anxiety.
I personally believe that the judiciary should remain uninfluenced and I have seen to a large extent that it is, but there are always times when societal emotions are so great that they become impossible to ignore -- especially in the context of expediting justice or where the offender may get away scot-free due to counter influences.
Please remember that we come from a society which leans in favour of the high profiler, but there are still positive forces which counter such unjust tendencies.
A major problem that you discussed is how an investigation is influenced by powerful accused. What changes are needed in our law to ensure that justice is delivered in such cases?
Apart from witness protection laws, do we also need a provision to punish investigation officers? So that they know they are risking their jobs and liberty while aiding the accused.
I believe that the only way to create insulation around investigation is if we empower our police force, not just at the officer level, but also at the junior levels.
The ideal of justice is ingrained in every human being, and I truly feel that if we empower our forces, the rich and the powerful will lose their hold on them.
The idea of punishing investigation officers is a two edged sword. On one hand, we create the fear or wrongdoing in them, but on the other it also does to an extent tie their hands.
However, I do believe that we have stepped into an era of answerability. The police has to be accountable and answerable.
Palpable changes are coming into the system with making FIRs (first information reports) becoming available online. Officials are now answerable for failing to register FIRs.
With these steps, we have provided an impetus to our investigation forces and are improving our infrastructure.
From the chapter about terrorism, you kept out the youth who were falsely implicated in terror cases and were acquitted by courts after serving years of jail without bail.
Shouldn't the stringent provisions of anti-terror laws also be discussed vis-à-vis such cases?
Terrorism has often been said to be a many-headed hydra. It seems to sprout eight heads where you cut off one.
We are seeing the insurgents rise everywhere; the reasons may be many, and may be justified to the ones who follow them, but it is our duty as nations to try and protect our citizens.
To that end, terror laws are by nature strict. In the times that we live in, they are essential to protect civilised society.
I am not condoning the fact that many times, they may have been wrongly used, or misutilised, but the stringency of anti-terror laws are a necessary evil that all of us have to deal with.
In an ideal society, there would be no laws, but the practicality of the ground is different. They are strict by the virtue of the evil they seek to curb and to that end I believe they are justified.
While you list the changes the Nirbhaya case brought in the law and in public perception about rape, two major issues of marital rape and sexual harassment at workplaces were still left untouched by legislation.
As a woman, I can understand the anguish of rape, be it by a stranger or the one you are wedded to, but as a lawyer or a policy maker, my motivations are different.
We cannot just look at only half of the population, women. We also need to protect the other half.
This does not in any way mean that I am against criminalising marital rape, but we need to keep in mind that these are private crimes which do not have any witnesses.
The danger of these laws being misutilised by some women is very real. We have already seen that in the case of (Section) 498A (of Indian Penal Code).
In the end, what this leads to is watering down of the law for those who are actually in need of it.
Marital rape is a contentious issue and needs to be handled with caution, more so because the relationship between a man and a woman assumes a sexual component, so traditional rape analysis will not apply.
This is a very dicey proposition that the lawmakers need to evaluate, so as to create a law that is balanced -- it aids those who need it, but does not become a tool in the hands of some vicious few.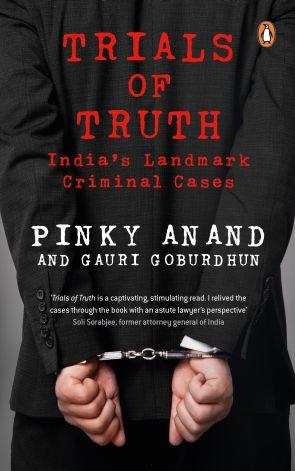 You discussed in detail the death penalty in various cases. But victims or their families in most cases feel that justice is not done if accused isn't sent to gallows.
Does it make a case for doing away with capital punishment?
An eye for an eye makes the whole world blind. The idea of taking a life seems to be contrary to almost all philosophy that we as Indians encounter, however, it is important to protect our society.
Deterrent jurisprudence is part of our ethos. Crime and punishment have a close nexus.
As an individual, I support the idea of the death penalty. However having said that, I would like to add the caveat, it needs to be executed with extreme caution.
Death penalty is the highest form of punishment that we can give to anybody, it is the taking away of another person's life, and should be given only in cases that there is no chance of the offender reforming, or when he poses such a danger to the society that contact with him is undoubtedly going to cause harm.
It is a huge responsibility on our judiciary and thankfully they have exercised due caution with it.