'Demand is wonderful. We have crossed 10 million on many days.'
'The Swedish trade commissioner recently said, "You guys are vaccinating the entire Sweden in one day".'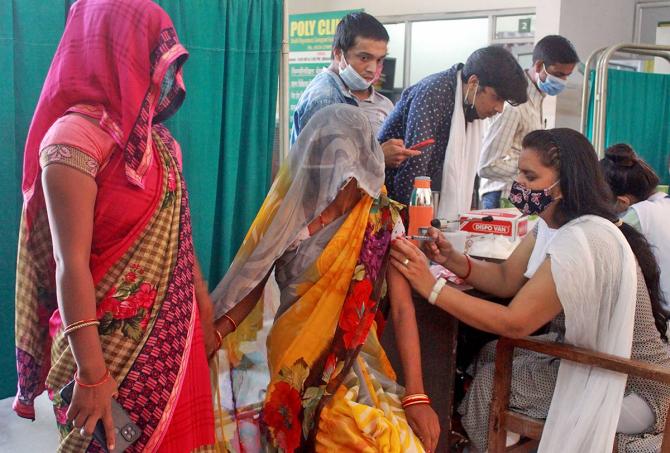 With the launch of the digital health ID, the government is set to roll out Ayushman Bharat's digital health programme across the country.
"No data is shared without the patient's consent. No data is collated and collected at a central facility," Ram Sewak Sharma, CEO, National Health Authority, tells Nivedita Mookerji and Ruchika Chitravanshi.
The prime minister has launched the digital health ID. What is the journey like from here?
The decks have been cleared for the roll-out in the entire country after the launch.
Till now it was limited to six Union territories.
The job of rolling out multiple facilities of the platform will begin.
Teleconsultation, registry of doctors, labs, and health facilities will get accelerated.
It was announced last year on Independence Day and launched in September 2021. Why did it take this long?
It is a new paradigm. Lots of pilots were required.
Many things like the personal health record structure, standards in health, and teleconsultation had to be sorted out.
The consent artefact, health information management systems of the hospitals, and multiple such pieces have to be integrated and synergised.
For example, it took 15 months to issue the first Aadhaar number because we were doing a lot of proof of concept and approving the technology.
What do you think of the privacy concerns around the digital health ID? Similar concerns were raised for Aadhaar.
Privacy is a fundamental right as has been mandated by the Supreme Court, and the Aadhaar was examined on this touchstone.
The Supreme Court in 2018 decided the Aadhaar did not violate the fundamental right to privacy.
Privacy is important and health systems have even more sensitive data.
Therefore, the architecture is based on the consent of the owner of the data.
No data is shared without the patient's consent.
No data is collated and collected at a central facility.
There is no central registry.
The data remains wherever it is and is made visible or fetched by the patient himself on his own authority.
Therefore, there is no concern on privacy.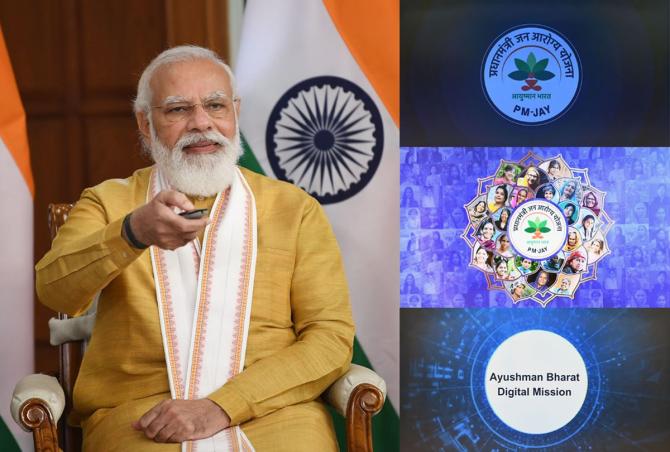 Aadhaar, while voluntary, is mandatory for some welfare schemes. What will be the approach for the health ID?
It is a unique health ID like the Aadhaar and is not mandated. It is voluntary.
Aadhaar is mandatory wherever the government is spending and providing subsidies.
For Ayushman Bharat, we have made Aadhaar compulsory.
But those who do not want any assistance can create a health ID without Aadhaar using some other mobile number.
Moving forward, how universal do you think this digital health card will become if it is not compulsory?
The health ID will become popular not because it is compulsory or not, but because it will offer huge facilities. The systems will be interoperable.
We are calling it a universal health interface similar to the unified payments interface, or UPI.
The UPI unbundled the payments to the banks.
The application does not belong to any bank.
This is like a protocol. So this is going to be a protocol-based network, where many connections will be established and therefore you will not be limited only to one particular application.
What is the feedback you have got from private hospitals?
We are going to start this process and creating a stream of doctors or hospitals.
The card will work in private and public hospitals.
We will evangelise it. We will promote it because it's a commitment for everybody.
And the hospitals, the entire health facilities, will see the value of it because it breaks the silos, the monopolies.
For Ayushman Bharat, 2020 was considered almost like a zero year. What is the outlook for 2021?
We are working on four areas. One is to create more awareness among people about their entitlements.
We are creating a small, plastic Ayushman card, distributing it free of cost so that the sick can show the card at hospitals and not be thrown out.
Second, we are increasing the hospital empanelment, so more private sector hospitals can come into the fold.
Third, we have rationalised the rates of about 600 benefit packages.
Poor rates have been one of their complaints.
Current private sector participation is about 55 per cent, and the number of hospitals is around 50 per cent.
We are incentivising the private sector by giving them higher rates if they are approved by the National Accreditation Board for Hospitals and Healthcare Providers.
Lastly, we are ensuring the turnaround time of reimbursement claims is reduced with an upper limit of 15 days.
How many states are yet to be covered?
Thirty-three states and Union territories are part of this.
Only Delhi, Odisha, and West Bengal are not part of Ayushman Bharat. Telangana was added this fiscal year.
Vaccination certificates have been a big issue.
Our certificate process is as robust as many countries.
Only minor difference is that the date of birth -- in accordance with standards set by the World Health Organisation -- is voluntary, not compulsory.
We are only collecting the year of birth.
For international travellers, we are asking them to enter their date and month of birth as mentioned in their passports so that they can download the certificate, which is of WHO standards and has a full date of birth.
Is there any shortage of vaccines in the system and how is the demand?
I don't think there is any shortage.
Demand is wonderful. We have crossed 10 million on many days.
The Swedish trade commissioner recently said, 'You guys are vaccinating the entire Sweden in one day'.
Fortunately, vaccine hesitancy has more or less gone.
We will hopefully reach the target we set for year-end.
Feature Presentation: Aslam Hunani/Rediff.com