'He was directly involved in the rarest of rare crimes -- the killing of an IAS officer.'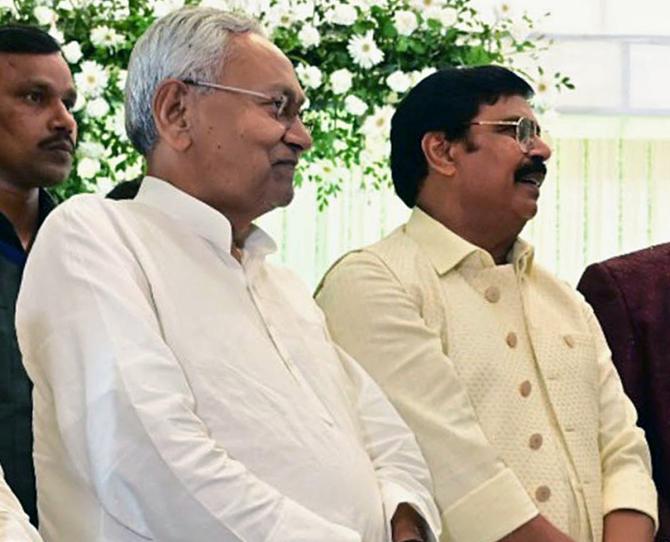 Uma Krishnaiah, the slain IAS officer G Krishnaiah's wife, is reluctant to remember the barbaric incident when her husband was lynched.
But after the Bihar government released former MP Anand Mohan Singh, convicted and sentenced to life in the case, she expressed her pain and hope for justice.
Uma, who teaches chemistry at a college in Hyderabad, says soon after the Bihar government decide to release Anand Mohan Singh, she decided to challenge the decision in court.
Anand Mohan Singh was released on April 27, 2023 after Nitish Kumar's government amended the prison rules to facilitate it.
In 2007, the Patna high court had sentenced Anand Mohan Singh to death.
The court pronounced the verdict 13 years after a mob led by the husband-wife duo of Anand Mohan and Lovely Anand shot at and then stoned to death Krishnaiah, the Gopalganj district magistrate, on a national highway near Muzaffarpur.
Later, the court converted the death sentence to a life term.
Krishnaiah, a 1985 batch Indian Administrative Service officer, who belonged to a poor Dalit family in Andhra Pradesh, was dragged out of his vehicle and killed by Anand Mohan's henchmen in Vaishali district when he was on the way to Patna to attend a meeting.
According to the police investigation report, after being attacked and beaten to near death, Krishnaiah was also shot.
The police officials reportedly said Krishnaiah's vehicle was intercepted by a mob led by Anand Mohan.
The mob was protesting the killing of Kaushalendra Shukla, a leader of Anand Mohan's Bihar People's Party.
Uma Krishnaiah spoke to Rediff.com Senior Contributor M I Khan about her crusade for justice.
You had opposed Anand Mohan Singh's release.
It was wrong on the Bihar government's part to release Anand Mohan Singh, convicted and serving a life sentence in jail.
His place is in jail. He should be sent back to jail because he deserves it.
I don't know the rules and procedures under which he was released.
But what I know is it was something that should not happened.
I have read that Bihar Chief Minister Nitish Kumar changed the prison manual to ensure his release for vested political interest. This is disgusting.
If any political party gives Anand Mohan Singh a ticket to contest the 2024 Lok Sabha polls, it will be a direct attack on our democratic values.
The Supreme Court has issued a notice to the Bihar government on Anand Mohan Singh's premature release.
I am optimistic of justice from the Supreme Court. Whatever order the court gives in the case it will be acceptable to us.
It was not a good thing to release him. He was directly involved in the rarest of rare crimes -- the killing of an IAS officer.
It will encourage criminals and gangsters across the country.
I repeatedly urged the government not to release him.
Bihar government officers claim Anand Mohan Singh was released according to the rules and there is nothing unusual in it.
If it was so, why did the state government amend the prison manual? Why did the government ignore our plea not to release him on the ground that it will sent a wrong message to society and administrative officers working in the field?
How can a known criminal be given a good character certificate by the concerned government department and leaders of the ruling parties and Opposition?
He was painted as a man having good conduct in the jail.
It was widely reported that objectionable items were recovered from his cell in the Saharsa jail during raids in the last fifteen years.
Besides, it was reported how he violated rules in and outside jail while serving his sentence.
Ahead of his release, Anand Mohan Singh claimed his family and yours were badly hit for no fault of either.
It is ridiculous. The district court to the apex court found him guilty and convicted him for the crime.
As far as my family is concerned, he snatched our happiness and our dreams. Can you imagine even today how badly we were affected?
Killing of a young IAS officer was a serious issue that devastated us. I have not forgotten that day.
We struggled a lot because both of us were from poor families.
After my husband was killed in December 1994, it forced me to get a job as a college teacher in February 1995, to manage the family. My daughters were minors.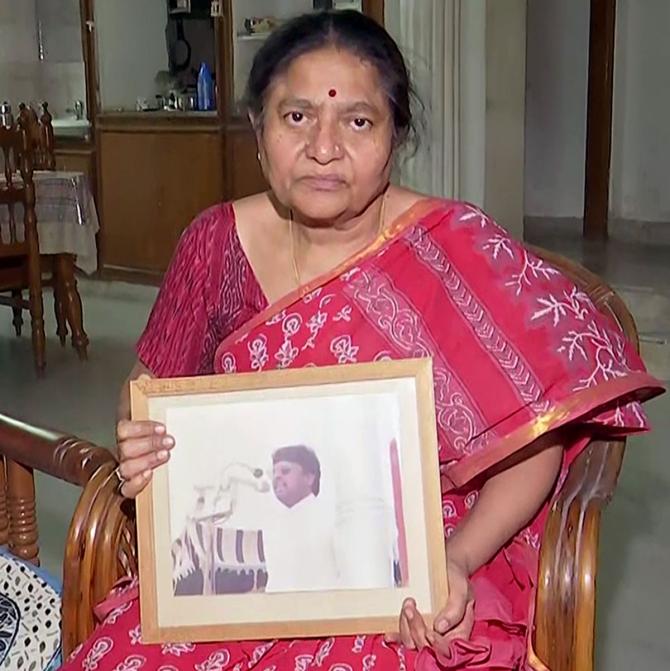 Do you want him to spend the rest of his life behind bars?
His release will encourage criminals and gangsters across the country.
I repeatedly urged the government not to release him.
Did his son, a Bihar MLA, and his wife, a former MP, approach you after his release?
No, not at all. We won't allow them to visit us. Why should they come to meet us? There is nothing to talk with them.
A major part of my life is already over and whatever remains I want to be in peace.
Do you want to say anything to Anand Mohan Singh's family?
No use saying anything to them. They know very well what is good or bad, right or wrong.
His son must be aware what kind of father he is having. He should not follow his father's footsteps. That is all I want to tell him.