'When Arnab Goswami's arrest became a talking point, the case of my husband, who was arrested much earlier, was totally ignored.'
'When so many people spoke out in support of Goswami, they were silent on a journalist named Sidhique Kappan.'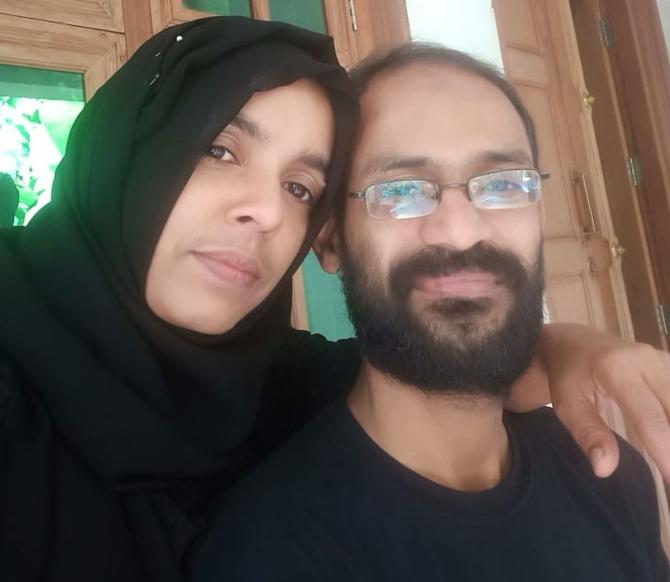 On October 5, Sidhique Kappan, a Delhi-based journalist working for Azhimukham, a Malayalam Web portal, was on his way to Hathras in Uttar Pradesh to meet the family of the Dalit girl who was allegedly raped and murdered.
But the UP police arrested the journalist along with three other young men in Mathura under Section 17 of the Unlawful Activities (Prevention) Act that deals with raising funds for terrorist acts.
The UP police alleged that the journalist was linked to the Popular Front of India, a Muslim organisation based out of Kerala, and charged him with sedition and provisions of the UAPA.
The case registered at the Chandpa police station in Hathras on October 5 said it was an alleged conspiracy to instigate riots along caste lines and defame the state government over the alleged rape-and-murder case.
Kappan's family has not heard from him till date, and his lawyers have also not been given permission to meet him. The only call he was allowed to make was to his 90-year-old mother for less than four minutes.
His wife Raihana Sidhique, who has been a quiet homemaker till now, has come out of her comfort zone and held a press conference in Thiruvananthapuram, appealing to Kerala Chief Minister Pinarayi Vijayan to intervene and bring her husband back home.
She spoke to Shobha Warrier/Rediff.com from Malappuram, where her parting words were, "He is the only support system we have. Please stand with me and my children."
You came to Thiruvananthapuram from Malappuram and held a press conference. Was it because of the kind of support the high-profile Arnab Goswami case got from the central government and large sections of the media while the plight of your husband, another journalist, has been ignored?
No, that is not the reason. I want the chief minister of Kerala to get involved in my husband's case. I want the Indian media to get involved in this. I also want the general public to be involved.
It is true that when Arnab Goswami's arrest became a talking point, the case of my husband who was arrested much earlier, was totally ignored.
When so many people spoke out in support of Goswami, they were silent on a journalist named Sidhique Kappan.
It disturbed me a lot. It saddened me.
Both are journalists; one journalist was arrested when he was going to do a story while the case against the other was totally different.
My husband, a journalist who was doing his duty, was labelled a terrorist. How can you call this fair treatment?
He was arrested on October 5 when he was going to Hathras. Did you know he was going there?
He has been in Delhi for a decade, but we live in Malappuram. We go there only during the school holidays.
He was arrested on October 5 but I came to know about the arrest only on the 6th morning.
He spoke to me on the 4th around midnight before going to bed. He didn;t tell me anything about his plans to go to UP; he doesn't generally discuss his work with me.
Our house construction is going on here, so whenever he calls, we talk only about that. He wanted to know whether the workers came, how much did they do, etc.
This time also, he ended the conversation saying, he would call me in the morning. That was the last time I spoke to him.
He used to call me 2-3 times a day, mainly to know about the progress of the house construction. When he didn't call me in the morning or at that day at night, I thought maybe he was busy with work or his phone battery might have died.
He had been complaining about the phone battery not lasting even a day, and had been saying that he had to buy a new phone.
When I tried the landline at night on the 5th and nobody picked up the call, I got worried. I couldn't sleep at all.
He is a diabetic, and I was worried about his health. That was the only worry I had then.
Not even in my wildest dreams did I think of something else.
In the morning, when a relative of mine, who oversees the construction, called to update about the work, I told him there was no news about my husband, and I cried. He consoled me saying he was a journalist and he must have gone to do a story.
But he called me back soon and said that Asianet had carried a news that he was arrested in UP.
I didn't know how to react to the news; I was worried about his health all the time, and an arrest was the last thing that was in my mind.
But everybody consoled me saying he was a journalist and he would be out very soon.
In fact, none of the people here took the news that seriously. Everybody thought he would come out soon as journalists from the Kerala Union of Working Journalists in Delhi had gone to get him released.
Then came the news that the UP government had slapped a conspiracy charge against him that he had gone there to instigate violence.
I have no words to explain our condition after that.
He was on duty as a journalist but he was labelled a conspirator...
He didn't even reach the place (Hathras) and he and three others in the same vehicle were arrested.
I am clueless. Who is behind the arrest? Why did they arrest him? I have no idea. I am still searching for answers.
He had called the Azhimugham office before going to the place, and informed them that he wanted to find out the truth.
In fact, he had asked other journalist friends to let him know if any vehicle was going to Hathras. Azhimugham did not have a vehicle of their own, and he also didn't have a vehicle. So, he was planning to go with others.
How did he happen to be in a vehicle with students from the PFI?
As far as I know, a journalist may go in any way to report a crime. His job is to reach the place and report as truthfully as he can.
I do not know what wrong did he do by going with them. His intention was only to go and talk to the family.
I read on Facebook that when somebody told him about a few students going to Hathras, he joined them. I am sure the only thought in his mind was to meet the family and report the rape and murder.
They were the students belonging to the Popular Front of India, and because he was with them in the car he was also labelled as a conspirator and a terrorist.
Didn't Azhimugham and his other journalist friends try to release him?
From the moment they came to know, Azhimugham has been trying hard to get him out. So also his friends in Delhi at KUWJ.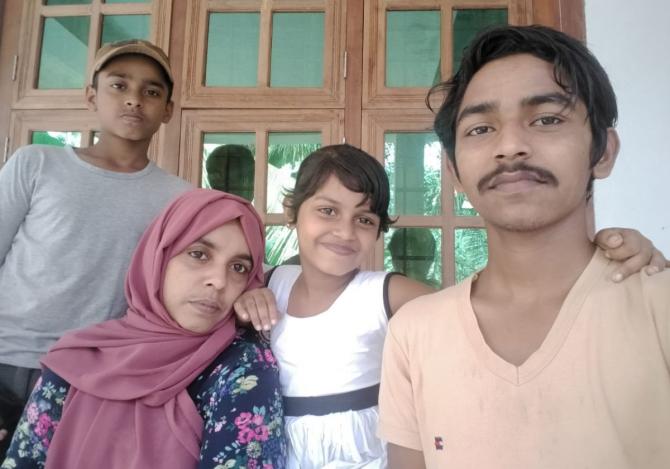 So, in the last almost 40 days, you have not spoken to your husband?
Yes, I have not been able to do so. As far as I know, even the hardcore criminals are allowed to meet their family and lawyers. What sin has my husband committed that they don't even give him this privilege?
He was only doing his duty as a journalist.
Without any evidence, how can they brand his as a terrorist? Not even a petty case has been registered in his name till today, here or in Delhi.
He is a very simple man, but a man who adheres to certain values. He has no political leanings; he writes only the truth and that too without taking any side, without any bias. Is that a sin?
When the lawyers went to meet him at the Mathura jail, the jail authorities refused permission.
Then, Kapil Sibal gave a habeas corpus petition at the Supreme Court for the KUWJ.
The court asked Kapil Sibal to approach the Allahabad high court, and when he said that it would mean he would continue to be in jail, the court said: 'You approach the high court, we are here in case something wrong happens.'
Those words give me hope; hope that the highest court will be there for us in any eventuality.
Was he worried about the way the minority community is being treated after the Bharatiya Janata Party came to power? Has he ever spoken to you about this?
No, he has never spoken to me about this, but he has interviewed those who were arrested under similar circumstances.
Like you are interviewing me today, he has interviewed many other families too. Recently he had interviewed the wife of Professor G N Saibaba.
,p> He felt very bad about the situation she was in. Little did I know then that one day, I also would be in a similar situation.
If journalistic activities can be construed as a wrong thing, shouldn't they be arresting all the journalists in this country?
There was also an allegation that he accepted Rs 1 crore from someone.
Why only allegations? Why are they not coming out with any evidence?
Anybody who has come to our house once will know how false these allegations are.
Our house construction has been going on for eight long years and even today, it is not over.
If we had that much money, we would have finished it long ago. He doesn't like taking any loan, so we are doing it with whatever money he saves. That's why this has been going on like this.
There is a central minister from Kerala. Did you try to contact him and seek his help?
You mean V Muraleedharan (the Union minister of state for external affairs)? Yes, I have sent a letter to him, but I have not heard anything from him.
I saw his message asking the people of Kerala to protest against what has happened to Arnab Goswami.
There is a journalist from Kerala who is languishing in a jail in UP, but not a word in support of him from the minister. And he wanted the people of Kerala to protest in support of a journalist from Mumbai!
Did you ever think your husband was in a dangerous profession?
He has been working as a journalist from Delhi for many years and not even in my wildest dreams did I think such a day will come in my life.
Now I come to know that there are many people languishing in various prisons like him.
Nobody who has met him at least once will say that he is a bad person. I have 100% trust in my husband as a person and as a journalist.
I am proud of the fact that my husband writes only the truth, the absolute truth and nothing else.
But I am worried about his health as he is a diabetic patient. With the kind of stress he is going through right now, the sugar level can go up.
Though the mainstream media has not come out with much support, there is a lot of support from the online media.
I feel all journalists should pause for a moment and reflect.
If this can happen to Sidhique Kappan it can happen to them also tomorrow. Anybody can be in my husband's position any time. The belief that you are safe is not true.
My only hope today is the Supreme Court decision on the 16th.