'The BJP would not have brought him into the party if they did not appreciate him.'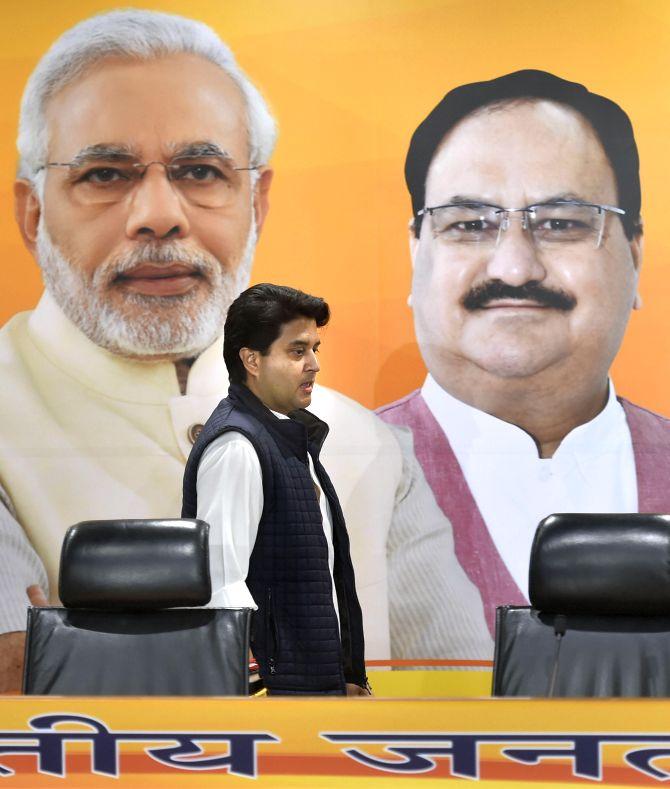 Yashodhara Raje, four-time Bharatiya Janata Party MLA from Madhya Pradesh and former MP, is Jyotiraditya Scindia's aunt, his late father Madhavrao Scindia's youngest sister.
"Well, we are in the same party now. We have to create a base from which the BJP will become stronger," Yashodhra Raje tells Archana Masih/Rediff.com about her nephew's entry into her party and the Gwalior region where Jyotiraditya and she have been on opposing sides since he entered electoral politics 18 years ago.
What role in your opinion will Mr Scindia have in the BJP?
It will be a role befitting his stature. It is too early to say exactly what would that role be.
He has just become a member of the party yesterday, tomorrow he will be signing the papers for the Rajya Sabha -- his role will pan out in the weeks, months and years ahead.
We haven't got that far yet, it has all been very quick.
In Madhya Pradesh we have been in crisis mode (because of the current turbulence in state politics).
Did you have a role in bringing him to the BJP fold?
I'm not going to let you in on whether I had a role or not. Sorry.
When did you have an inkling that he was going to join the party?
I was seeing this unfold and I had a feeling that this was going to happen because this was the only way he could have moved forward.
There is a feeling that he has been brought in with great fanfare because he was seen as being close to Rahul Gandhi.
It is not a question of being close to Rahul Gandhi. He has 16 MLAs and a government can be formed with those MLAs in a very dignified way.
He approached us; we approached him -- and he decided to come to our party.
The BJP has always vociferously campaigned against Mr Scindia in the past.
That always happens in politics. The role of the Opposition is to do the other one down. During election time you attack each other, it is part and parcel of the campaign.
In Parliament you see MPs say vicious things against each other and when they come out in the central hall they are talking, laughing and have their arms around each other.
For someone who has worked in the Gwalior-Guna-Shivpuri region since 1987, what advice would you give Jyotiraditya Scindia if he were to ask you for it?
Well, we are in the same party now. We have to create a base from which the BJP will become stronger.
Has the BJP become stronger than what it was in the past in your region?
No, it has not. There are 32 (assembly) seats in the Gwalior-Chambal division, of which 16 of his MLAs are now crossing over. We won only 4-5 seats.
It is a BJP stronghold, but for some reason we have not done well in the Gwalior-Chambal region. I have worked hard in my constituency which is one of the 32 in the region.
As Madhavrao Scindia's younger sister, do you think your brother would have approved of his son joining the BJP?
It is a hypothetical question. He was a Congressman in another time and that time has changed. One has to change with the times. A politician always moves forward taking the time with him.
If one is unhappy and dissatisfied with the role one is playing within a certain area, then you do look to see how you can improve the role so that the efficacy of doing work for the constituency can also improve. So everything is in the moment.
What is the mood in the BJP in the state and nationally with Mr Scindia joining the party?
You can see the body language on television. Everybody is happy. He has strengths of leadership and administrative capabilities, he has been a minister at the Centre twice and this will help him and our party.
As a politician yourself, why do you think Mr Scindia was not appreciated by the Congress whose member he was for 18 years? And will the BJP appreciate him?
I am not privy to what goes on in the Congress party, but one can see that after he won all those seats in the Vidhan Sabha election how his leadership was not used optimally. He was sidelined.
The BJP would not have brought him into the party if they did not appreciate him.
How will his presence impact your own standing in the region that you have been stewarding for nearly 30 years which began when your mother contested elections from there?
I don't have a problem. In the last 30 years, I have adjusted to whatever situations and challenges have arisen.
Today he is coming to the BJP; the BJP members are not moving to the Congress. When his workers come into the BJP, I presume we will have no opposition.
When our councilors stood for elections, whether in the nagarpalika, zilla panchayat, janpad or MLA -- we had to fight and win against the Congress and similarly for the Congress. Now, as I see it, the opposition has come to our side.
Is the BJP going to form the government in Madhya Pradesh?
I hope so, that's why we are in crisis mode right now, so let me carry on.