'100 per cent, the BJP will form the government in Madhya Pradesh and Shivraj Singh Chouhanji will be once again chief minister.'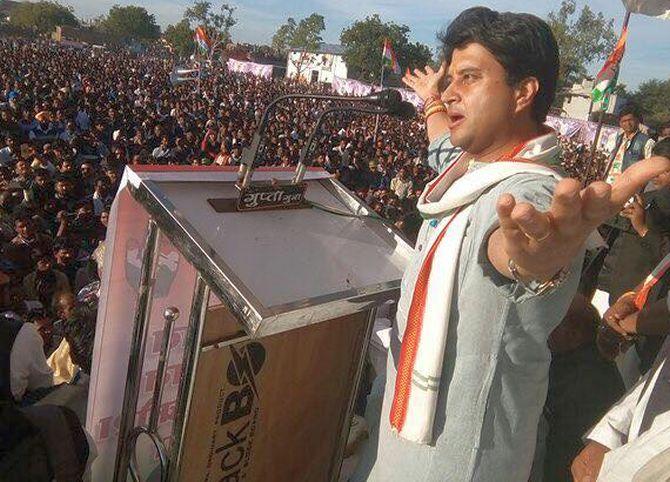 The wheel of political and personal fortunes seem to have come a full circle for Guna's Member of Parliament Dr Krishna Pal Singh Yadav who vanquished Jyotiraditya Scindia by over 120,792 votes in the 2019 Lok Sabha election.
Scindia quit the Congress on Tuesday, March 10, and will reportedly join Dr Yadav's Bharatiya Janata Party along with 20-odd MLAs, thereby destabilising Kamal Nath's Congress government in Madhya Pradesh.
'Jyotiraditya is welcome'
"Everybody in Guna believed that the honourable prime minister was the candidate from Guna and not me or any other individual," Dr Yadav tells Prasanna D Zore/Rediff.com.
"We won in Guna because of our party's policies and ideology. And if any individual wants to join the BJP, then he is most welcome! I would welcome Jyotiraditya with open arms into my family (the BJP)."
Dr Yadav says he has heard reports of the former Guna MP joining the BJP, but adds that he is not up-to-date with the latest developments as he is celebrating Holi at his native place, Rasalla in Guna.
"I am at my native place to celebrate Holi. There are reports that he is planning to join the Bharatiya Janata Party. The matter will be clear in sometime. Let's wait and watch what happens," Dr Yadav says over the phone.
'Always been friends'
Both Dr Yadav and Scindia, apart from being Congressmen once, shared a strong bonhomie as their fathers Raghuveer Singh and the late Madhavrao Scindia worked together as Congress leaders from Madhya Pradesh.
"It is true that I defeated Jyotiraditya from Guna in the 2019 Lok Sabha election and he was my opponent, but it was not me who contested the election. My party fought the election under the successful leadership of Prime Minister Narendra (Damodardas) Modi. It was the victory of the BJP and PM Modi; it was not an individual's victory," says Yadav, playing down the political rivalry between the two.
Dr Yadav quit the Congress in 2018 and had a fallout with Scindia when the party denied him a ticket to fight the assembly by-election from Mungaoli in Madhya Pradesh.
While the BJP accommodated Dr Yadav and gave him a ticket to contest the election from Mungaoli, he was defeated by the Congress candidate.
Dr Yadav refuses to delve into past rivalries and instead expresses happiness over Scindia planning to join the BJP.
"We have been very good friends since our college days and despite our political differences we have maintained very cordial relationship with each other. Our fathers were friends and we too have been on good terms with each other," he says.
"Political and ideological differences don't matter when it comes to personal friendships and relationships. We have always been cordial to each other and would continue to do so in the future too. He is most welcome if he wants to join the BJP. I will be very happy to see him join BJP," the Guna MP adds.
'People of MP want change'
"100 per cent, the BJP will form the government in Madhya Pradesh and Shivraj Singh Chouhanji will be once again sworn in as chief minister," Dr Yadav says. "Politics is the game of possibilities."
Denouncing the Kamal Nath government's misgovernance, he says, "It's the dream of all the farmers and poor people of Madhya Pradesh that Shivrajji should become MP's chief minister once again. The people of the state have been under pain and misery in the last one year of Congress misrule and their anti-farmer policies."
'What insecurity?'
Ask if Scindia's entry into the BJP makes him insecure, he says, "We (Scindia and I together) will definitely plan big and do our best for the development of Guna, Madhya Pradesh and India when we will meet."
"Why should I feel insecure if somebody is joining the BJP? The party allocates responsibilities and whatever comes our way we will fulfil the dreams of the BJP."