'Earlier, a lot of fear was in the minds of people that the BJP is anti-Christian and anti-minority, but over the years people have learnt to accept that the BJP is just another national party.'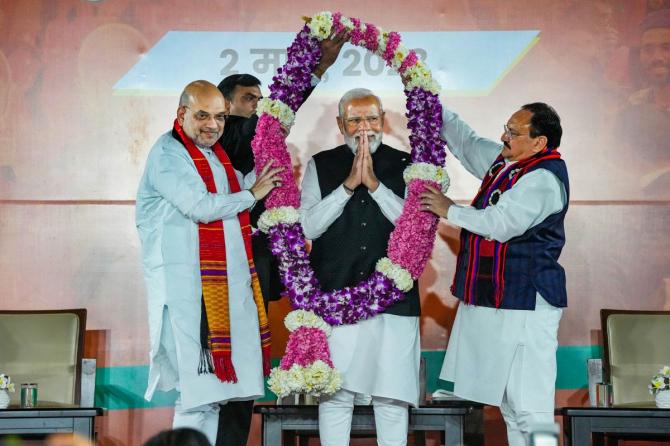 The Bharatiya Janata Party won Tripura on its own and will be part of the government as a junior party in Meghalaya and Nagaland.
BJP supremo Narendra Modi addressing BJP workers soon after the election results on Thursday, said, 'BJP was considered a bania party first and they broke the myth. They were then called an urban party and that myth too they broke. They were then called a non-tribal party and this myth too they broke. Now, they have broken the myth that BJP is not a non-minority party too.'
Modi's statement underlined that both Nagaland and Meghalaya are Christian-dominated.
"The BJP has been very strategic in its campaign by not raising the issue of religion or beef ban which has helped them to get a toehold in Meghalaya, a foothold in Nagaland and complete hold possibly in Tripura," Patricia Mukhim, editor of The Shillong Times newspaper, tells Syed Firdaus Ashraf/Rediff.com.
How do you see the outcome of this election? Is the BJP the dominant party in the north east?
Don't look at the north east, but look at the three state-wise results.
In Meghalaya the BJP had two seats in the earlier assembly; this time too they got only two seats, so there is no major breakthrough for them here. It was the ruling party (in alliance with the National People's Party) and now it will continue to be the ruling party.
In Nagaland, the same coalition went to the polls together, but here in Meghalaya they went separately to contest in which each party lambasted the other.
In Nagaland they (the Nationalist Democratic Progressive Party and BJP) had mutual respect and went together as coalition partners. But then Nagaland is a different story because they had the peace talks (with the rebel Naga groups) on the agreement that the BJP will bring about a solution.
Also, people in Eastern Nagaland demand a separate state and Home Minister Amit Shah has agreed to form a committee saying he will study the situation and give the people autonomy they are asking for and that they deserve. All these promises helped the BJP in Nagaland.
In Meghalaya, on the contrary, they do not have any credible face in the party as their leader. They need to mend that.
Earlier, a lot of fear was in the minds of people that the BJP is anti-Christian and anti-minority, but over the years the people have learnt to accept that the BJP is just another national party.
Moreover, the BJP has been very strategic in its campaign by not raising the issue of religion or beef ban which has helped them to get a toehold in Meghalaya, a foothold in Nagaland and complete hold possibly in Tripura.
Last mile delivery is the mantra the BJP is claiming as the reason for its victory. How far is that true?
No, that is not true. It is only partly true in the sense that the BJP's central ministers have come more often here in the history of India.
BJP ministers have come to monitor the schemes and they have gone beyond the state capitals to other district headquarters of the states. This is what they are calling as 'vikas', the real development.
They are trying to see that the money that is given by the Centre to this region reaches the last mile as it is generally swallowed by the tribal elite. But that last mile is yet to be achieved.
If you look at the Jal Jeevan Mission there are large swathes of villages that are not beneficiaries of this scheme.
If you look at the Ujjwala scheme where gas cylinders are given by the Centre to poor families, they do not reach villages.
This is what the BJP has to look into. It has to measure its own claim by checking whether the human development indices has really improved. If they do not do, then what is the point (of talking of last mile delivery)?
You wrote a very touching line on your social media account stating in a democracy power lies with the people. But which people? People uninformed about political ideology? People too poor to demand their rights? People too docile to ask questions? What made you say so?
What I am trying to say is that when people are not educated enough to ask questions from their representatives and people in governance, where can you expect democracy to work?
And our people do not have that capacity to ask (right) questions. We are still practising patronage democracy.
There are people who rule in the government, then you have block development officers and you have so-called beneficiaries.
A long time ago we were told that they should not be called as beneficiaries but stakeholders in development, but this is just on paper. In the real world people do not know how to ask the right questions.
What about the Congress? It is almost wiped out in the north east in this election.
The Congress has to decide whether it is a civil society organisation or a political organisation. You cannot be both.
A political organisation must be aggressive. If you have to counter that you need to be equally aggressive. I don't mean in terms of mayhem and violence. Aggressive in terms of reaching out to people, and that is important.
In Tripura the BJP removed its chief minister (Biplab Kumar Deb) and brought in a new chief minister (Manik Saha) a year ago and still they won. How did they do that?
They did this repair work by changing the chief minister Biplab Deb who was speaking anything. I called him mota mouth (loudmouth). They replaced him with a decent doctor. It spoke a lot about the BJP who remove people who do not perform and put a new person in his place. This really helped them.
We have to also remember that the Left Front has lost its vigour in Tripura and the Congress is nowhere to be seen.
What about Assam Chief Minister Himanta Biswa Sarma?
Himanta Biswa Sarma is the kingmaker now. He will come to cobble up a BJP government in these states.
Last time they won two seats and he ensured their government was formed, and this time too he will do the same. Meghalaya Chief Minister Conrad Sangma met him three days ago, before the results were declared.
What was the reason the BJP split with Conrad Sangma's party?
Every political party was throwing anti-incumbency at the other at the time of campaigning. All three to four coalition parties went on their own. Meghalaya is a classic example of that, there has never ever been a pre-poll coalition.
Do you think this double engine statement works for the BJP in the north east as the states tend to go with the party in power at the Centre?
North east is a dilemma as they always need a friendly government at the Centre. It is because these states do not have resources.
We get 90 percent of our resources from the Centre and we have our own 10 percent state resources. Even that 10 percent of share of our required resources we are not able to put in. In this scenario if you have an unfriendly government at the Centre it will not help because India is not a federal state in that sense.
Why are the north east states not able to generate much of their own resources?
Most of these states have been created without giving a thought on the economic model they can sustain. And therefore, the states are not really autonomous (in the sense) as they are not able to generate their own resources.
That is the dilemma and everything becomes political. Nothing is rational and nothing is based on an economic study of the situation.
None of these states generate (huge) revenue. Meghalaya used to generate Rs 600 crore plus revenue from the royalty on coal mining. In 2014, the National Green Tribunal banned coal mining; at least rat hole mining was banned.
Meghalaya was told to do scientific mining, but they have not done so yet. Now, illegal mining is going on and that income is going into private pockets.
Has infrastructure improved in the north east? We see so many advertisements in newspapers on how the Modi government has changed the region in the last eight years.
No, that is not true.
In Manipur you can see some development happening and so also in Assam, particularly in Guwahati metropolitan city.
You see roads being widened and flyovers all across being built, but this hasn't reached the last mile as I said.
In Meghalaya, the situation is the same.
Tripura, I am told, there is much more visible development. And, I think they are trying.
If you take the Hindutva part out of the BJP, they are better in governance.