'The government is plucking leaves and not destroying the plant.'
Panun Kashmir which means 'Our Own Kashmir' is a movement launched by Kashmiri Pandits to establish a homeland.
"Jammu and Kashmir needs to be divided further. We need one place for the displaced Hindus who have been subjected to genocide," Panun Kashmir Chairman Ajay Chrungoo tells Rediff.com's A Ganesh Nadar.
Home Minister Amit Shah says violence in Jammu and Kashmir has come down since the repeal of Article 370. Do you agree?
He is talking about before and after 2014. This statistical approach does not give the actual picture.
This is a wrong way of looking at it. Before 9/11 in the US they said global terrorism had peaked in 1987. Which means that 9/11 should not have happened.
The BJP is following the Congress model of statistics. One month back they said that all is normal.
In the last one month violence has escalated. Minorities have been targeted, migrants have been targeted.
For the last fifteen days they are trying to clear an upper forest area in Poonch. The army has suffered a lot of losses.
It is a very long encounter. This should not have happened if normalcy had been restored. Local police say there has been activity in this area for three months.
Do you think the Government of India is pretending that all is normal in Kashmir?
That has been the case of all governments. When India lost a cricket match against Pakistan, they were celebrating in Srinagar. Students are being radicalised.
Do you think your demand for a homeland north and east of the river Jhelum for all migrated Hindus is practical?
There is no other option. All the Hindus who have been displaced need a safe place to stay.
Religious fascism is happening here. Genocide has happened here.
Jihad is going on. We need protection. It is the most practical solution.
It will break the cycle of terrorism. It will protect the most vulnerable area in Kashmir.
The Government of India has to bring a fundamental change in its approach.
Do you think your brethren will come and stay here?
The government has to give the Hindus confidence. We have to live in one place.
In the 1990s, we were scattered all over the Valley so could not fight back and defend ourselves. Once the people feel safe, they will come back.
They have to be assured of security and the terrorists have to be punished.
There has to be sustainable development and availability of freedom, the freedom to protest. We need all three.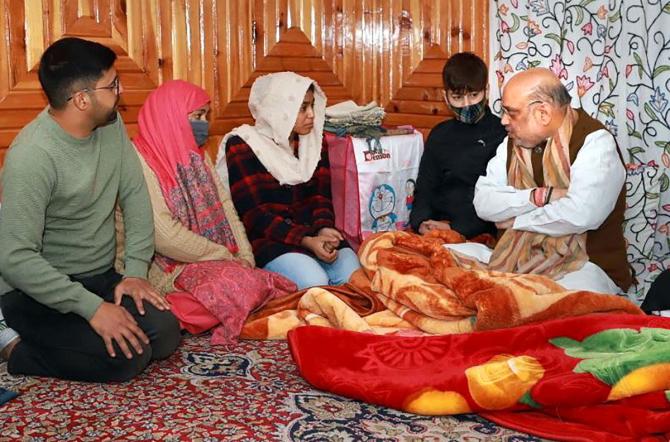 What about jobs? They will need to go out to work.
When I said sustainable development, that is what I meant. Jobs have to be provided in the same area.
Many Hindus have stayed on and are working in the Kashmir Valley. What about them?
Only 4,000 to 5,000 Hindus are there. Some families stayed back. Employees working there are individuals; they are not there with their families. They live in transition camps.
Some of them have gone back to Jammu after the recent killings started. The families who stayed back are being targeted now.
You have said the Government of India is indulging in wishful thinking in Kashmir. What do you mean by that?
When you think that there is normalcy when there is no normalcy.
When you think you have a lot of support and you don't have it.
When you don't see reality, you want to concoct reality, it is wishful thinking.
The previous governor Satya Pal Malik said, '25,000 Jamaat supporters are with the administration.' It is only one of the many organisations.
They say, 'Few people are involved in violence'. That is also wishful thinking.
Terrorism is like agriculture here. The government is plucking leaves and not destroying the plant.
The government has given jobs to Kashmiri Pandits in Kashmir.
We approve of the jobs, but we are not happy with the security.
They (Kashmiri Pandits) cannot move around freely in Kashmir. They should be in Jammu till the entire community returns.
The government is not addressing the genocide of the group. They are looking after a few individuals.
They are creating an illusion that secularism has returned. Hindus are used as a cosmetic secular dressing.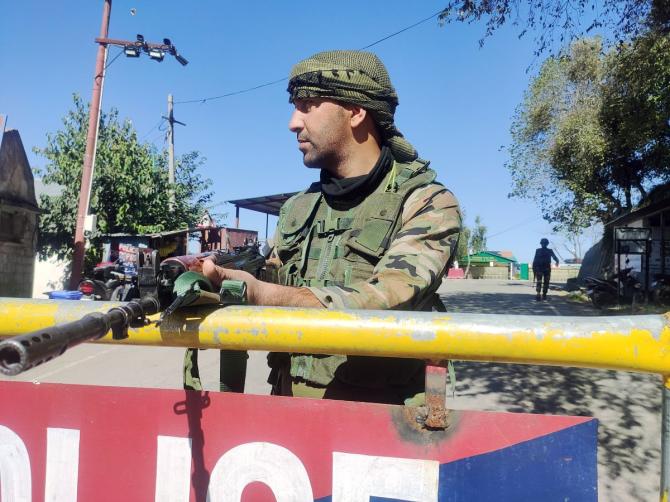 Ladakh has been separated from Jammu and Kashmir. What more reorganisation do you want? How will that help?
Jammu and Kashmir needs to be divided further. We need one place for the displaced Hindus who have been subjected to genocide. That will make them secure in one place.
Presently, Kashmir is in the grip of religious fanatics.
The area I am talking about is strategically important to our nation.
They are trying to win over the separatists, not to win over the patriots.
Can Hindus and Muslims live peacefully together in Jammu and Kashmir, in your opinion?
When Muslim communalism in Jammu and Kashmir is illegitimised, then Muslims and Hindus can live together normally.
Muslims and Hindus can live together in a secular atmosphere, not in the present communalised system.
Is there a political solution to this problem?
What we have been discussing is a political solution.
Is there a solution that you have in mind, which you think is workable?
This is workable. If Article 370 can be removed and 35A can be removed, further reorganisation can be done.
Feature Presentation: Aslam Hunani/Rediff.com