'It is the regional parties and their leaders who are the ones we have to watch.'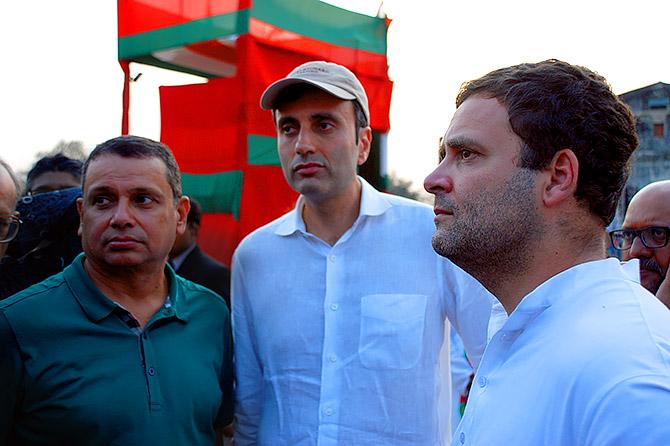 This Lok Sabha election 900 million Indians will vote across 1 million polling stations.
They vote for 545 Lok Sabha seats and it takes 10 million election officials to handle the countrywide voting.
If one is even mildly curious, can one afford to stay away from viewing a stunning carnival of democracy like this? From understanding the world's greatest tribute to democracy?
It is a spectacle with a serious purpose, that finally, after six long weeks, gives, mostly without fail, India, a country with twice the population of Europe and as many languages, fairly and peacefully a new stable government that usually lasts its five-year term.
Ruchir Sharma, a senior investment banker at a top global investment firm in New York, whose first job was of a journalist, finds he can't ever keep away.
Every election season he shelves his voluminous financial reports, takes time off from work to head to India, the country of his birth, to cover something India does best: Vote.
How does he cover such an enormous country going to vote?
When on election tour, Sharma chooses his destinations carefully to make certain he comes away with the best flavour of the race. He often heads to Uttar Pradesh, the decider state with roughly 15 per cent of India's population and 80 Lok Sabha seats, that has turned out some of India's best known MPs, including Prime Minister Narendra Damodardas Modi, Sonia Gandhi and her son Rahul Gandhi.
Sharma, the author of Democracy on the Road: A 25-year Journey Through India, is already in India for his 28th election odyssey.
After his Air India flight touched down in Delhi a few days ago, and he made his obligatory work trip to Mumbai, Sharma headed up to UP this time too. First stop: Lucknow.
Since it is difficult to get leave for the whole six weeks he had to forgo, he says ruefully, witnessing South India going to the polls. But he will head to eastern India and watch Bengalis cast their ballots.
"Despite all the advantages the ruling party may enjoy -- from much more money, much more sway over the media and clout over the business people -- the fact that the ruling party is always in danger of losing an election, shows me how vibrant democracy in India is, in a way that very few countries in the world can claim to be. That for me is really remarkable," Sharma tells Rediff.com's Vaihayasi Pande Daniel in the concluding segment of a two-part interview.