'He totally gets the Gandhis...'
'If anything, he pays too much attention to the Gandhis.'
'I feel that in places like UP, where the Congress doesn't matter, he often spends time blasting the Gandhis.'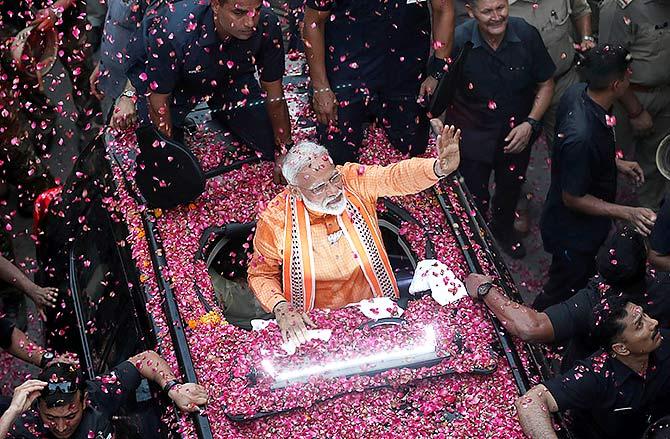 Ruchir Sharma is at this very moment in New York packing his bags for India.
Into those suitcases he will probably throw in pairs of sunglasses, stomach tablets, a range of hats, plenty of notebooks, anti-mosquito sprays, maps, maybe a camera, reading material, his passport, his India phone, a slew of the coolest cotton shirts. Perhaps no suits or ties.
Sharma is a senior global investor of a top investment firm, a columnist for The New York Times, The Times of India, The Wall Street Journal among others, and author, for whom travel to the freakiest places in the world, is par for the course, as he sniffs out new emerging markets.
But there is a destination that most definitely tops his list.
It has nothing to do with work.
India in Election Mode!
All set to fly to India in a few days to catch our country as she prepares to vote in the last two phases of the six-week 2019 Lok Sabha elections, Sharma has been covering India for 25 years running, right since the 1998 Uttar Pradesh state election, with a group of journalists and observers.
He has, over those years, clocked 25,000 miles plus -- more than the circumference of the earth -- crisscrossing India's heartland, from north to south and west to east (not all the way), as she hits the ballot boxes, to figure out the unique electoral pulse of her amazing people.
The spectacle of India deciding to vote, one of the most vivid juggernauts in the world, Sharma finds irresistible.
This investor, whose father hails from Rajasthan and mother from UP, grew up all over India since his father worked for the navy. But summers always brought him to his nana's house in Bijnor.
Sluggish Bijnor, in western UP, a town then of far less than a lakh population, and the place where Dalit leader Mayawati won her first election, was responsible for kindling Sharma's interest in politics.
As he tells Rediff.com's Vaihayasi Pande Daniel, UP is a state with a population of 204.2 million psephologists.
Every UP-ite is a budding Nate Silver, his ear keenly and zealously tuned in to every nuance or changing wavelength/fresh hawa of local politics.
Even during Sharma's days of yore, Bijnor's main chowks hummed with the excitement of electric political discussions.
In a pre-television, video, cellphone era, teenaged Sharma was often an eager bystander, quickly picking up an understanding of the complex intricacies and equations of the state's rough-and-tumble politics.
It was not a habit he was ever able to shake off and what drives him to return year after year to witness different editions of India's elections.
He has collated the best of his experiences in a recent book titled Democracy on the Road: A 25-year Journey Through India, his third.
Through 364 pages of Democracy on the Road, quite obviously a labour of love, Sharma offers nuggets about the wildest and sanest (are there any?) places he visited on the campaign trail, the food along the way, bytes with the most astute of voters and interviews with the biggest political stars.
More than that, he presents an intriguing, gorgeous portrait of an India he loves. The first of a multi-part interview: