'This is India, bhai. This kind of country does not exist anywhere in the world.'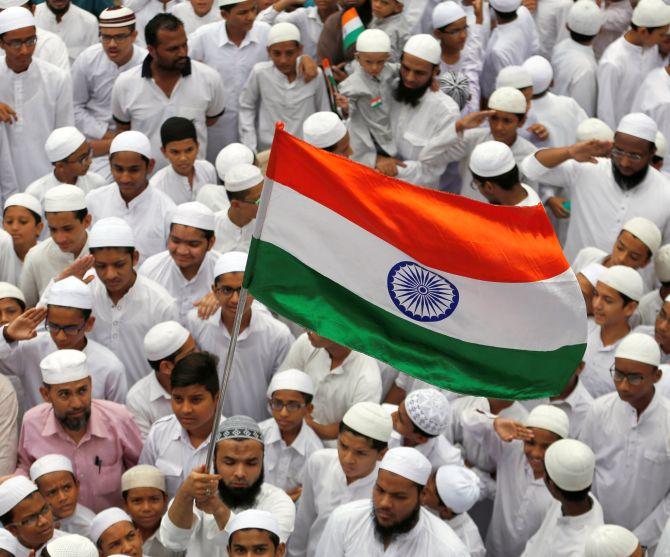 After the Supreme Court ordered a trial in the Babri Masjid demolition case against senior Bharatiya Janata Party leaders L K Advani, Murli Manohar Joshi, Uma Bharti and others, All India Majlis-e-Ittehadul Muslimeen President Asaduddin Owaisi said the December 6, 1992 demolition was more serious than Nathuram Godse's January 30, 1948 murder of Mahatma Gandhi.
Owaisi spoke to Rediff.com's Syed Firdaus Ashraf about why he feels thus and more.
Why did you say that the Babri Masjid demolition was more serious than Mahatma Gandhi's murder?
The diversity of India is the ethos of this country. And if that is destroyed, then you are weakening the foundations of India.
The Babri Masjid was demolished by an act of treachery.
First, they went to the Supreme Court and said they will only perform kar seva.
They also said they will not touch the Babri Masjid, then the whole world watched how they made a mockery of the rule of law.
What could be a bigger crime than this?
They weakened India's pluralistic society, which is the soul of this country.
But Gandhi's assassination deeply scarred the Indian nation. How can it be compared with what happened to just one community?
How can you say only one community was affected? The Babri demolition affected every Indian.
It created turmoil throughout the country. It led to communal riots and a bloodbath.
Tabahi aur barbadi hui (there was death and destruction). And the people who demolished the Babri Masjid went on to become the deputy prime minister (L K Advani) and HRD (human resource development) minister (Murli Manohar Joshi) of the country.
Their party is in power. They got the Padma Vibhushan. The BJP started all this and today they are in power.
Do you think Kalyan Singh must step down as Rajasthan governor and face a trial in this case?
If he does not step down, then this government must remove him.
Why should he hide behind the cover of governorship?
He was the main person (involved in the incident) as he was the chief minister of Uttar Pradesh (then). He allowed the demolition of the Babri Masjid.
If you read Open Secrets written by Maloy Krishna Dhar (a former senior Intelligence Bureau officer), it says the Babri Masjid demolition was a conspiracy.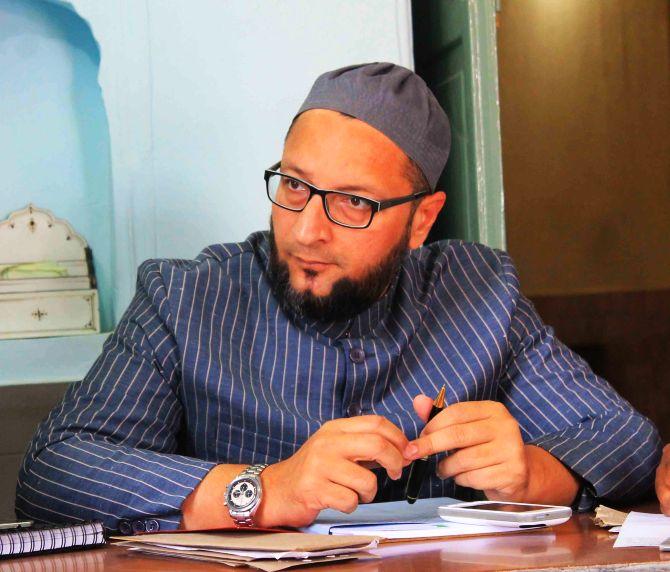 Don't you think the Congress was as responsible for the demolition because it was in power at the Centre?
(Then prime minister P V) Narasimha Rao himself is responsible for the demolition of the Babri Masjid.
Various parties who were in power in Uttar Pradesh, like the Samajwadi Party and Bahujan Samaj Party, could have easily clubbed together the Rae Bareli and Allahabad court cases.
If they had done that, by now we would have seen the end of the criminal trial.
But they did not do it and therefore it took 24 years.
Do you think the Padma Vibhushan for L K Advani must be taken back after this court ruling?
In the history of independent India, those who had criminal cases (against them) never got civilian awards.
This is the first time that the second highest civilian award has been given to two people (Advani and Joshi) against whom criminal cases are pending.
The BJP has stood by its leaders. Do you think Union Minister Uma Bharti should have resigned after the ruling?
It is for this government to now realise. If the CBI (Central Bureau of Investigation) is going to be the prosecuting agency and a Union minister is facing the charge of conspiracy, then it is the government which has to decide.
Day in and day out, they talk of so many things. They want to remove VIP culture, they have removed red beacons.
Now, you tell me, if they remove red beacons, but the CBI will have to act against a Union minister, then which VIP culture are they ending?
What message does the Babri Madjid demolition trial send across the country?
The message is that hating Muslims has become part of mainstream politics.
During Hitler's time, kosher meat was banned and after that Jews were sent to the gas chambers.
In the electronic or digital media, four times a week, they only discuss and debate about Muslims.
They debate about the Muslim population as it causes pain to them. The Muslim culture is a pain to them, Sharia law about family and marriage is a problem to them. And now azaan is also a problem.
But the statement of (BJP MP) Subramanian Swamy that Kashmiris must be depopulated never becomes an issue.
A retired armed forces tribunal judge (retired Air Marshal Anil Chopra) saying kill 100 people never becomes an issue.
Hating Muslims and communalisation have become mainstream. Nobody will talk about it.
Yesterday (April 19), Justice (A P) Shah said very correctly that those who oppose (Prime Minister Narendra) Modi are classified as anti-nationals.
Do you think things will worsen in the future?
I am not an astrologer. I have no knowledge of the unseen. But what is happening in the present is not good.
In Alwar, such a big incident happened and (Minister of State for Home Affairs) Kiren Rijiju says it was an altercation between two groups. What kind of statement is this?
Why does the government not have the guts to say it was not an altercation, but a pre-mediated murder by gau rakshaks?
They spared a Hindu driver and killed a Muslim cattle trader (Pehlu Khan).
You are saying Muslims are being targeted, but many people feel that Muslims don't want to come into the mainstream. They are not ready for a Uniform Civil Code and they do not even follow the court ruling which says azaan must not be played on loudspeakers before 6 am.
Who is stopping the government to give at least Class 4 jobs to Muslims?
Why do you say they are not in the mainstream? Who does not want to come to the mainstream?
Why doesn't the Maharashtra government implement the high court order of giving reservations to Muslims? Will that not be helpful?
It is not given on a religious basis, but on an economic basis for backward Muslims.
They always say the court will not accept it, but when the court accepts it why are you not giving reservations?
Why are you after Aligarh Muslim University and Jamia Millia Islamia?
Why you want to take away their minority character?
Why are you not stopping gau rakshaks?
The prime minister talks about backward classes, then why is he not allowing the Qureshi community to sell meat?
They are not selling cow meat, but buffalo meat. It is their profession and in Uttar Pradesh their business has been destroyed.
There is a perception in Indi that the Congress and other secular parties indulged in Muslim appeasement.
People who say Muslims were being appeased are either blind or arrogant.
They must read empirical data which will show the backwardness of Muslims -- be it the Sachar Commission, Mishra Commission, Kundu Committee or Mehmood Rehman Committee of Maharashtra, Sudhir Committee of Telangana, NSSO (National Sample Survey Office) data and census data.
What appeasement? You are saying that I should not be allowed to follow my culture.
How is that appeasement?
Take the Shah Bano case in which a Supreme Court ruling abolishing triple talaq was overturned by the then Rajiv Gandhi government.
Or for that matter, of azaan on loudspeakers early in the morning. Is it not appeasement?
I told you in my first answer that India is a beautiful country because of its diversity.
Don't we hear sounds from temples and gurdwaras in the morning? We do.
This is India, bhai. This kind of country does not exist anywhere in the world.
There are so many cultures being celebrated, will you finish them all?
So many festivals happen and loudspeakers are used. Do jagrans happen or not? This is India where people celebrate festivals.
The Supreme Court ruled that loudspeakers must not be used in the morning.
Who is refusing that? In Delhi where I stay, I hear voices every morning from every place of worship of different faiths.
Why is this issue with azaan being created now? Why not earlier?
Gau rakshaks have killed nine Muslims so far. Two children were raped by them.
But this azaan problem was raised by singer Sonu Nigam.
You read a BBC Urdu report which says azaan cannot be heard even in a 2.5-km area near his house. The reporter spent 24 hours near his house and she did not hear azaan.
So from where is Sonu Nigam getting the 'noise' of azaan?
Sonu Nigam may own other houses where azaan could be heard.
You go and check the BBC Urdu Web site. Masjids are in predominantly Muslim areas and you have already done ghettoisation of the Muslim community in Mumbai.
Muslims don't get flats in Mumbai, how will they build mosques?
Even Muslim film stars have complained about this and ordinary Muslims do not get homes (in cosmopolitan societies).
You tell me, why is the azaan issue being raised now? What is the plan of the government to ban loudspeakers?
In Madh island (northwest Mumbai), this singer has a recording studio, the noise from which disturbs people. What are you going to do about it?
Hating Muslims and creating issues like this is the trend. And then you say bring them into the mainstream. What should I do?
I am an Indian, my culture is different and the Constitution permits me to keep my culture and my religion.
They worry about what I eat or what is being cooked in my home or how am I getting married. Why are they doing these things?
Open schools for Muslims and give reservations to them as per the court order. Nobody talks about that.
Despite all this, Prime Minister Narendra Modi is very popular and his party is winning elections everywhere.
This is the question you should go and ask the Hindus or the so-called secular parties. Why are you asking me? How can I answer for the BJP?
But as a politician you can answer why Modi is so popular.
It is a failure of all these so-called secular parties.
Unfortunately, Muslims have been made fall guys. Muslims have been made the coolies of secularism.
The (A K) Antony report says the Congress lost in 2014 because of Muslim appeasement. What did the Congress do to appease Muslims? Tell me.
The Congress cannot win elections by becoming the younger brother of Modi. They have to have a different agenda which they have not been able to produce.
Your party, the AIMIM, faced reveres in the recent elections. In Mumbai too, you didn't do well.
We were zero in Mumbai, but won two councillor seats (in the recent municipal elections).
In Solapur, we won 11 councillor seats and so also in Beed (in Maharashtra).
You keep winning or losing elections. We will work harder next time.
In Uttar Pradesh your party performed badly.
The Congress was reduced to 10 seats (from 28 in 2012). The BSP (Bahujan Samaj Party) was reduced to 25 (from 80 in 2012).
We lost today, but we will win tomorrow, Inshallah (god willing).
MUST READ features in the RELATED LINKS BELOW...