'I reached Bhopal the day after the gas tragedy; the smell was still in the air.'
'It was a professional hazard, but I was not scared.'
Please click on the images below for a better look at Mukesh Parpiani's Amazing Photographs.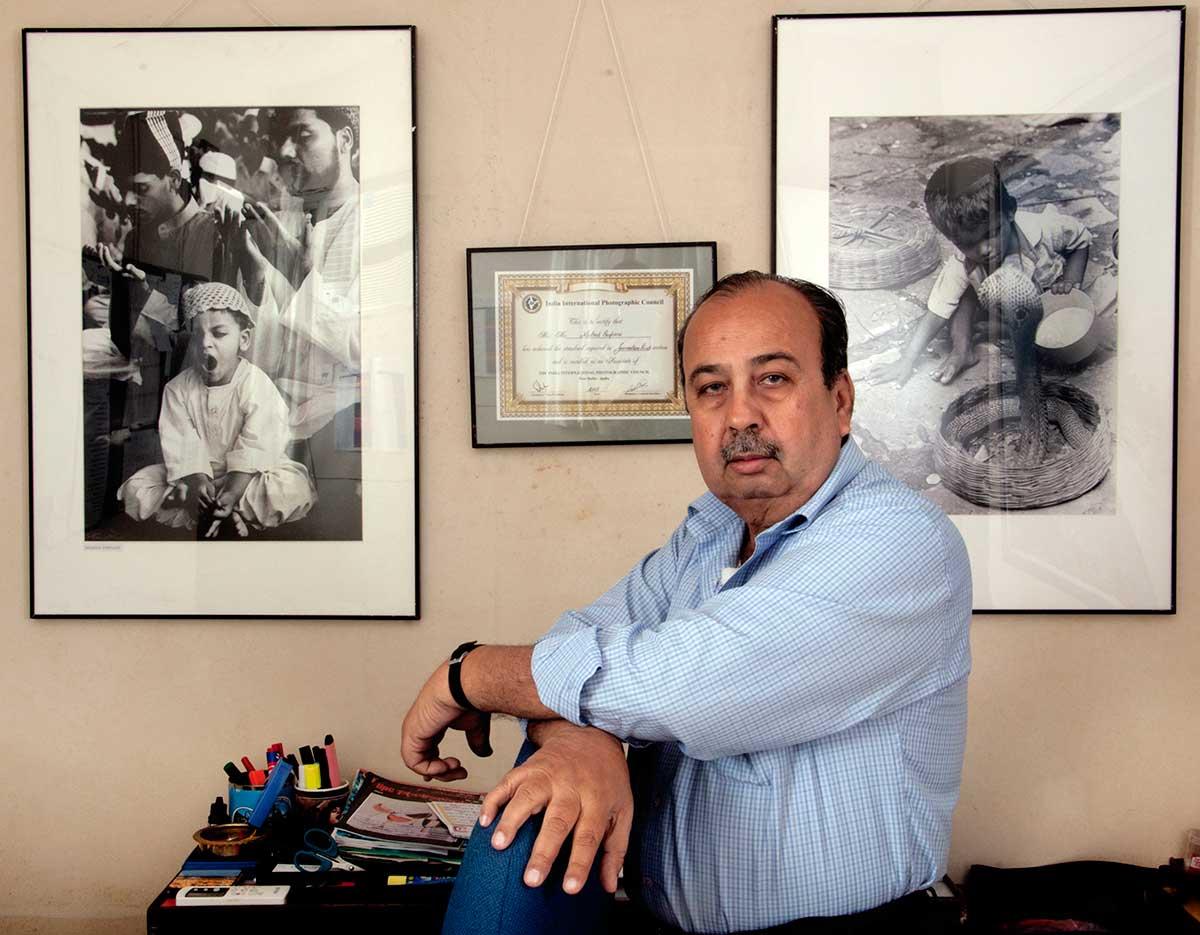 IMAGE: Mukesh Parpiani, one of India's finest photojournalists. All photographs: Kind courtesy Mukesh Parpiani, The Daily, The Indian Express, Mid-Day, NCPA
If you have the habit of checking who has clicked a particular photograph when you read a newspaper, Mukesh Parpiani would be a familiar name.
The light-eyed photographer has been a photojournalist since over five decades.
On World Photography Day last month, he was honoured with a Lifetime Achievement Award by the Mantralaya News Photographers Association, Mumbai, and the Andhra Pradesh Photography Akademi.
For more than a decade now, Parpiani has been curating at the National Centre for Performing Arts, Mumbai, where he has organised more than 250 photo exhibitions.
His impressive CV also includes stints at The Daily, The Indian Express and Mid-Day; he has spent almost a decade in each of these newspapers as photo editor.
Parpiani shares glimpses from his long journey as a photo-journalist with A Ganesh Nadar/Rediff.com.
Why did you choose to become a photojournalist?
My elder brother was fascinated by photography. He had a darkroom at home and I used to wash his prints.
I did my under-graduation in Mumbai from 1967-1969. After that, I did a diploma in photography.
I became a wedding photographer and travelled to Nepal, Banaras, Patna and other places. But I did not earn much.
I then joined Xavier's Institute of Communication in Mumbai and did a two-year course in mass communication.
After that, I started freelancing for Russi Karanjia's Blitz. Then he started The Daily newspaper, where I worked for nine years.
When I got an offer from The Indian Express, I joined them. We had a team of 12 photographers. I worked here for nine years as well.
Then I joined Mid-Day and formed another team there. At that time, we introduced digital cameras. When I was at Mid-Day we entered many contests and won eight awards. I worked there from 2000 to 2009. I retired when I turned 58 years old.
While I was working at The Daily, Mr Karanjia allowed me to give my photos to weekly magazines.
Who were your inspirations at the time?
When I was growing up, we used to get The Indian Express newspaper at home.
I used to like the photographs taken for that paper by Saby Fernandes, S Paul, Vinayak Gokhale and R D Rai.
Could you tell us about your experience of covering the Bhopal gas tragedy?
I reached the next day; the smell was still in the air.
It was a professional hazard but I was not scared.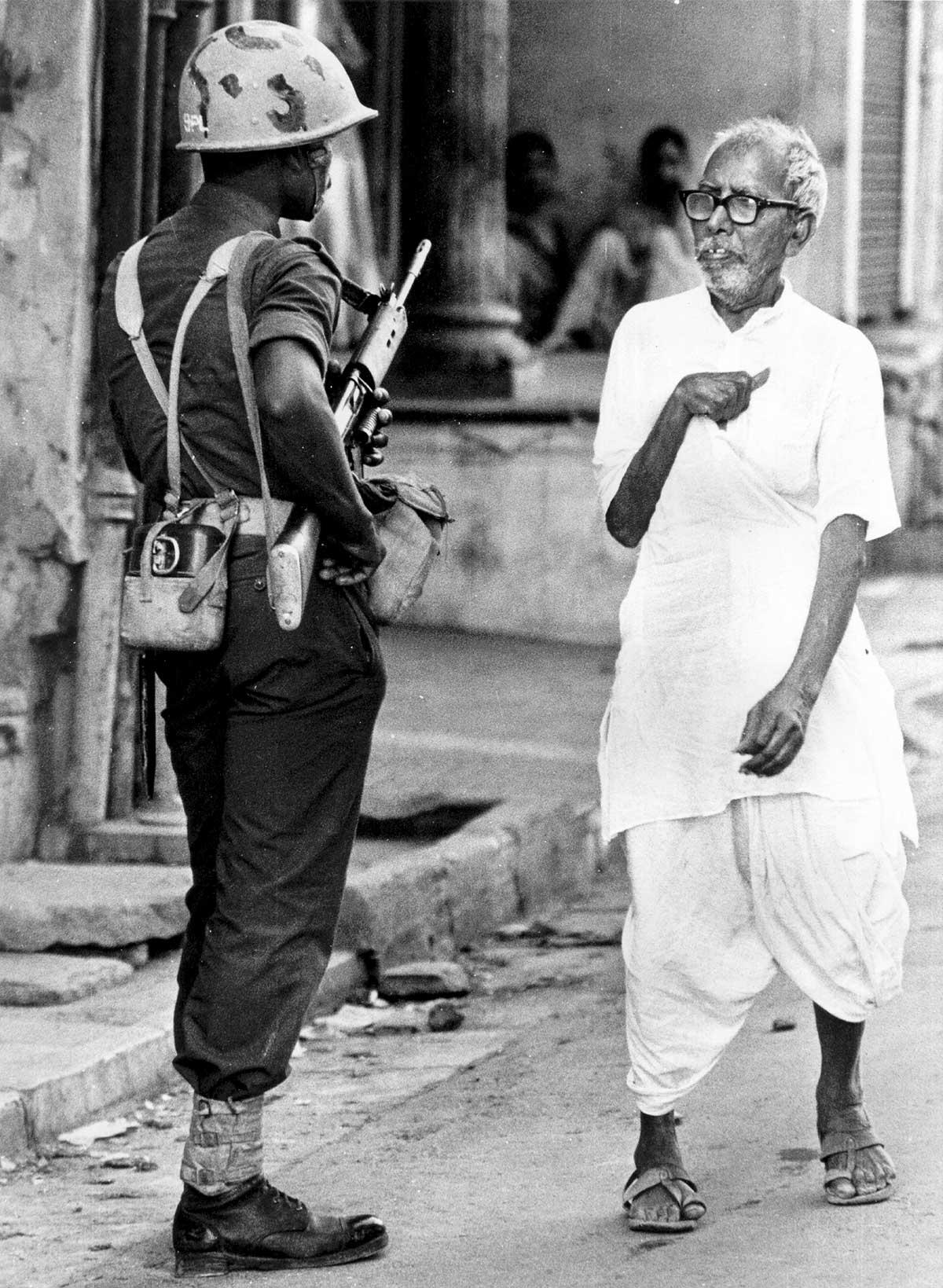 IMAGE: An elderly gentleman stares at a trooper during the Ahmedabad riots.
Did you feel that you were in danger when covering the Gujarat riots?
I did not cover the riots that occurred in this millennium.
I went there during the late 1980s and early 1990s, when student agitations led to riots.
I remember travelling on a scooter one day during the curfew period.
There was a man on a cycle, carrying a can. Soon after we passed him, he was stabbed to death. We did not see the attack, but we came back to click pictures of that scene.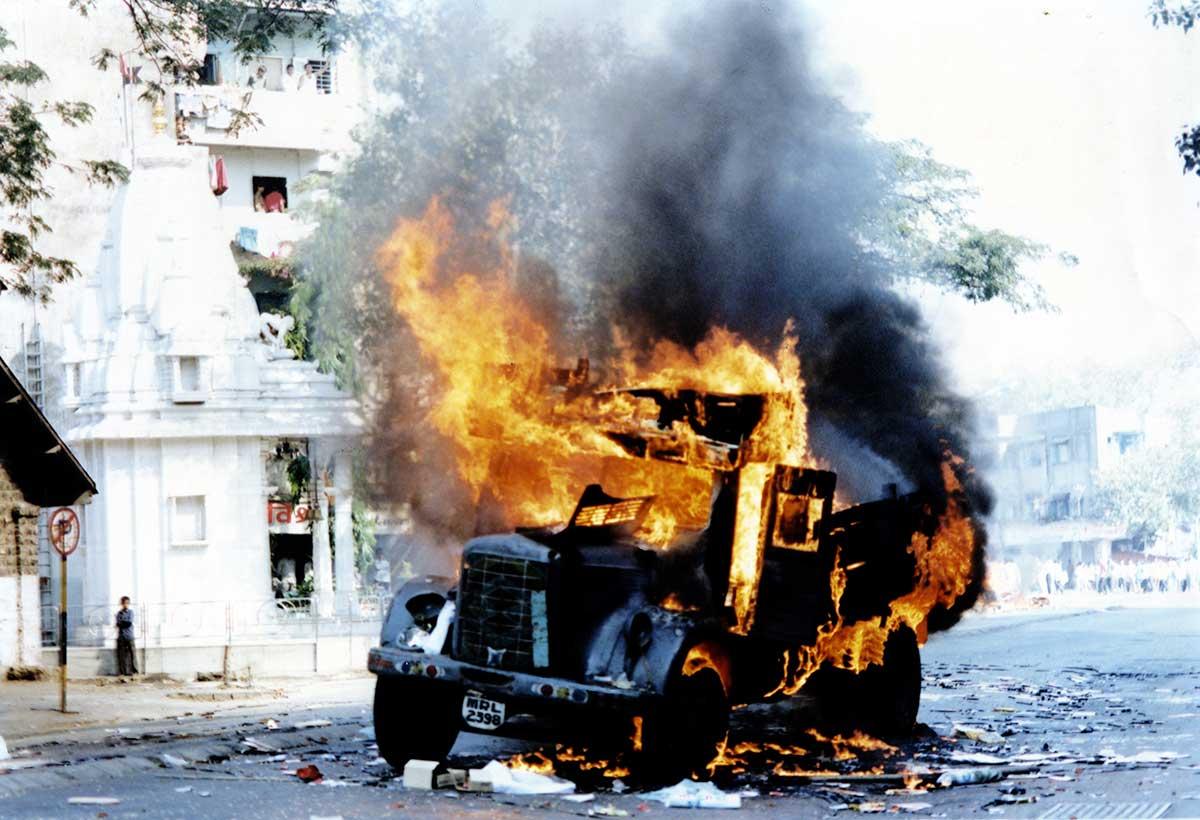 IMAGE: A truck set on fire in Lalbaug, south central Mumbai, during the 1992-1993 riots.
What are your memories of the serial bomb blasts in Mumbai post the Babri Masjid demolition?
I was in The Indian Express building when we heard a blast and glass exploded.
We came down, saw people running out of the Air India building on the opposite side of the road and clicked pictures.
Someone told us that there was a blast at the Bombay Stock Exchange. We sent a photographer there and another to Century Bazaar in central Mumbai.
We sent our photographers to every blast site.
What about the 26/11 attack terror attacks in Mumbai?
I was at Mid-Day; our staff was returning to the office from the field. I heard that the 26/11 terror attacks had started.
Our photographer Pradeep Dhivar was near CST station at the Press Club (located very close to the station). He came out and lay down on the ground as Ajmal Kasab (one of the terrorists) passed that way. He clicked lots of photos.
How did the transition from photojournalist to curator happen?
While I was a photojournalist, I had held various exhibitions at the NCPA.
After retirement, I heard there was a vacancy there. I applied and got the job. I am now working there.
As curator at the NCPA, what are your responsibilities?
Two photographers work with me; we cover all NCPA events.
I send the pictures to newspapers and magazines. We also have our own monthly magazine, On Stage, for which we give photos.
I help people organise exhibitions at the NCPA gallery.
People visit here from all over the country. I also inform local schools about exhibitions that will interest them.
I arrange seminars where well-known photographers come and talk to photo-journalists. We have also taught photographers how to shoot 'dance' photos.
During the pandemic, we had a bird-themed photo exhibition for which we received entries from 200 photographers. We prepared an online exhibition of 12 episodes on YouTube.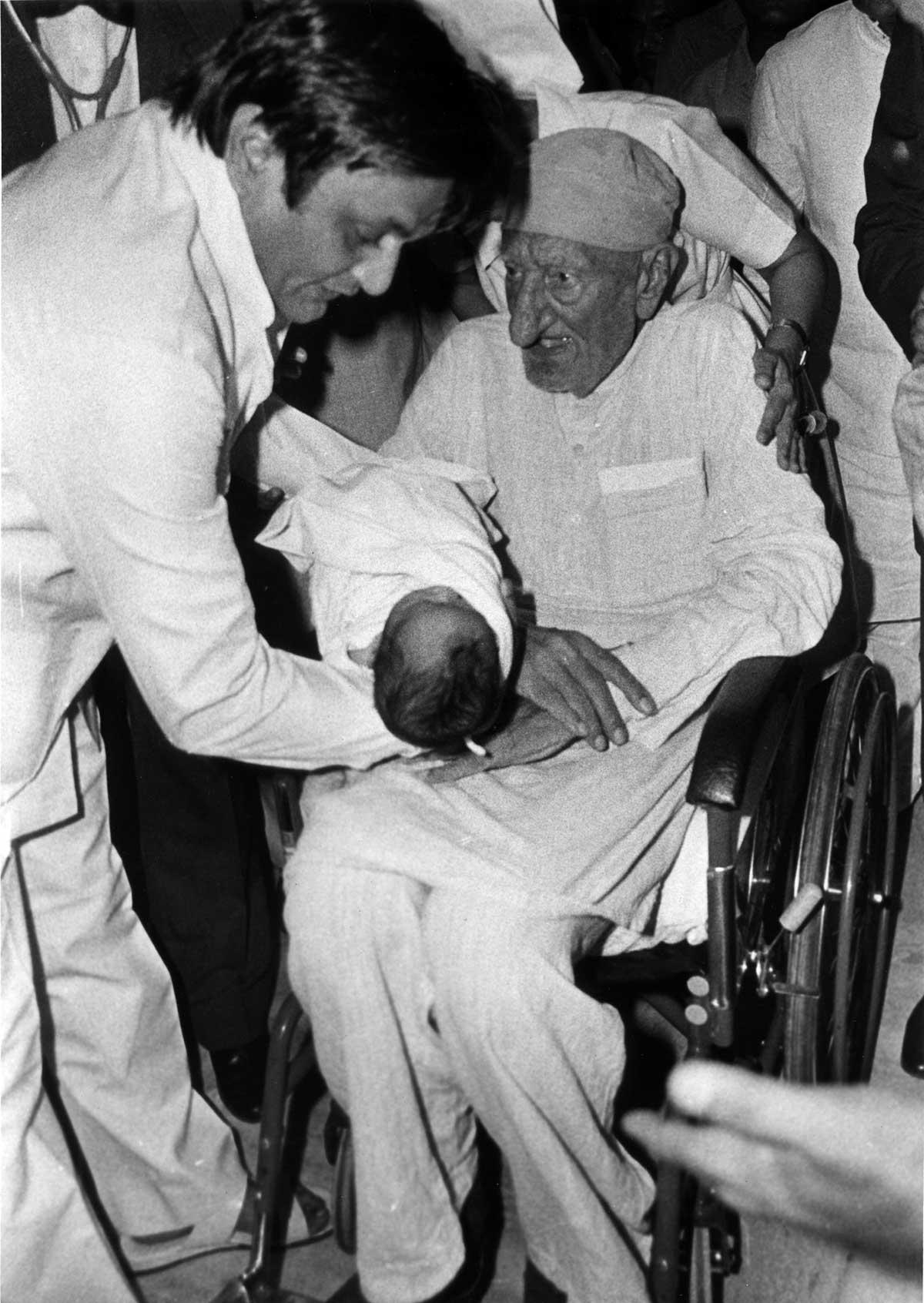 IMAGE: Frontier Gandhi Khan Abdul Ghaffar Khan blesses a new-born baby girl at the Bombay Hospital.
Could you tell us about your meeting with the Frontier Gandhi?
The Frontier Gandhi, Khan Abdul Ghaffar Khan, was admitted at Bombay Hospital. When he was being discharged, Rajiv Gandhi came to meet him. We photographed them together.
Later, I was waiting in the lobby. The Frontier Gandhi came out on a wheelchair. A man came out from a nearby room and requested the Frontier Gandhi bless his new-born baby girl.
I met the man a few times after that. He was a social worker from Dombivili (in Mumbai's adjoining district, Thane).
A few years later, when the counting for the Dongri seat (in Thane) during the municipal elections was going on, I met that man there.
A cop was standing outside the counting centre with a rifle and, as a small girl playfully grabbed it, I clicked a picture. It was the same girl I had clicked with the Frontier Gandhi years ago.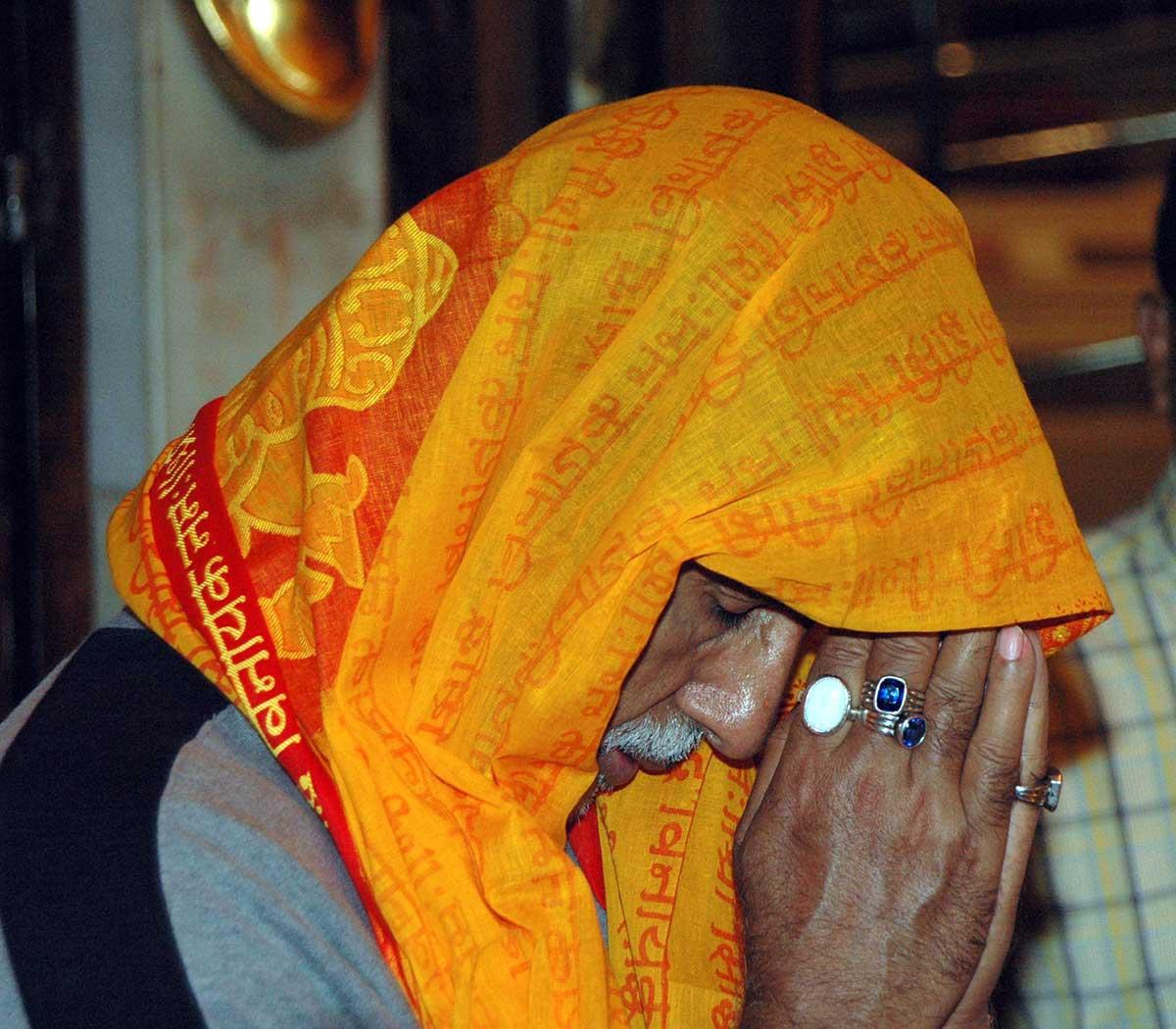 IMAGE: Amitabh Bachchan at the Siddhivnayak temple in Prabhadevi, central Mumbai.
He had walked to the temple -- a distance of about 14 km -- from his home in Juhu, northwest Mumbai, with his son Abhishek. His wife Jaya had come in a car.
Many devout Mumbaikars walk to this temple -- most of them barefoot -- from their homes on Monday night so that they canj reach for the Shree Darshan early Tuesday morning.
What were the standout moments in your career as a photo journalist?
There are too many to recollect, but I can remember two.
When Chandra Shekhar was prime minister, he decided to mortgage gold for India with the Bank of England. I went to the airport at Sahar (northwest Mumbai) and climbed the wall to get in. I took a photo of the gold being loaded onto an aircraft.
Another time, our photographer Pradeep Dhivar was in Juhu. He heard that Amitabh Bachchan would be walking to the Siddhivinayak temple that night. He told me and then waited there.
After 11.30 pm, Amitabh and his son Abhishek came out of the gate of his bungalow and began walking. We clicked pictures there. We also clicked a few pictures in Mahim.
I was inside the temple. I clicked pictures of them attending the first aarti before 5 am. Jaya Bachchan came in a car. Nobody knew except us.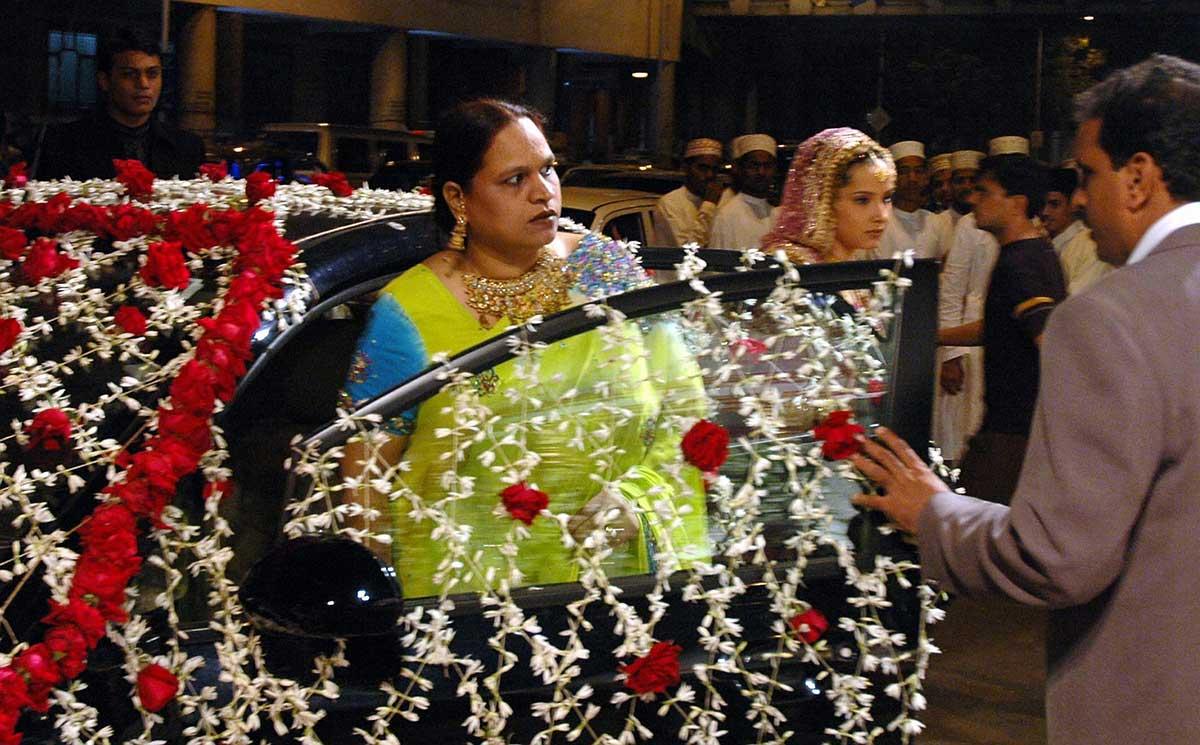 IMAGE: A rare picture of Haseena Parkar, fugitive gangster Dawood Ibrahim's sister, outside the Anjuman Islam High School in south Mumbai, at her son's wedding reception.
Any regrets in your career? Any moments where you think you could have done better?
I have many regrets.
When Pramod Mahajan was murdered, we were not allowed into the building. His brother, Praveen Mahajan, had been arrested but we did not get any photographs.
Every Saturday, Praveen's wife would meet him at Mumbai's Arthur Road Jail (south central Mumbai). We missed her many times; we could not click her picture. Only after 100 days after Praveen was there did we get a chance to click a photo of her leaving the jail.
Dawood Ibrahim's sister Haseena Parker used to come to court in a burqa. I was in the lift in the court building; I saw her, but could not click her picture.
Mid-Day once got an interview with her. I went with the reporter, but they made me leave my camera outside. I regret that I could not click her picture at that time.
For her son's marriage, we clicked her picture outside the marriage hall. That is the only picture of hers ever published.
More glimpses from Mukesh Parpiani's distinguished career as a photo journalist: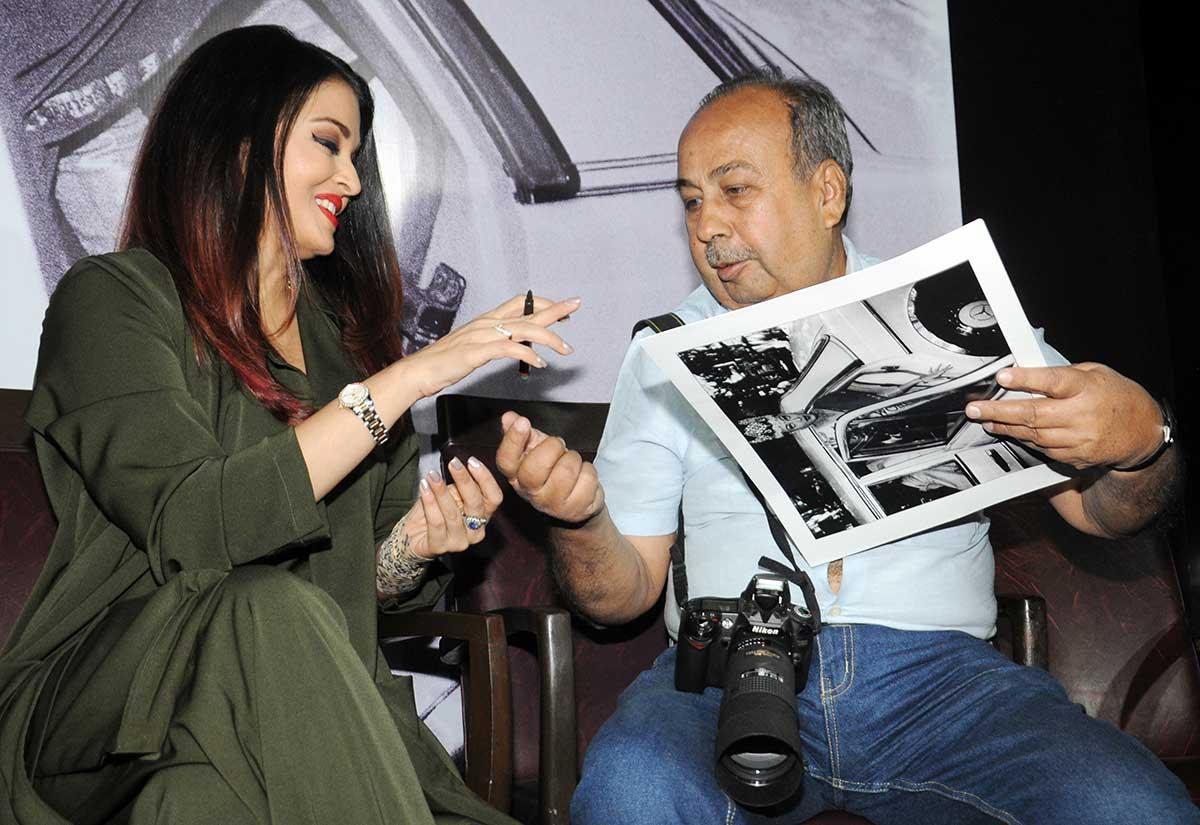 IMAGE: During his career, Mukesh Parpiani has met many stars, including Aishwarya Rai Bachchan.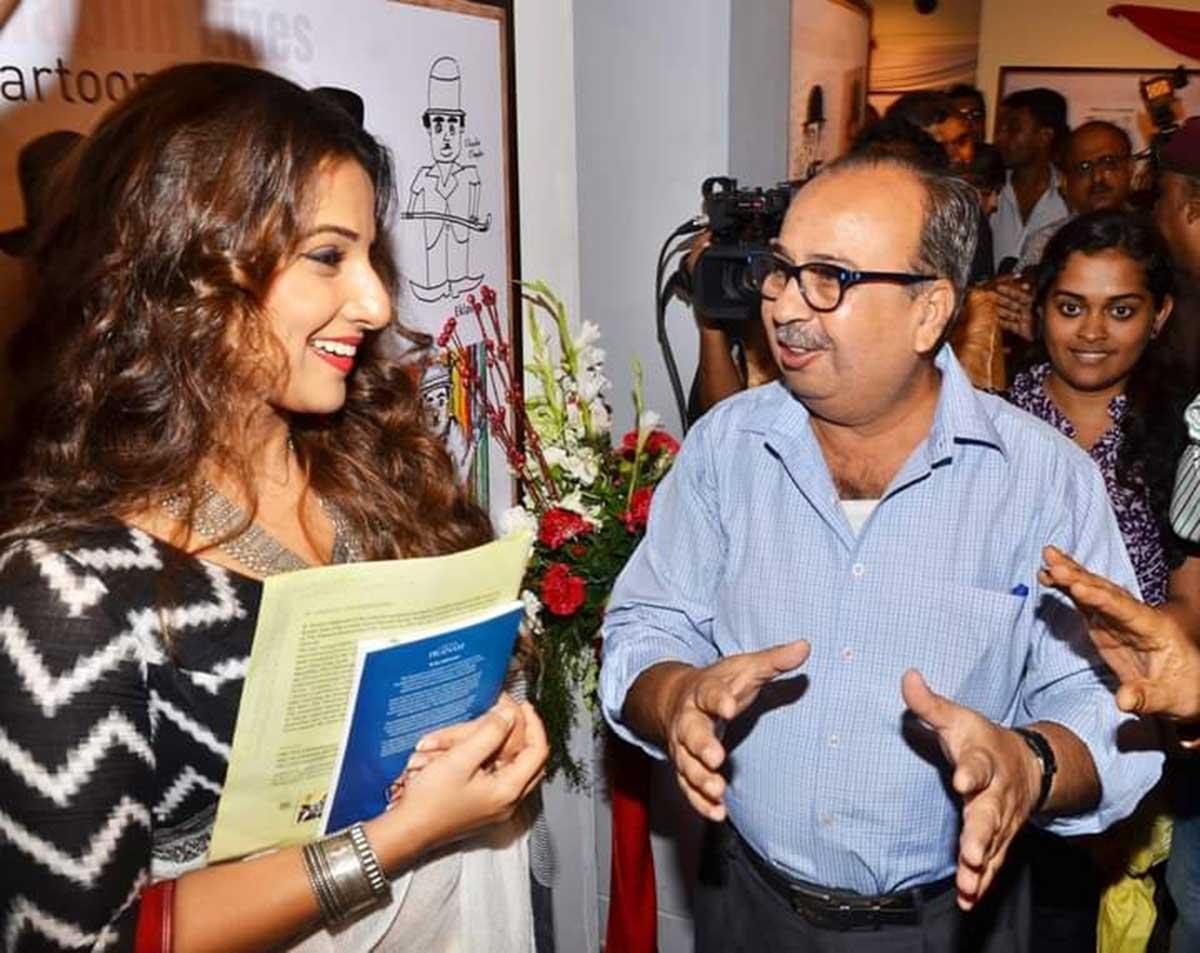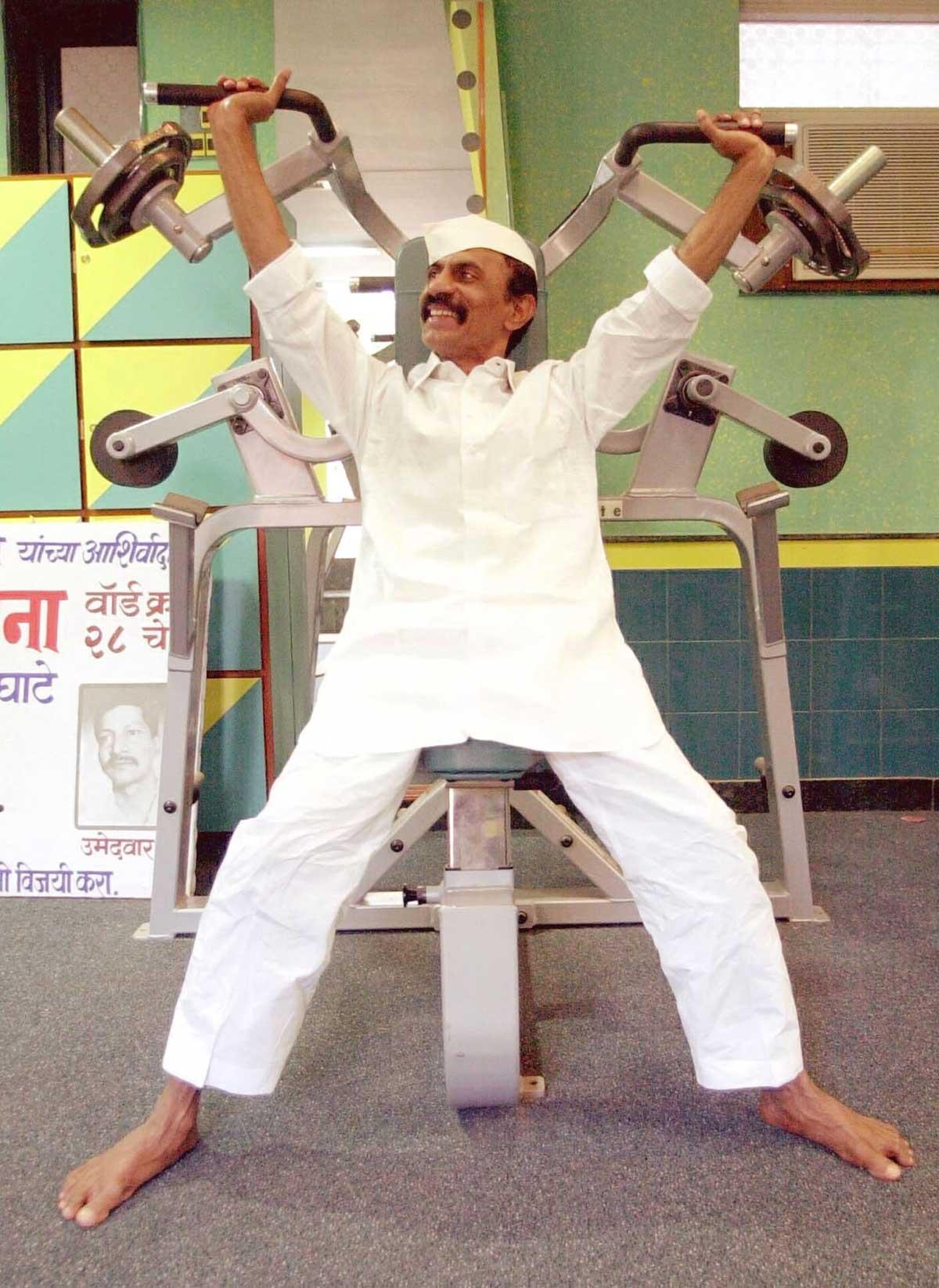 IMAGE: Arun Gawli exercising in his personal gym at the Dagdi Chawl, central Mumbai.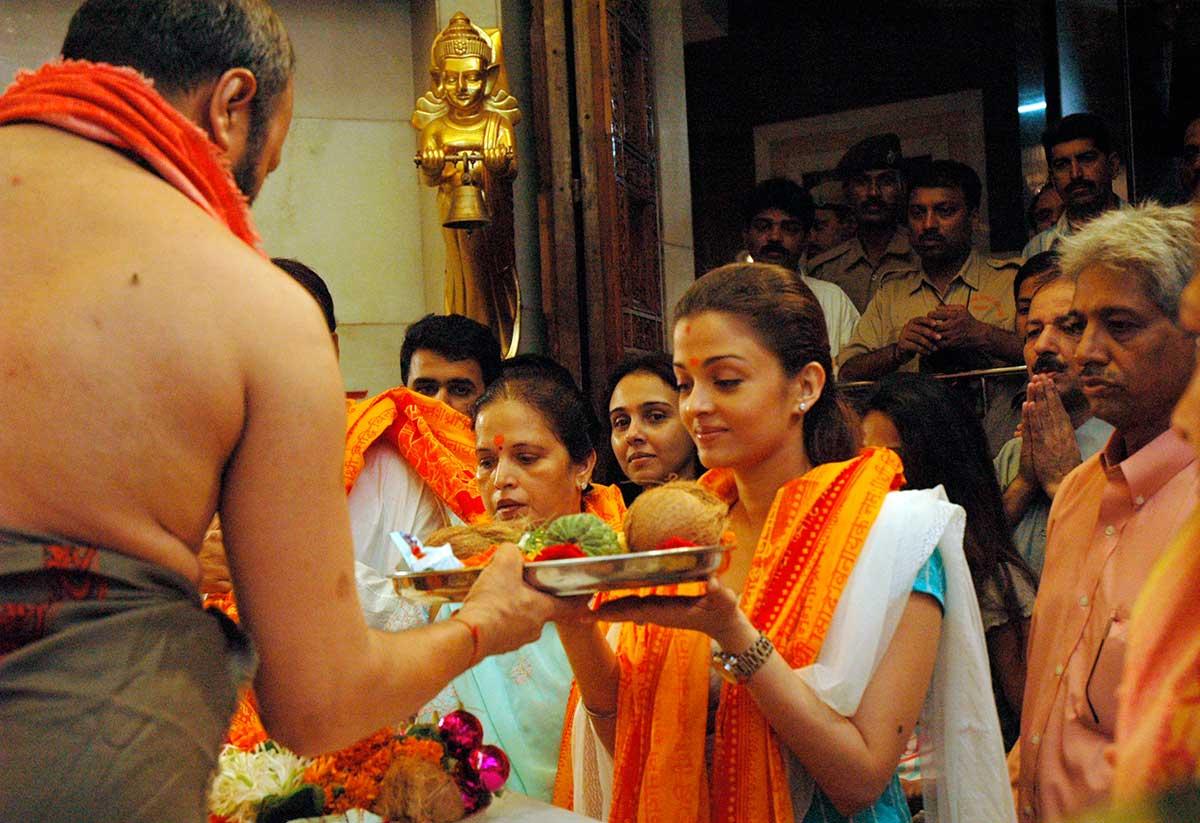 IMAGE: Aishwarya Rai Bachchan at the Siddhivinayak temple.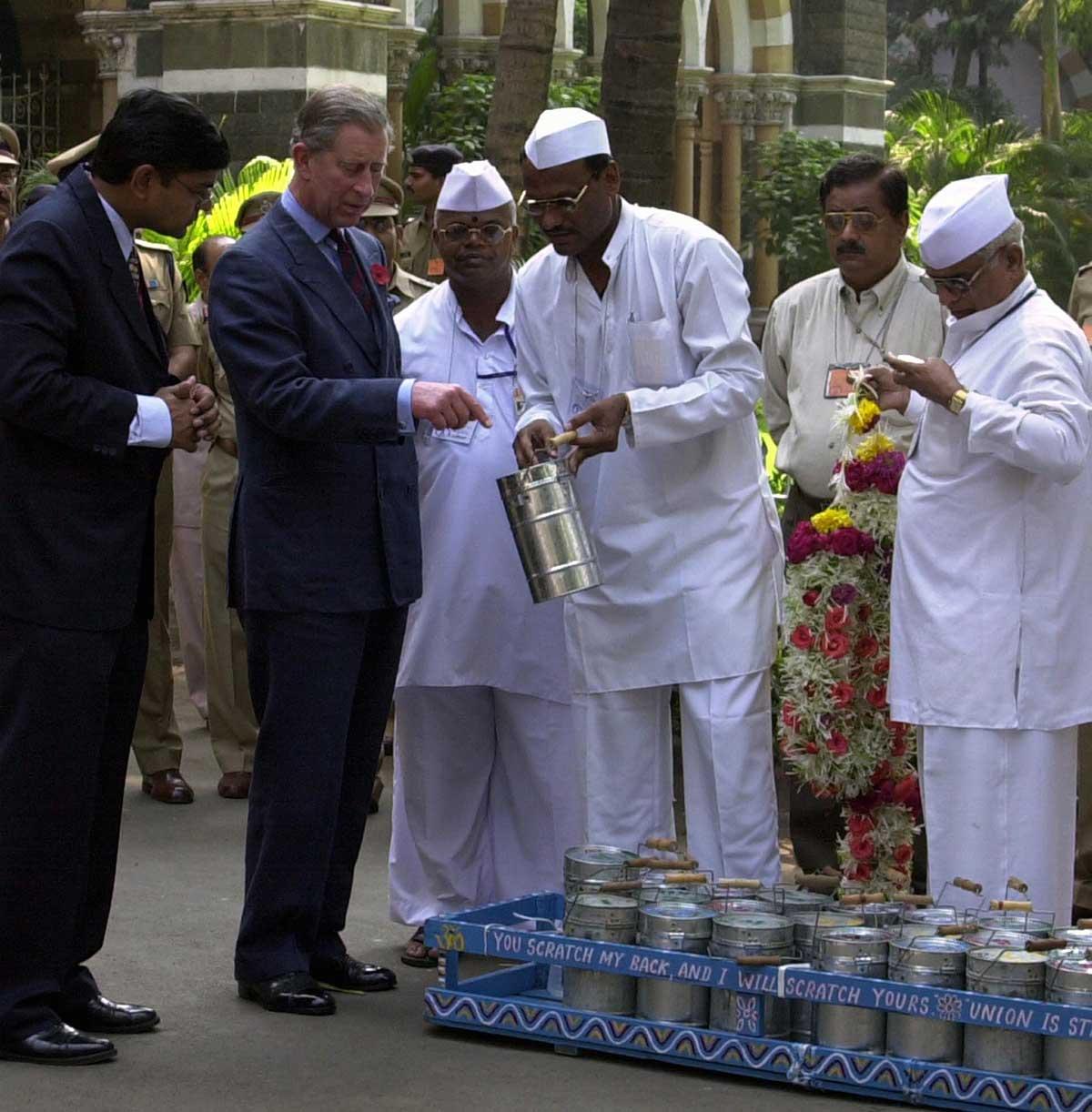 IMAGE: Prince Charles with Mumbai's famed dabbawalas at Churchgate station, south Mumbai.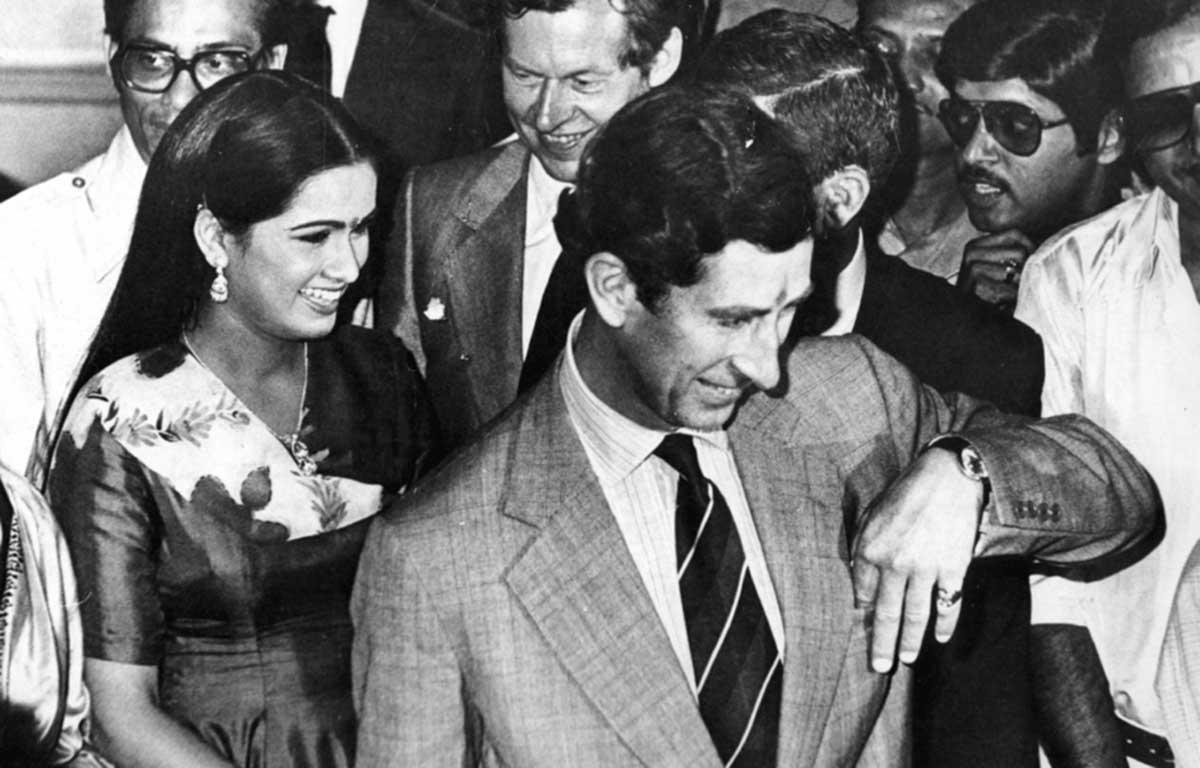 IMAGE: Prince Charles with Padmini Kolhapure at the Rajkamal Studio in central Mumbai. This visit made headlines when the pretty actress kissed the prince on his cheeks.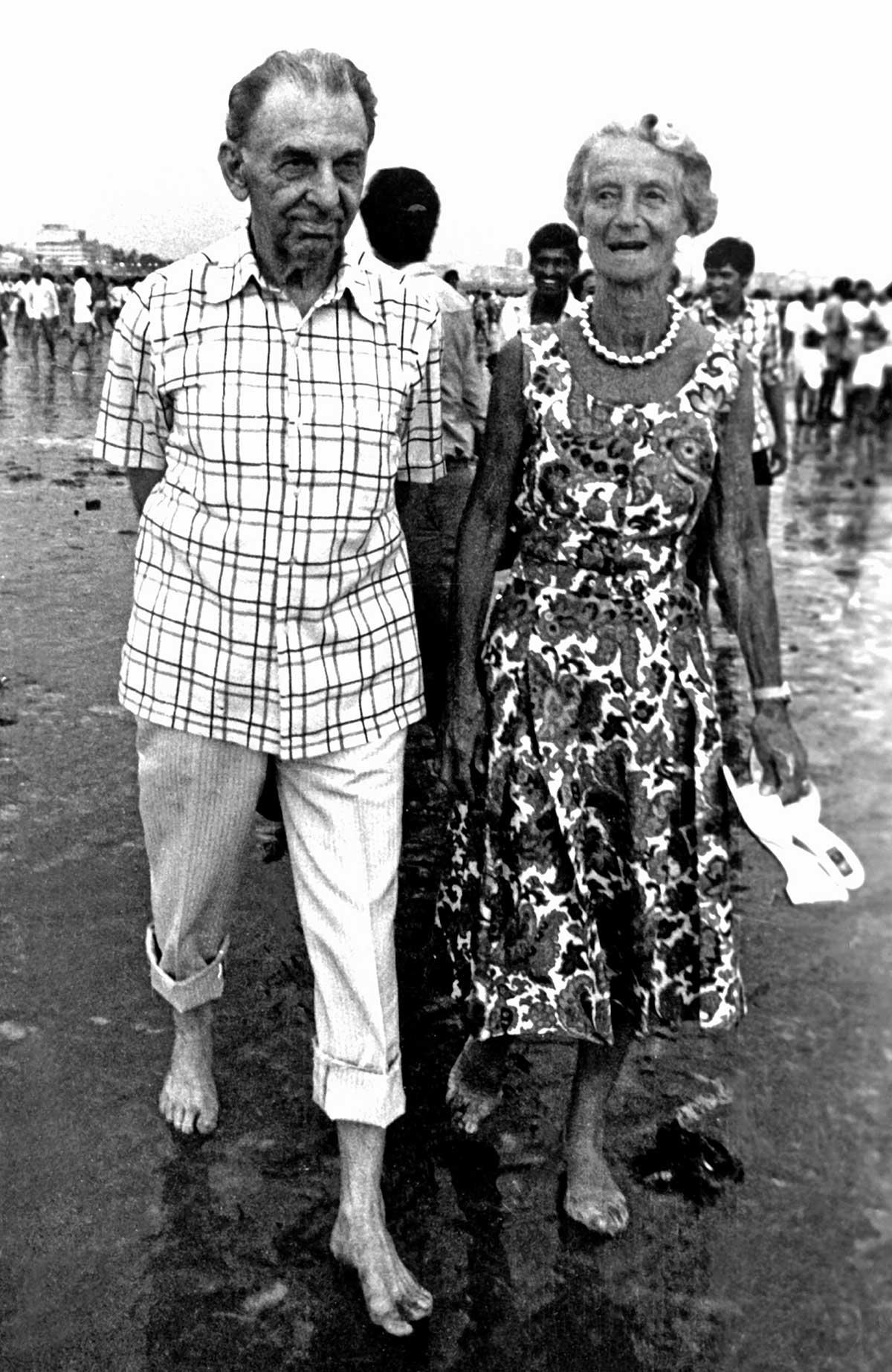 IMAGE: Taken in the mid-1990s, this photograph captures J R D Tata on south Mumbai's Chowpatty beach, enjoying the Ganesha immersion festivities on the last day of Ganesh Chaturthi. The business legend was carrying his slippers in his hands.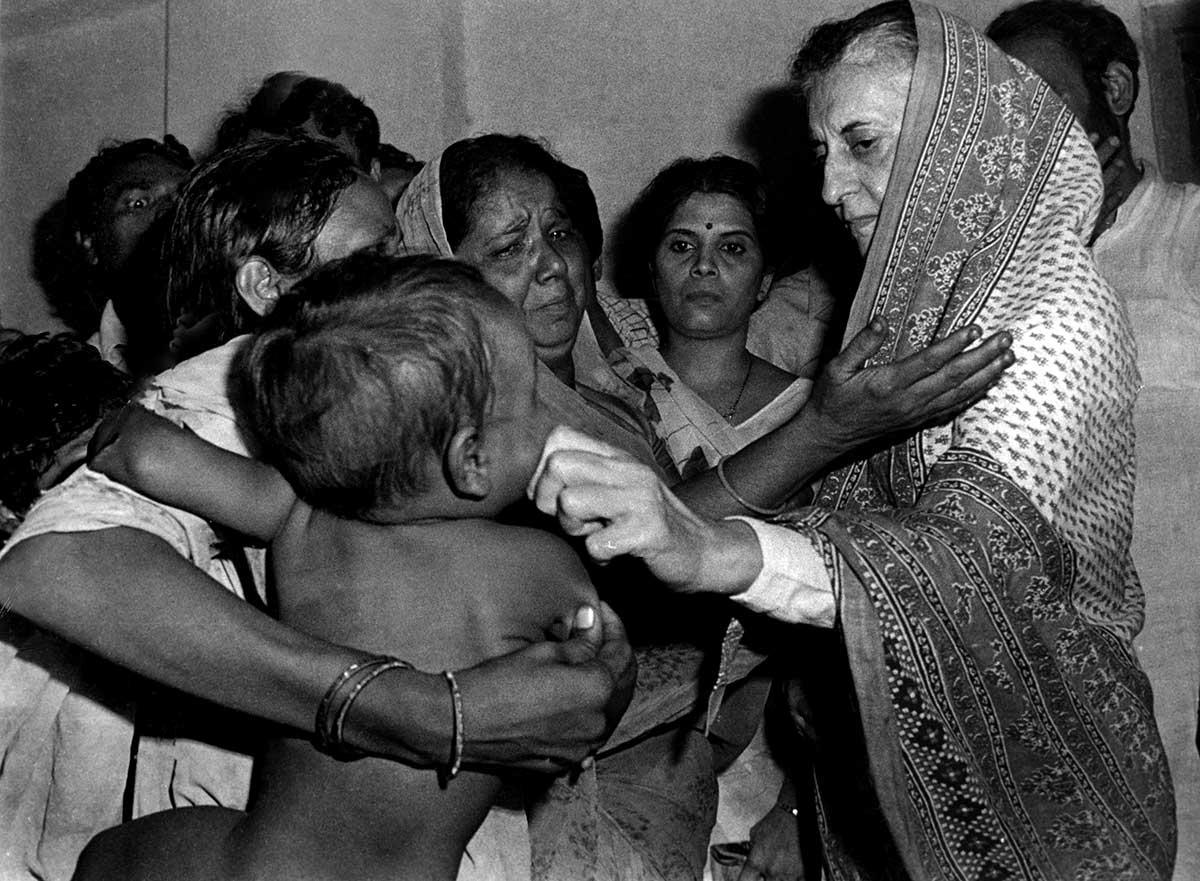 IMAGE: This picture was taken at a refugee camp set up for the victims of the 1984 Bhiwandi riots. The women were seeking then prime minister Indira Gandhi's help.
The lady pinched the child she was carrying to make it cry. Mrs Gandhi realised it and pulled the child's cheeks.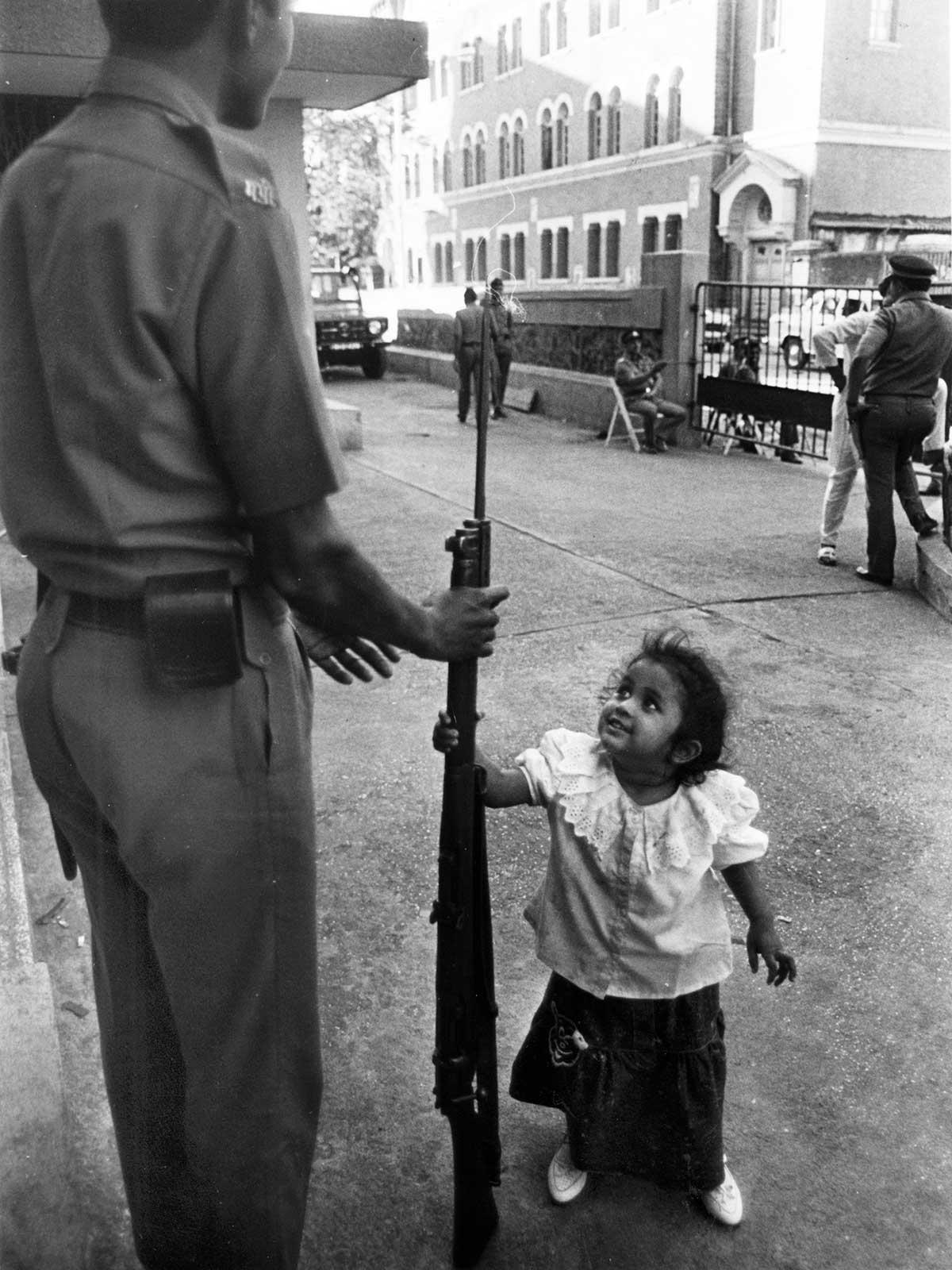 IMAGE: The girl I photographed as a new-born with the Frontier Gandhi, Khan Abdul Ghaffar Khan, had grown up. She playfully grabbed a policeman's outside the Dongri counting centre (south Mumbai) after the Mumbai municipal election.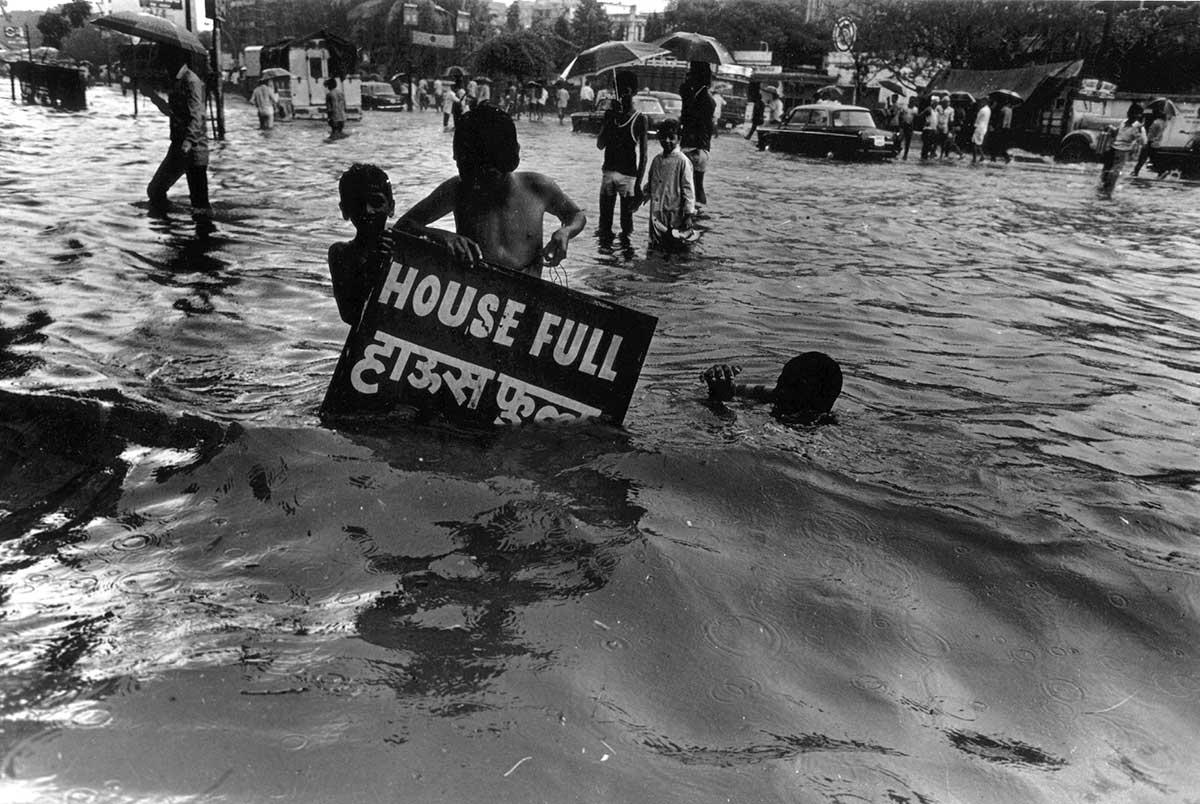 IMAGE: When the roads outside Hindmata Cinema (central Mumbai) flooded in the 1990s, the theatre's 'House Full' board floated away. It was joyfully captured by these two young boys who were enjoying the rain.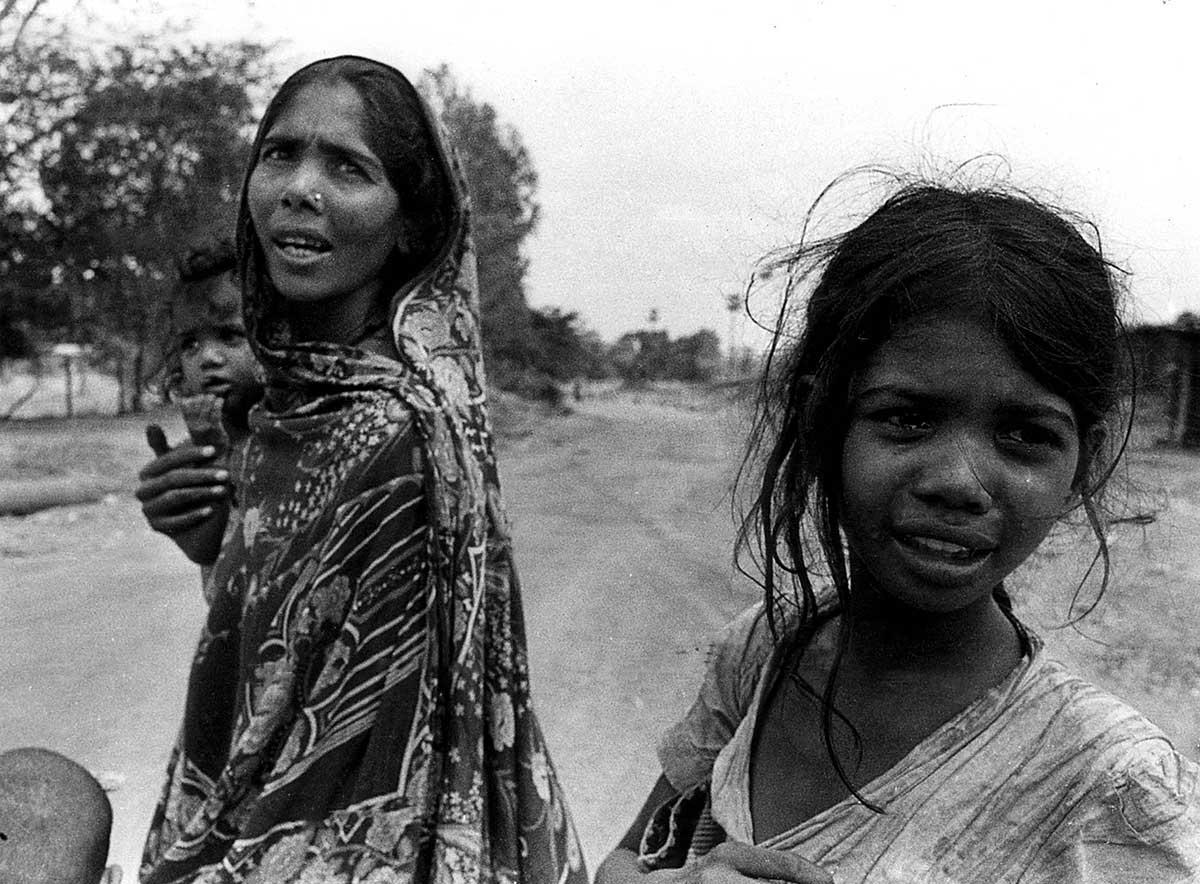 IMAGE: During the Bhiwandi riots in April 1984, this lady lost her husband. She was waiting outside the morgue to collect his body.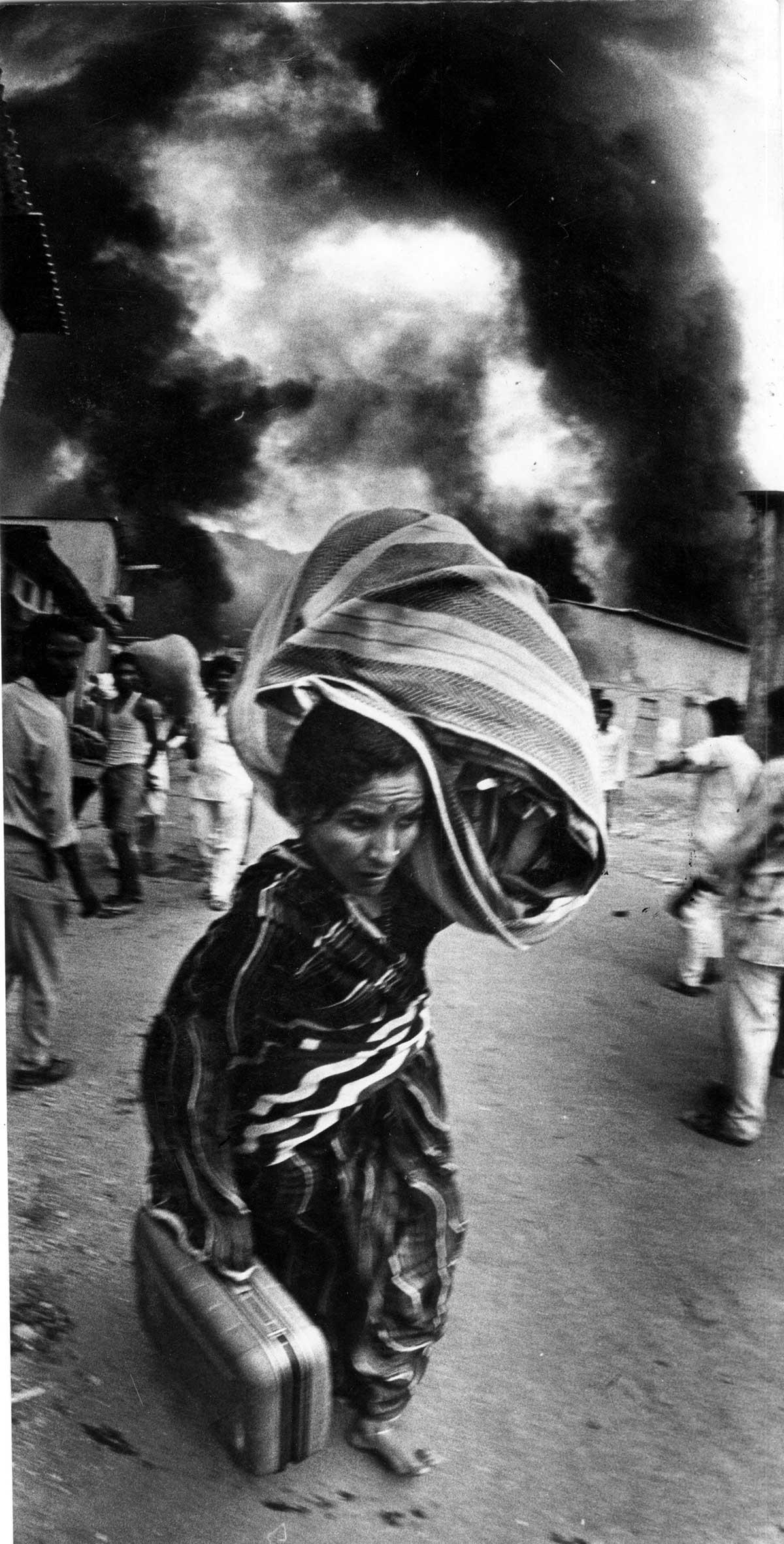 IMAGE: During the 1992-1993 riots in Mumbai, a chemical godown was set on fire in Ghatkopar's Asalfa village (north east Mumbai). People who lived in homes nearby rushed out with their possessions.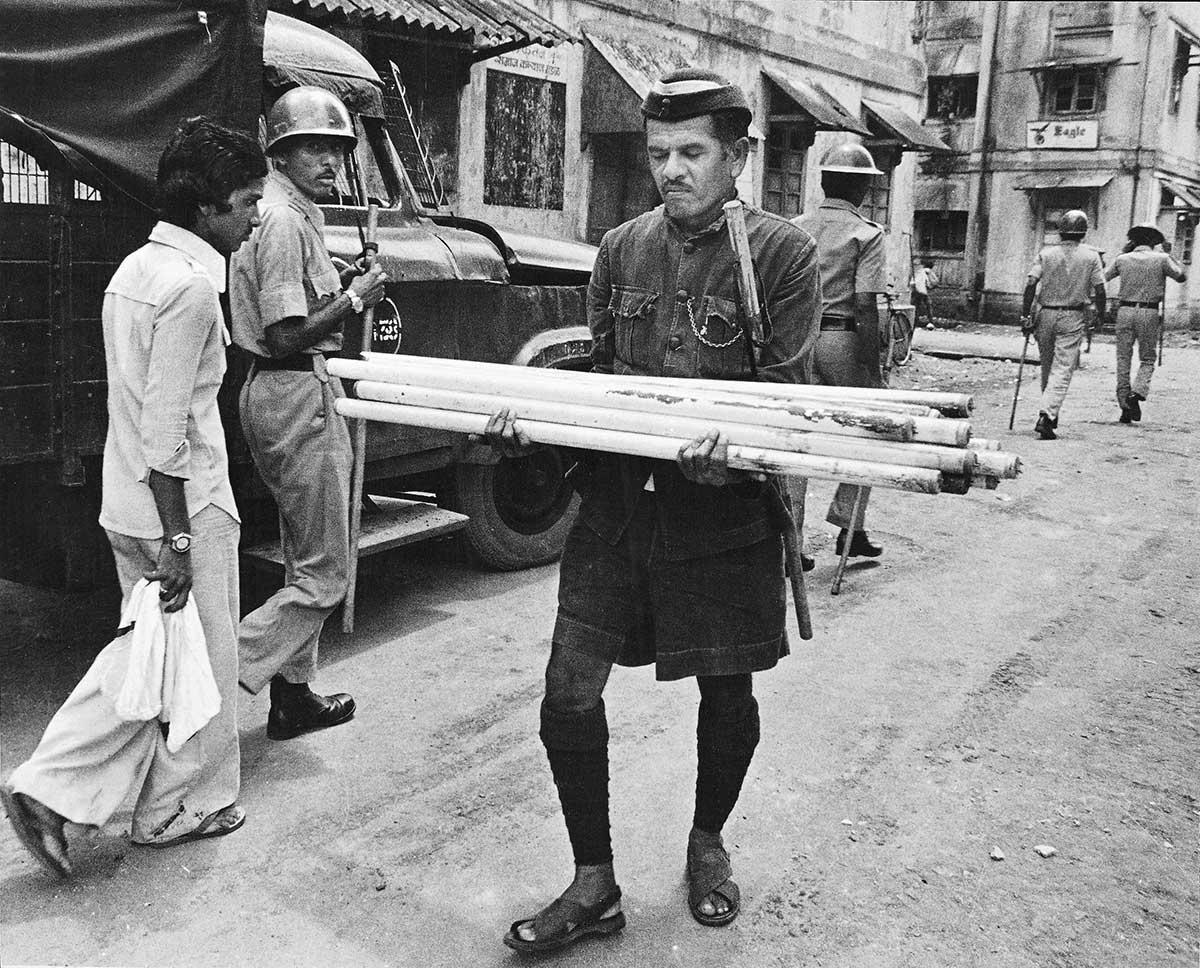 IMAGE: This picture was captured after a mini-riot ravaged Mazgaon (south Mumbai) in the 1980s.
Rioters used to store old tubelights on the terraces of the chawls and would throw them on rivals.
This policeman is carefully carrying away some seized tubelights.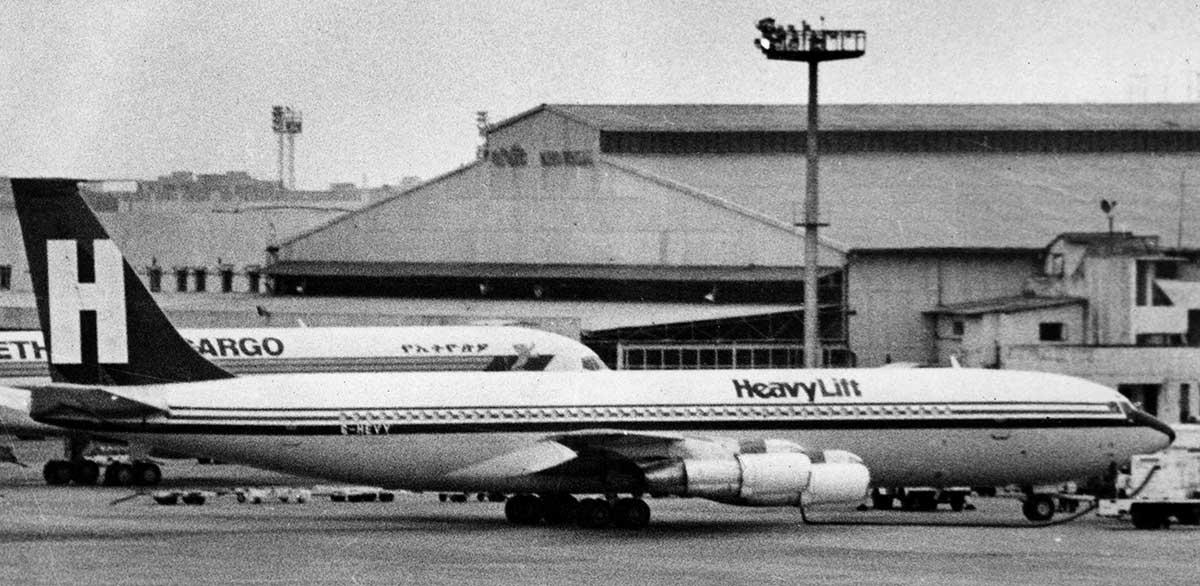 IMAGE: When then prime minister Chandra Shekhar's government mortgaged gold to the Bank of England, the RBI transported the gold using this aircraft. This picture was taken at Mumbai's Sahar airport.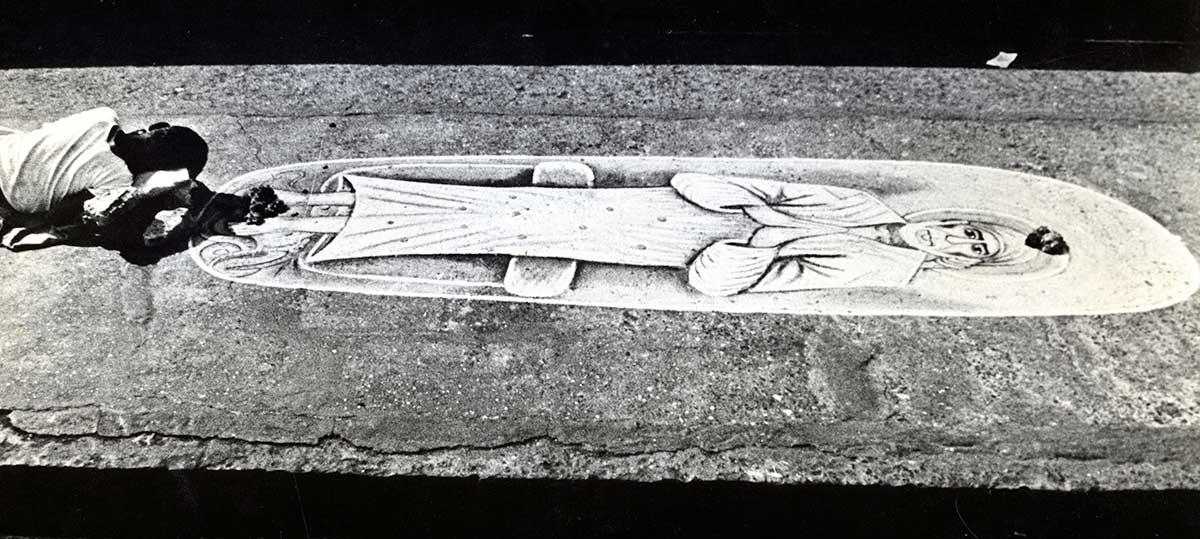 IMAGE: A street painter. These artists have not been spotted for the last 20 years. I took this picture on Dadar's Tilak Bridge (central Mumbai) in the 1980s. Passers-by would give a few coins to these street painters in appreciation of their art.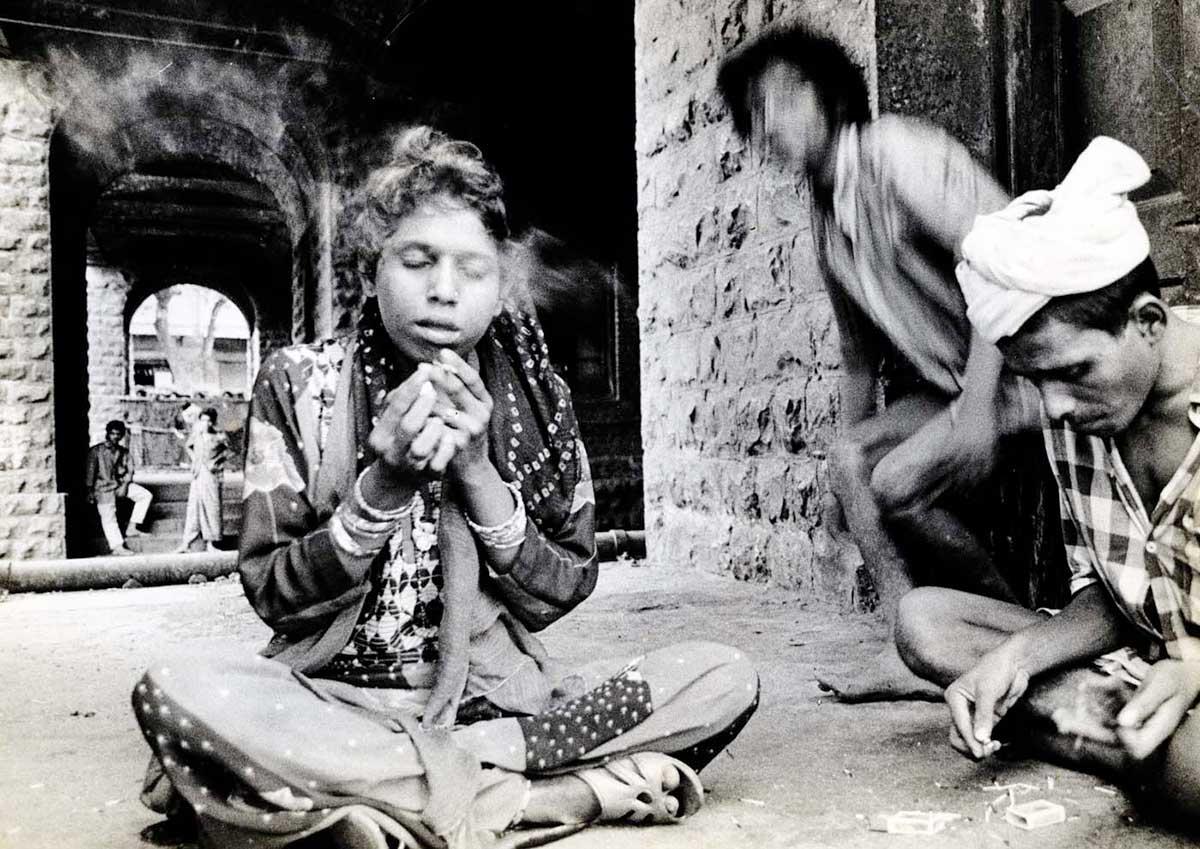 IMAGE: A drug addict at Mumbai's Masjid Bunder station in the 1990s.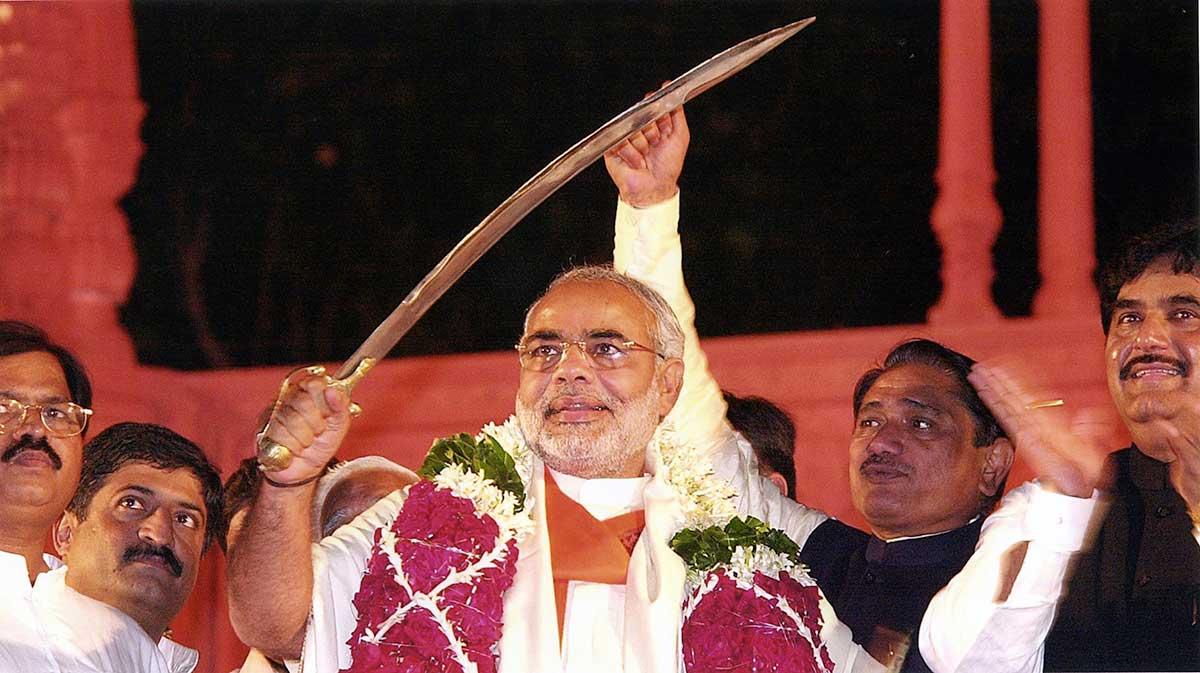 IMAGE: A BJP rally at Shivaji Park in Mumbai. Narendra Damodardas Modi was then the chief minister of Gujarat. A sign of times to come.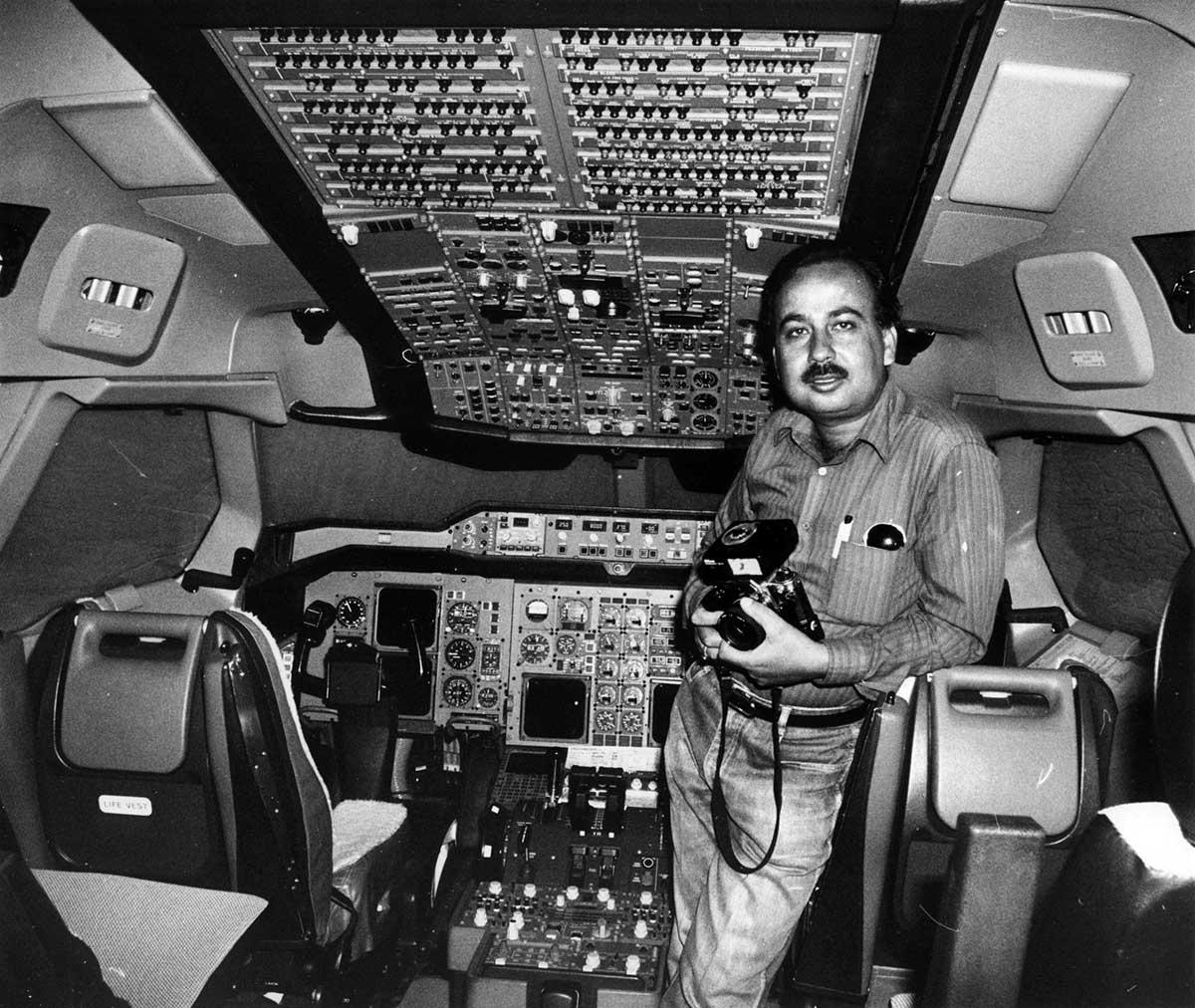 IMAGE: A younger Mukesh Parpiani.
Feature Presentation: Ashish Narsale/Rediff.com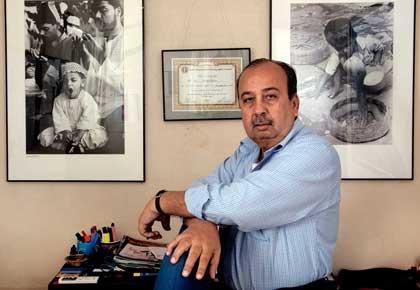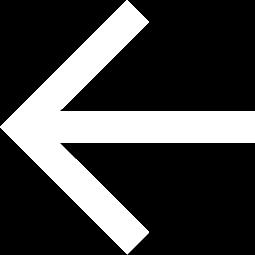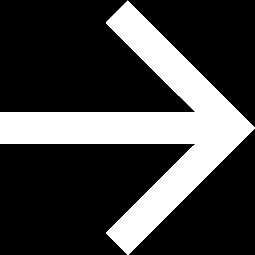 X