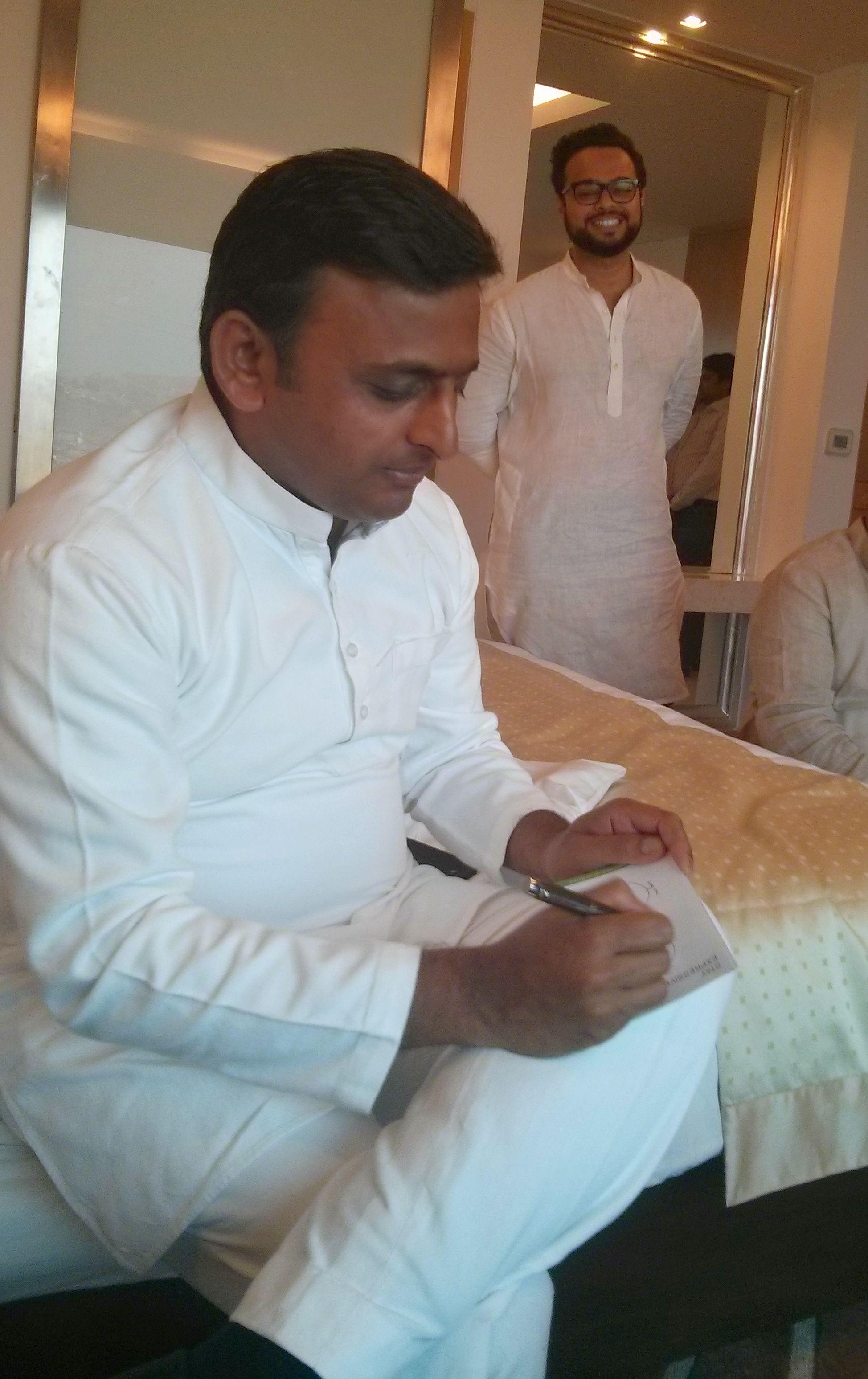 'Gujarat is number one in public relations and marketing. Gujarat's PR is strong, it washes like a strong washing soap.'
'The third phase is ours. It is our family and household elections, let him come there...Banaras and UP have taken on the challenge.'
Uttar Pradesh Chief Minister Akhilesh Yadav tells Rediff.com contributor Neeta Kolhatkar how he plans to keep Narendra Modi at bay.
Uttar Pradesh Chief Minister Akhilesh Yadav was in Mumbai last week to campaign for the Samajwadi Party candidate from Mumbai North-Central, Farhan Azmi.
In an exclusive interview to Rediff.com contributor Neeta Kolhatkar, Akhilesh Yadav, speaking in chaste Hindi, with a few English words thrown in, makes it clear that UP will be the deciding factor in the general election.
How important are these last phases of the election, especially in UP? Will Narendra Modi get the votes he needs?
UP decide karegi desh ka agla pradhan mantri kaun banega. (UP will decide who will be the next prime minister of India).
Who is he representing? The people or the RSS (Rashtriya Swayamsevak Sangh), the VHP (Vishwa Hindu Parishad) or the Bajrang Dal or the BJP?
The government that will be formed will be a secular one. This fight between secular and communal forces has landed on our doorstep and the whole country will witness it.
Modi has marketed his Gujarat model.
What is the Gujarat model? It is not one day's work as he is claiming. He is taking credit for things that existed from decades before.
Take Amul. It was a movement started by Dr Verghese Kurien. Now this man claims it is his. What is this man's credit in it?
The Congress's grouse is that Modi is being supported by a certain businessman.
The Congress shouldn't point fingers at the BJP accusing a certain businessman of helping that party. They forget that they took support from that business house before. Everyone knows that the Congress too was close to them.
I am against giving privileges to any specific group or business house.
A monopoly always leads to inflation and indicates the presence of corruption. The Samajwadi Party believes that all should be able to earn profits. Every businessman should be allowed to run legitimate businesses. Because when all get to earn profits there is a decrease in corruption, prices are under control, it generates employment and that is good governance. We are doing so in UP.
We have millions of first-time voters and young voters. Do you think they can have a positive impact?
These are crucial elections. We have 15 years to implement good policies if we want to see positive changes. Right now, we say with immense pride that ours is a young nation. In 15, 20 years, people will see us a nation of elderly people.
If there has been a single failure of India's largest party it is that they couldn't stick to the two basics of the Constitution -- of keeping India secular and socialist. We have too many poor people and the resurgence of communal forces.
Most have discounted a Third Front. Do you still see hopes for it?
There will be a Third Front government. The Third Front parties will come from the largest states like Tamil Nadu, Andhra Pradesh, West Bengal, Odisha, Bihar and Maharashtra. There will be a third force in some form.
I believe we should at least have a secular government.
Prior to Mumbai, you visited Gujarat. Is there a Modi wave?
Kahan hain leher? Ap ko nazar ayee? Mujhe toh kahin nazar nahin ayee. (Where is this wave? Can you see it? I haven't noticed it).
See, Gujarat is number one in public relations and marketing. In fact, Gujarat ka PR, sabun ki tarah strong hain, duo dalta hain! (Gujarat PR is strong, washes like a strong washing soap!)
I have seen the Congress lagging behind and ineffective in comparison to this strong washing soap PR.
Today they (the BJP) are spending Rs 10,000 crore (Rs 100 billion), tomorrow Rs 20,000 crore (Rs 200 billion) will be peanuts for the BJP. But how much can money buy?
The third phase is ours. It is our family and household elections, let him come there.
Chai pilake koi kabhi ideology bech sakte hai kya? Bataiye? (One cannot sell any ideology discussing over cups of tea. Tell me, is it possible?) BJP bahut chalu log hain (BJP people are very smart). People can see through them.
One day they say they want to build the Ram temple, they had given in writing in 1992 that they will not pull down the masjid, but they did it.
Banaras and UP have taken on the challenge.
Image: Akhilesh Yadav draws a chart for Neeta Kolhatkar to demonstrate how Narendra Modi will lose seats in UP as the Samajwadi Party candidate from Mumbai North-Central Farhan Azmi looks on.