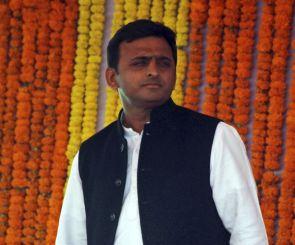 The last day of the campaigning in Lucknow brought all political rivals to converge on the streets of the state capital, throwing normal life out of gear.
Uttar Pradesh Chief Minister Akhilesh Yadav's impressive road show left no stone unturned to give a boost to party nominee Abhishek Misra.
Braving the scorching summer sun, Akhilesh perched himself atop a white SUV on a 12-km long ride that clearly overtook similar shows by rivals -- Bhartiya Janata Party president Rajnath Singh, Congress nominee Rita Bahuguna Joshi, Bahujan Samaj Party's Nakul Dube and Aam Aadmi Party representative Jaaved Jaaferi.
Apart from thousands of SP youth activists who swarmed all the thoroughfares along the route, men, women and children were seen on balconies and rooftops at several places, to cheer the chief minister. It was a rare spectacle for them to see their chief minister in close proximity moving without his high security 12-car cavalcade.
The roads looked painted in hues of green and red as Samajwadi Party activists carried their party flags, while curious bystanders flung rose and marigold petals.
Much like his bête noire, Bahujan Samaj Party leader Mayawati, about whom he was always very critical, Akhilesh too had spent most of his time within the confines of the chief minister's official residence at Kalidass Marg.
The rally was a big deal for SP nominee Abhishek Misra who was a last minute entry in the fray after Mulayam decided to replace the original nominee Ashok Bajpai. Misra is a political pygmy in comparison to Bajpai, a committed Samajwadi Party veteran who had been campaigning for 16 months since Mulayam handpicked him for the Lucknow contest.
It was widely rumoured that the change was affected to facilitate Rajnath Singh, who in a quid pro quo, had fielded a weak candidate against Akhilesh's wife Dimple Yadav in Kannauj. Though technically, it was Dimple's second election, she was elected unopposed the last time. Her victory is a matter of prestige for the entire Yadav clan.
Akhilesh made it a point to move through a long stretch of localities dominated by Muslims whose support remains crucial to the political destiny of the ruling party. Akhilesh got a rousing welcome with people releasing gas balloons in the air, while some sought to cheer him by releasing pigeons.
Songs specially scripted by well-known lyricists, eulogising the Samajwadi Party and its supremo Mulayam Singh Yadav were played all along the route.
After hours of meandering through the wind of roads, Akhilesh concluded his rally at Lohia Park, which falls in the core of sitting BJP MP Lalji Tandon's bastion. Addressing a rally, the chief minister blasted the BJP by reiterating how the saffron brigade's sole agenda was to "divide" the nation.
Image: Uttar Pradesh Chief Minister Akhilesh Yadav