'Rahul has done nothing for us. Rajiv Gandhi was different. He was a great man.'

In Amethi, each person knows at least five people who have spoken to Rajiv, sipped chai with him. It's a connect the Gandhis hope people won't forget when Amethi goes to the polls on May 7.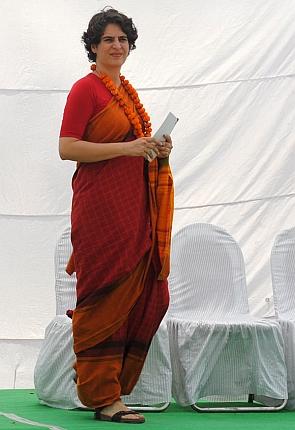 At a rally in Jagdishpur, Amethi, Priyanka Gandhi holds up a couple of papers and tells the 500-odd people -- more women than men -- gathered there that Rahul had done so much work for this constituency that she had to list them down lest she forget.
She said she could remember the development works done in Rae Bareli, but there was also much that had been done here that, "I have to bring a long list with me."
Scrawled on the laundry list are the words, "RG senior to RG junior" (image: bottom left).
Rajiv Gandhi to Rahul Gandhi.
Invoking her father, she said like him, Rahul too was a visionary who had long-term plans. "Remember, the people criticising Rahul Gandhi, had earlier criticised Rajiv Gandhi."
As the Bharatiya Janata Party candidate Smriti Irani closes in the popularity stakes in Amethi, it is Rajiv Gandhi who can make a difference to Rahul's fortunes.
Ask two people at a chai stall in Amethi if they are happy with Rahul Gandhi and they spit out, "He has done nothing for us. There are no jobs, schools without teachers, all that we have is a false sense of pride that the world knows Amethi because it belongs to the Gandhi family." Within seconds there are 10 more people around you, cursing Rahul, stopping just short of invoking their mothers or sisters.
With equal unanimity they say, "Rajiv Gandhi was different. He was a great man." They may not have seen the late prime minister personally, but each person knows at least five people who have met him, spoken to him, sipped chai with him.
It is a ghost they do not want exorcised.
It is a connect the Gandhis hope people won't forget when Amethi goes to the polls on May 7.
Fair and lovely
It is her first time and she can't get enough. "Priyanka didi is so beautiful. So fair," Girijadevi shakes her head, "Mediawalen the is liye chhu nahin paaye. Soniaji bhi gore hain parantu Priyanka dikhne mein behetar. (The media was hogging the space so I couldn't touch her. Soniaji is also fair, but Priyanka looks so much better)."
And what did Priyanka say in her speech? "That is for my husband to hear, I just came to see her," she says.
There are over 50 women like her from the Rajiv Gandhi Mahila Vikas Pariyojna, a non-profit institution, working for poverty reduction and women empowerment in Amethi. Some, like Kamrunissa from Jagdishpur, say with pride that they have met her, spoken to her.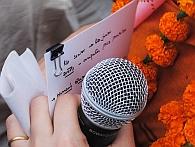 It's probably to leverage this spell she casts so easily, that Priyanka stepped down from the podium, stepped under the bamboo barricade, climbed on to a plastic chair, and flashed a smile, saying, "Ab theek hai na, you can see me better from here. I'm here because of your love."
Never mind the stampede.
More Bharat ke lalanva
Scheduled time of arrival: 10 am.
Arrival: 12:30 pm
How do you keep the restive crowd in their seats? It's not been easy getting them there and had Priyanka been punctual she would have spoken to not more than 50 people including the media.
Two hours later, when sweat marks its path down grimy faces, when thirst makes people want to get up and go, poetry keeps them in their seats.
A local Congress leader reads out this poem called More Bharat ke Lalanwa, which has 14 couplets. Written in the local dialect, it is telling that it's more about a certain leader with a 56 inch chest and less about Rahul Gandhi.
Apni nari se hai peechha chhuravat
Doosri nire kai hai jasoosi karavat
Modi tou ka jane … niri kai samanva ho
More Bharat ke Lalanva.
Image: Priyanka Gandhi addresses a rally in Jagdishpur, Amethi. Photographs: Reuben NV/Rediff.com