'We can expect heightened belligerence from China.'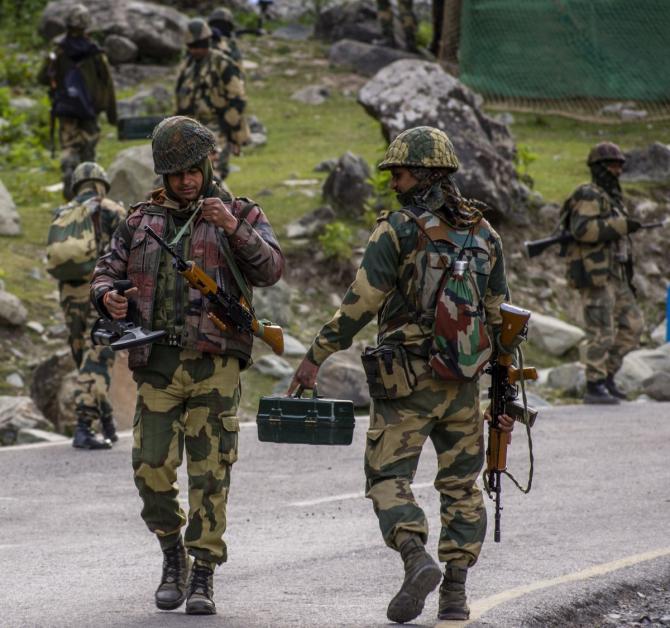 "Xi Jinping will maintain the posture at LAC till he gets a five-year extension," predicts former Ladakh Corps Commander Lieutenant General Rakesh Sharma (retd).
The Fire and Fury Corps in Ladakh is responsible for guarding Kargil, the Siachen Glacier and Eastern Ladakh -- facing both Pakistan and China.
In the concluding part of his interview with Rediff.com's Archana Masih, General Rakesh Sharma explains what it takes to man the LAC and why Indian troops will never get worn out of the border standoff.
Do you feel China wants to prolong the standoff in the hope that it will wear India down in hostile weather condition, incurring huge expense?
Any nation that studies its adversary knows its strengths, weaknesses, threats and opportunities.
The Chinese should know that Indians have fought long wars since Independence and have had a long history of dealing with insurgencies and terrorism
India will never capitulate or get worn out of the border standoff. It has not happened at the Line of Control, or in Kargil in western Ladakh which is as tough as areas of eastern Ladakh.
The Pakistanis thought we would not be able to push them out of Kargil, but we undertook a very tough operation and won.
If China has studied the 5,000-year culture of India, they would have come to the same conclusion.
The Chinese have achieved what they wanted -- put India under pressure without getting involved into a conventional war, at least for now.
This is a tough year for President Xi (Jinping, general secretary of the Chinese Communist party and chairman of China's Central Military Commission). The 20th (Chinese Communist) party conference will be held later this year where he has to get re-elected for another five years.
It will be difficult for him to respond to the delegates if anything were to go wrong on China's borders.
Hence, this year he will maintain the posture at the LAC till he gets a five-year extension.
2027 also marks the 100th year of the raising of the People's Liberation Army.
I would presume that the next five years are going to be tougher for India because we can expect heightened belligerence from China.
China has economic strength and we have to push hard to accelerate our infrastructure. We have to be extremely careful in the next five years ahead.
As a soldier yourself, what do you think is the military solution to the standoff?
All solutions are basically political solutions. The military translates the political diktat into operational parameters and doctrinal strategies.
To say that there is a military solution to the Line of Actual Control, I have grave doubts. It has to be managed at a political level and depends on the settlement of the India-China border.
We have settled the tedious border with Bangladesh. It is a longer border than what we have with China, but we have settled it with some give and take.
I don't think there can be any significant military solution to the Line of Actual Control in the long term. The military will fight at the border and do their bit, but finally the solution has to come from the political-diplomatic level.
Are the remaining areas where disengagement is still pending more strategically crucial than those where disengagement has already taken place?
The entire area has to be seen as a whole. All the areas where we are in a standoff lend themselves to Aksai Chin and vice versa.
Thereby, all the areas where disengagement has happened have taken place in a manner that denies us movement across Aksai Chin and also denies the PLA into areas they patrolled earlier.
Disengagement in each area requires a lot of deliberation. The process is tedious because the landscape itself is tedious. It is taking time because the area is very tough.
Talks have been deadlocked around PP15, but the joint statement after the 14th round of talks gives hope.
I would hope there would be progress on PP15 and Demchok in the next two rounds of talks.
Some observers have had reservations about us vacating the Kailash Heights. Do you think by doing so India gave away its leverage?
Vacating the Heights is a military decision, not a public one. The military follows a thought process and executes it in the form of an operation.
The military must have has taken the decision because it was necessary. The serving establishment discusses and debates each area painstakingly.
The two armies were face to face with tanks and guns at 100 metres range. The situation was tense. There was a possibility of somebody losing control and the situation could have escalated to war.
We had to also push the PLA back in the Pangong Tso area to prevent possibilities of clashes.
Each one of these areas, the plus and minuses, would have been discussed. Those who are outside the realm of that decision making must accept that there was good logic behind it.
I must hasten to add that the Kailash range is not the only area where Indian armed forces can obtain leverage. We have the capacity to obtain leverage in many other areas. I'm sure we have plans to do so.
Let's leave this serious decision making to the people who are at the helm of affairs.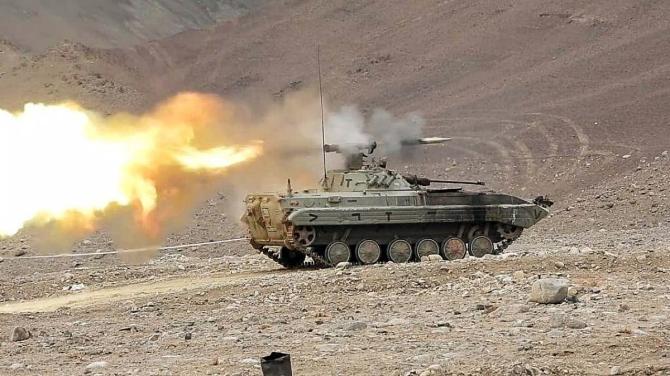 Had you been commander today, what would your message have been to the soldiers serving there under you?
The culture of the Indian Armed Forces is such that our commanders are mostly on the ground.
I would have done what the present commanders must be doing. I would have gone to each and every location and spoken to the men. I would tell them why we are here, what is going to happen or what is the likelihoods of future confrontation.
The commander and officers over there just now must be doing the same, I am sure of that.
Our troops are solid and we have to maintain their morale because being at those tough, windy, cold, areas is not simple.
You have to provide them not only hygienic food and habitat, but also reach out and listen to them.
What are your abiding memories of having served there?
Ladakh is one of the most beautiful regions in the world. Those who have not seen it have missed something in India at least.
Over a period of time, things have changed. We have to allow the locals and villages to move ahead.
Locals should graze their cattle because it is our territory. They should be told up to which point they can go so that they don't cross over.
We have to allow tourists to move ahead, even in Demchok which is a tense area. Let the tourists go and stay in homestays there.
We must open up. We need to get tourism to these areas without changing the beautiful culture of the Ladakhi people.
We have to change our thought process on how these areas can be opened up to people and think of development of Ladakh in that manner.
Feature Presentation: Aslam Hunani/Rediff.com