'Doklam was almost like a trailer to what is happening in Ladakh today.'
'Modi failed to take note and failed to act,' observes Harishchandra Dighe.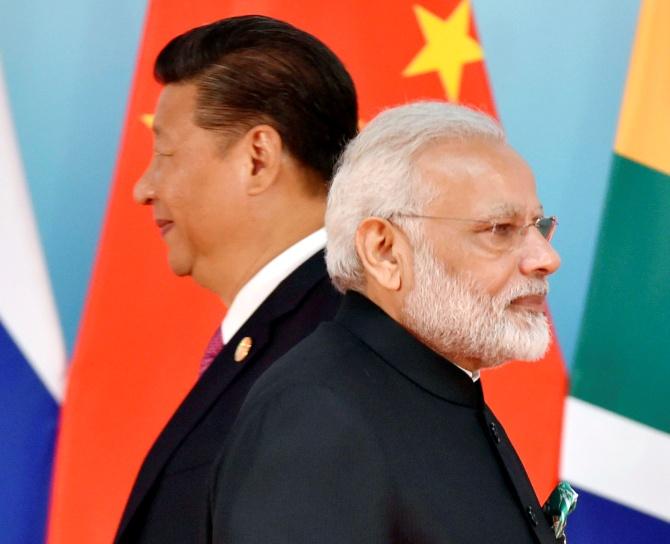 A nation's ability to deal with its neighbours, friends and foes has much to do with its domestic policies and the ideology and/or belief systems of its leaders.
Jawaharlal Nehru is rightly blamed for completely missing the deviousness of the Chinese leaders, and for failing to do anything about it.
Nehru was obsessed with pacifism, a result of his days in the non-violent Freedom Struggle, his belief in the friendship of Asian countries, bound by their colonial struggles and emergence as new independent nations, and his own, naive belief that in the aftermath of World War 2, few countries would actually go to war to settle an obscure border dispute.
It should also be remembered that after his colleagues blamed Communism for China's growing belligerence, Nehru correctly pointed out that China's aggressive posture was not a result of its Communist ideology as much as its nationalism, evident in the way it gobbled up Tibet just a year after the Communists took over China.
Having correctly seen the threat of Chinese nationalism and after the buffer of Tibet was removed, Nehru should have been more pro-active and careful. He was not, and we paid a price. But all that was 58 years ago.
Leaders inherit situations. Post-Nehru, every prime minister has had to deal with an aggressive China. We lost in 1962.
But no one can deny that the 1962 War had one massive salutary effect: India began to take military matters seriously... very seriously.
India began arming itself at a feverish pitch. 1962 ensured that since then, we have NEVER lost a war again.
In 1965, we taught Pakistan an painful lesson, reaching the outskirts of Lahore even as it invaded Kashmir; and in 1971, Pakistani forces abjectly surrendered to Indian troops in just 14 days.
Then, in 1967, India gave China a bloody nose, and the message was sent out: Unlike five year earlier, we were now ready to deal with China. In 1987, this lesson was repeated.
From Lal Bahadur Shastri to Manmohan Singh, every Indian prime minister, bar one, has kept a keen eye on China.
In fact, it would be fair to say that New Delhi has, rightly, always seen China as the bigger threat even if Pakistan remains the peskier neighbour.
Shastri displayed amazing guts in dealing with China even as India was fighting a war with Pakistan (after China complained of its sheep being seized by Indian soldiers, Indians visited the Chinese embassy offering them sheep, and embarrassing Beijing); Indira Gandhi signed an accord with the then Soviet Union keeping China and the US in mind (China and the Soviet Union had fought a border war in 1969); and after the Cold War ended, Indo-US relations have reached another level, thanks to our shared democracy and the concern about China.
During Atal Bihari Vajpayee's government, then defence minister George Fernandes openly said China was India's biggest threat, and Manmohan Singh prioritised better ties with the US to contain China.
It is this alertness at the highest level that post 1962 China was never been able to get a decisive advantage over India... until now.
It would appear Modi made exactly the same mistake that Nehru did: He preferred the comfort of his ideology over the reality of hard politics.
If Nehru faltered in his dreams of Asian cooperation and global pacifism, Modi is guilty of his anti-Muslim ideology that sees Muslim Pakistan as India's eternal enemy.
BJP supporters, bhakts who are blinded by their love of Modi, were so taken up by the anti-Muslim, anti-Pakistan narrative that they chose to ignore the dragon on the border.
If anything, India was already warned after China intruded into Doklam in 2017. This was almost like a trailer to what is happening in Ladakh today.
Modi failed to take note and failed to act.
Modi, Amit Anilchandra Shah and many in the BJP have become victims of their own delusions, believing they are charting a new course for India. This became worse after Modi won a second term.
A series of ideological initiatives were taken keeping in mind the anti-Muslim sentiment such as banning triple talaq, the National Register of Citizens move, and finally, splitting the former state of Jammu and Kashmir into the Union territories of Jammu and Kashmir, and Ladakh.
The first two moves created domestic uproar, but the third move had international ramifications that the ideologically blind BJP simply failed to see.
Plans to bifurcate or trifurcate the former Jammu and Kashmir state have been floating around for years now.
If earlier, the Congress, and even BJP, did not act, it was only because they preferred to make haste slowly, aware of the risks involved.
Modi, Shah, and the BJP rushed in, seeing it as an opportunity to push their ideology and hoping to garner the electoral benefits later on.
In doing so they also saw the political benefit of blaming the Congress for doing nothing for so many years.
In all these moves, ideology rather than realpolitik, political gains rather than cold reasons of State, were prioritised.
Modi and the BJP completely failed to weigh in the reaction of China, and did nothing to prepare for such an eventuality.
The result: For the first time after 1962, India has lost territory to an enemy.
As this is being written, India and China are engaging in military level talks in Ladakh to defuse this ongoing crisis.
India wants to, understandably, restore the status quo ante and wants China to go back to its older positions.
But for China to agree to this demand would mean dismantling their recently built structures.
Why would they agree? They are sitting in a much stronger position.
---
Harishchandra Dighe is a political commentator
Production: Rajesh Alva/Rediff.com