'If the country is with Modi government on Kashmir issue, then why is the Indian Army in Kashmir?'
'I say that Article 370 should be there in every state'
'Kashmiri Pandit issue is a political problem and it has to be resolved politically'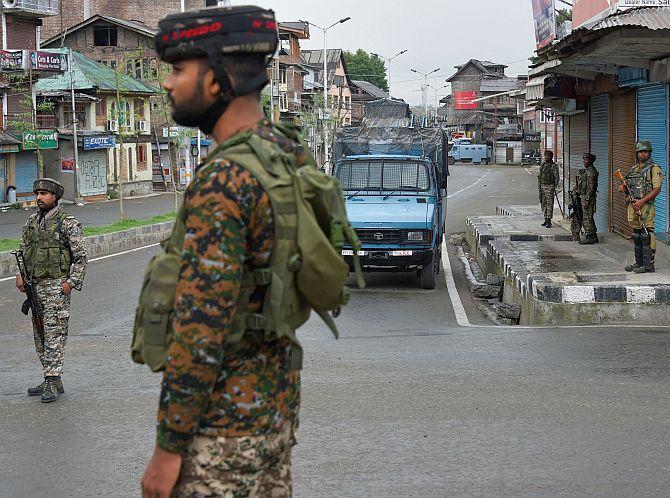 Magsaysay Award winner Sandeep Pandey (below) and his wife Arundhati Dhuru, an activist, were placed under house arrest in Lucknow for a few hours on Sunday to prevent them from holding a protest dharna against the revocation of Article 370 and the communication blockade in Jammu and Kashmir.
The proposed protest 'Stand for Kashmir' was to be held on Sunday evening at the GPO Park in Lucknow.
Pandey was put under "house arrest" even after he had informed the police that the protest was pushed back to August 16 in the wake of their security concerns around the Bakri Eid and Independence Day.
Speaking to Syed Firdaus Ashraf/Rediff.com, the 2002 Magsaysay Award winner says, "The Modi government has created an image that the country is with them on J&K but that is not the truth."
Why were you put under house arrest?
I had organised a candlelight protest in Lucknow regarding the abrogation of Article 370 on Sunday evening. Saturday night I got a call from the National Investigation Agency and the local police reached out to one of our organisers -- Mohammad Shoaib -- stating that since Monday is Bakri Eid we should not hold our candlelight protest.
I said ours is a peaceful protest and we are not going to shout any slogans too. We will just light candles for one hour and stand in silence. And we will hold a banner in support of Kashmiri people stating that democracy needs to be restored in Jammu and Kashmir.
However, the police told us that Section 144 was imposed in Kashmir and if something goes wrong in our protest march they will be asked questions by higher authorities as to why they gave me permission to hold the silent protest. So, I postponed this silent protest meet to August 16 and even circulated that to our organisers and participants.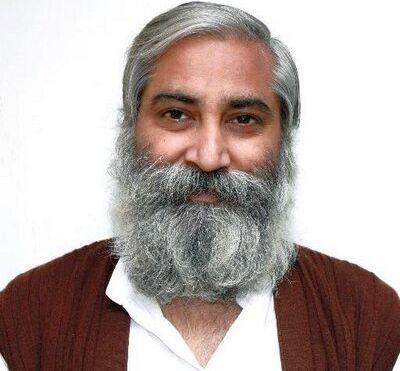 Why were you put under house arrest then?
At 1.30 pm, I was told by my wife that she needs bread for lunch so I went out to get bread. But as soon as I stepped out of my door, the policemen came and surrounded me stating that I am not allowed to leave my house.
I told them that I know why they had come and that my silent protest meet was now on August 16; so there is no need to put me under house arrest. But the officers told me that they had orders that I cannot leave my home till 4 pm and I was under house arrest.
My wife (Arundhati) then stepped out and joked with them and told them to go and get the bread. The policemen then said I cannot leave till their senior officer comes to the spot. After some time, the senior officer came and then the two jeeps that had been stationed outside my home left. I think they came around 11.30 am and left after 2.30 pm.
The government is suppressing Kashmiri voices and also suppressing the voices of all those who are against the government's move on Article 370. And now I have doubts the government will allow us to hold the silent protest march in support of the Kashmiri people.
Don't you feel that your protest meet in solidarity with the Kashmiri people will create tension in Lucknow, considering the country is behind the Modi government when it comes to the dilution of Article 370?
What happened in Kashmir -- if it's right or wrong -- is a different issue. The issue is the way it was done and that was wrong.
The Modi government did not consult a single Kashmiri before diluting Article 370. Even the governor of J&K was not from Kashmir.
I could understand if the governor was Karan Singh, who was a Kashmiri, but here all outsiders of J&K have taken a decision on Kashmir.
Article 370 clearly stated that the J&K assembly had the right to take a decision on Article 370 and what the Modi government did was against democratic principles.
You take a decision for the state and don't consult the people of J&K? The Modi government has created an image that the country is with them on J&K but that is not the truth. If the country is with Modi government on Kashmir issue, then why is the Indian Army in Kashmir?
You give the people of Kashmir the right to speak on what they feel about the dilution of Article 370 and you will know the truth, and people like us who are opposing it you are seeing what is happening to me.
But…
(Interrupts) The government did not allow former chief minister of J&K and member of Parliament Farooq Abdullah to reach Parliament on the day of the debate on Article 370. They said in Parliament that he was ill and the next day Farooq Abdullah said he too was under house arrest. This is a very anti-democratic step.
The Modi government with the use of brute force and management of media is showing that the country is with them but that is not the truth as many people disagree with the government and the government is not letting their views come out in the open.
You are holding a silent protest for Kashmiri people on Article 370 but what did the Kashmiri people get out of Article 370, except dead bodies?
It is an autonomy provision and autonomy is good for democracy.
I say that Article 370 should be there in every state and they must take their own decisions except defence, foreign affairs, currency and communication.
According to the Indian Constitution, Article 243G has given rights to gram sabhas to decide their own economic development and social justice programmes. Many times states have asserted themselves.
Karnataka has their own flag and Nagaland wants it too. Many times chief ministers have not followed the protocol of the prime minister of India. States are taking their own decisions on reservation policies too.
Tamil Nadu does not believe in national education system of 3-language formula and wants two languages. These freedoms Indian states must have. And if you are relating the two dead bodies and Article 370 then that is the question of mismanagement (of politics).
Even if today elections are held in Kashmir and let the government of J&K decide how they want to run the state, the state will run smoothly. When Omar Abdullah was the chief minister of J&K he wanted the Armed Forces (Special Powers) Act to go, but the Indian Army refused it.
Why is the Indian Army in J&K for so long? It's their job to defend borders. Why are they in the internal areas of J&K? The local government must decide law and order with help of local police.
The Indian Army is present there because there is insurgency in the state.
Altogether there are 300 militants in J&K. I had gone to Kashmir in November and this figure was given to me by local journalists over there. In total, there were 80 terrorists till 2014 and that number rose to 300 after Narendra Modi became the prime minister of India. And to handle 300 militants you will have thousands of Indian Army soldiers on the ground? This will lead to human rights violations.
You speak of Kashmiri human rights. However, why is it that human rights activists have kept mum on the abuse meted out to Kashmiri Pandits?
It is a very valid point and there has to be a resolution for Kashmiri Pandits. And Kashmiri Muslims never speak against Kashmiri Pandits whenever I met them.
Kashmir and Assam are the two states where communal feelings were never observed like you see in mainland India. Over there Hindus and Muslims always lived together. Even today you see the Amarnath yatra goes on.
But the Kashmiri Pandits exodus happened because of jihad, isn't that true?
Agreed, some people were thrown out and some left on their own. They have a right to go back and stay and claim their citizenship. The Kashmiri Pandit issue is a political problem and it has to be resolved politically.
Just because Kashmiri Pandits were not treated well you cannot curb human rights and democratic rights of the entire Kashmiri population.