'During disengagement, you don't find violence.'
'And that, too, the killing of a commanding officer.'
'This indicates that this is more serious than previous incidents.'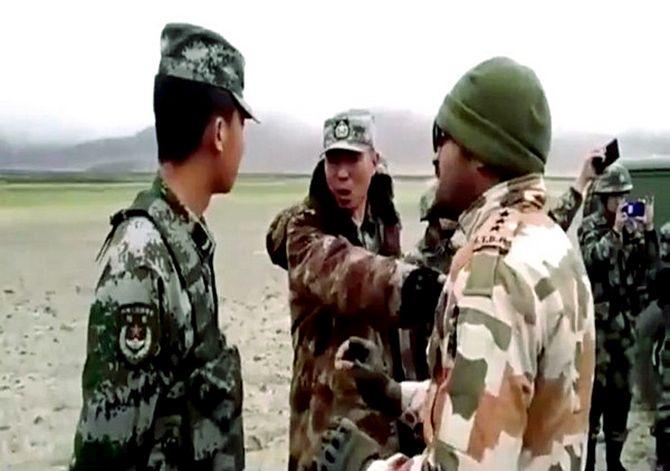 Peace across the Line of Actual Control with China has been shattered after 45 years of a violence-free border.
The killings of 20 Indian soldiers on the Ladakh side of the India-China border on Monday night is a game-changer between the Asian rivals.
The old paradigms stand demolished.
A solution looks distant and India-China relations enter an era of instability and uncertainty.
Dr Srikanth Kondapalli, the well-known China scholar, discusses India's options after the killings of Indian Army soldiers in the Galwan Valley with Sheela Bhatt and Aniruddh Sheth. The first of a two-part interview:
What is your take on Monday's battle in the Galwan Valley?
Well, in terms of Monday's incident in Galwan, with the deaths of 20 soldiers, in which one colonel, one JCO and many soldiers were killed in the most barbaric manner -- by stones, by clops, so very typical, medieval, way of killing -- is very serious.
We did not see before such killing at the commanding officer level, colonel level.
One Chinese colonel rank officer has died too. We have not seen such things happen before.
According to reports on Chinese Web sites, between 45 and 50 Chinese soldiers have been killed.
China never confirms its casualties. They didn't do it even in the 1962 War when they lost 1,800 plus soldiers.
In 1967, in Jelep La, Cho La in Sikkim, we had two incidents where some 36 Indians were killed and some 400 Chinese were killed.
Likewise in 1975 in Tulung La, Arunachal Pradesh, four Assam Rifles soldiers were killed by the Chinese.
It happened in the Cold War period. We didn't have diplomatic relations at the time.
Why the disruption of the status quo now?
In the current incident, it is happening at a time of disengagement of troops.
Generally, during disengagement, you don't find violence. And that too, the killing of a commanding officer.
This indicates that this is more serious than previous incidents.
What is the view from Beijing of the event?
China's ministry of foreign affairs made a statement that India had escalated, India had unilaterally -- they used the word 'unilateral' -- escalated this position.
Well, the official statement has been a subdued way of dealing with this.
There was the report that Yang Jiechi (state councilor and a member of the politburo of the Chinese Communist Party) talked to the Indian side about the situation a few days ago.
The thinking is that the central leadership is far away from what is happening here. It doesn't, of course, mean that the local military commanders do not have permission from Beijing.
Although it was said that the theatre-level permission was sought by local commanders. Theatre-level is at Chengdu in Sichuan province, the western theatre level.
So the thinking is that this is far away and this can be addressed.
The Chinese thinking is that India is constructing a road closer to their perceived LAC. India could become dominant and this could possibly disturb China-Pakistan Economic Corridor projects in the future.
So the thinking is that this is not good for China and that it needs to oppose this and hence they came so far (the PLA entered Indian territory).
And, how is New Delhi viewing it?
According to one report, the Indian side was surprised because India is busy tackling the COVID-19 situation.
So there was surprise and the old phrase of 'stabbing in the back' came up. Like in 1962.
This is one expression that has come up in India.
The feeling is back -- that China is not reliable, in terms of the summit-level meetings that happened between Prime Minister Narendra Modi and President Xi Jingping in Wuhan and Mahabalipuram in 2018 and 2019.
So the agreements they arrived at are not really resulting in progress at the ground level.
What are the options?/p>
My reading is that there will be further de-escalation talks because nobody wants to escalate in this kind of situation.
But then, there is another possible scenario.
There is a pent-up feeling, on Monday night when this incident happened, that soldiers of that battalion (PLA battalion) went berserk and killed the other side.
If that situation continues, which is quite possible, we may possibly see more violence.
Because if you lose your commanding officer, the soldiers who served under him, they generally go on the offensive.
Does China want de-escalation and peace at this particular border or not?
Their foreign minister mentioning this meant that they want peace. They do not want escalation.
Can we believe this?
That depends on National Security Advisor Ajit Doval's call to the leadership.
He is the special representative (at India-China border talks), he is also looking at overall security issues. It depends on him. We do not know, these are all classified.
Is this crisis due to the dilution of Article 370?
No, because Article 370, as External Affairs Minister S Jaishankar mentioned, does not violate anybody else's borders. It does not violate any other country's position.
Did Home Minister Amit Shah's statement in Parliament reasserting India's claim on Aksai Chin trigger this situation?
No. Amit Shah's statement is to be given by any Indian leader who is in that position.
Any Indian home minister will have to say this. Because Aksai Chin is disputed territory, it is not Chinese territory.
China cannot claim it is their land. It is disputed territory.
Is the tension between the US and China playing a role here?
Some analysts do mention that this is one reason because India was among the 120 countries which endorsed a resolution at the WHO meeting on an impartial, independent and comprehensive inquiry into the origins of COVID-19.
Some analysts say China was angry at this. It was more angry with Australia so it banned beef imports from there.