'This confrontation could have been avoided by a less arrogant administration that initially listened, used whatever negotiating skills they had and tried to be more credible.' observes Ramesh Menon.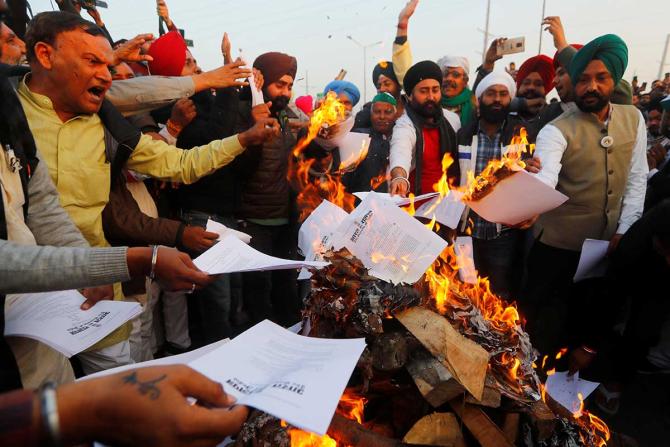 Thousands of agitating farmers on Delhi's borders continue to live in the open battling a bitter winter demanding a repeal of the three farm laws.
They do not trust the government which has also slandered them calling them Khalistanis, well to do and what not.
Numerous meetings with the government have not helped create any confidence among the farmers that the farm laws are going to in the years to come to help them see a better day.
The government's spin doctors thought that they would get the Supreme Court to intervene and give them a face-saving exit from the sticky situation.
Instead of examining the Constitutionality of the laws, the Supreme Court chose to set up a committee of four experts to mediate between the government and farmers.
All the four turned out to be pro-farm laws having openly batted for it in the past.
Naturally, farmers say they are not talking to any committee.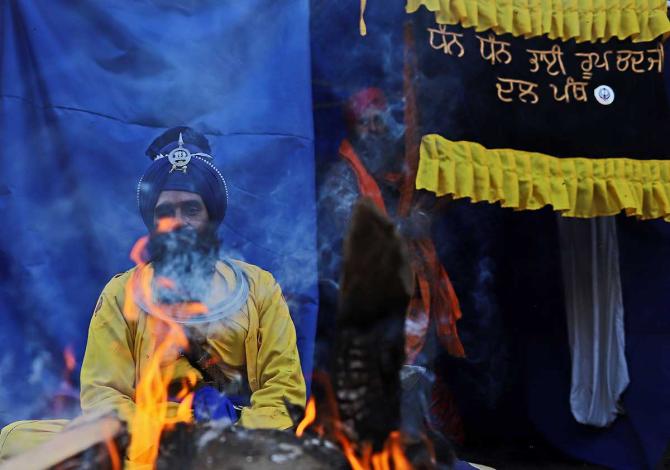 Food policy analyst Devinder Sharma tells me, "Farmers are agitating in the cold as it is a life and death issue for them. The agitation is a result of the continued apathy and neglect of farmers for the last four decades."
The government says it has brought in the farm laws to engineer reforms in agriculture by encouraging an open market that will give them better prices.
Farmers are not ready to buy that as their experience with the open market has made them very suspicious that in the years to come they will have to live by the dictates of the corporates who are going to capture the agri-business with profits as their only aim.
Farmers fear that State protection will vanish in due course of time as private players dominate the market.
Farmers fear that in the initial years the corporates will offer good prices so that the traditional mandis will close down.
Once that happens, they would crash the prices and the farmers will have no choice but to sell to them.
Running into debts, they would be forced to sell their land and become labourers in the farms they once proudly owned.
These are real fears which any one protesting at the border will tell you.
Farmers fear that in the coming years, the government will encourage privatisation of agriculture, reduce agriculture to a subsidiary activity, reduce government procurement, tamper with its lower selling prices and neutralise Agriculture Produce Market Committee operations that are now like a safety net for them.
It is at least a known devil they are comfortable with.
Farmers fear that the corporates will now under the new laws be able to hoard huge quantities of foodgrain, pulses, vegetables and fruits by buying them from farmers at low prices and then sell them off after creating artificial shortages at much higher prices.
Past experiences with the private sector have not been encouraging.
Magsaysay Award winner P Sainath points out that Kerala farmers in 2001 switched to growing vanilla as corporates offered good prices as the crop had collapsed in Brazil and Mexico.
It was good for two seasons where farmers got Rs 4,000 a kilo.
In 2005, as Brazil and Mexico recovered and got back to growing vanilla, the prices collapsed to around Rs 80.
Many ran into huge debts and were devastated.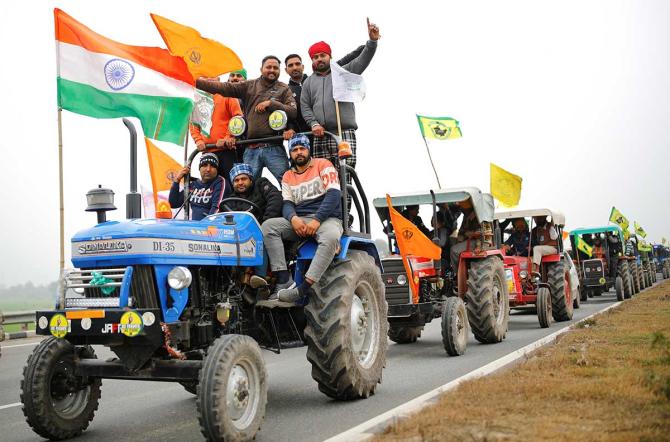 Unremunerative Agriculture
Agriculture has not been a sector that any youngster today wants to get into as it is riled with so many challenges.
Ironically, India is an agricultural economy.
Nearly 600 million are involved in farming in India.
According to the 2011 Census, around 55 percent of India's workforce was in agriculture and allied sectors.
The Periodic Labour Force Survey of 2018-2019 pegs it as 16.5 percent.
As many as 52 percent of agricultural households struggle with debt.
Many of them are marginal farmers holding less than a hectare of land!
It is not a pretty picture.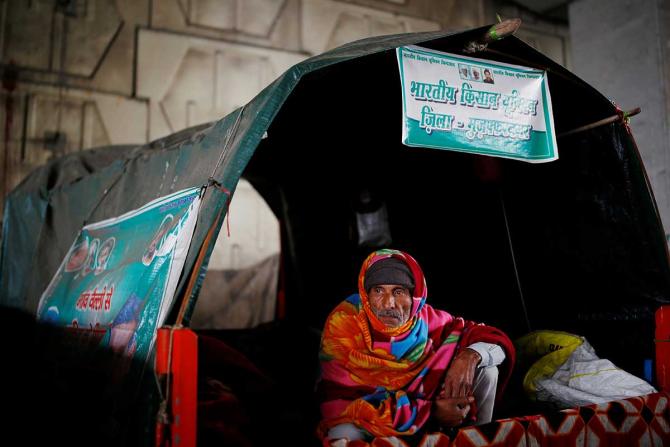 A study by the Organisation for Economic Co-operation and Development said that between 2000-2016, Indian farmers lost nearly Rs 45 lakh crore as they were denied a rightful price.
A Niti Aayog study said that between 2011 and 2016, growth in real farm incomes was less than 0.44 percent!
A survey of the National Bank of Agriculture and Rural Development said families of small and mariginal farmers spent only Rs 6,750 per month on daily expenses when their incomes were less than that!
The average monthly income of an agricultural household is around Rs 6,500.
In Bihar, it is as low as Rs 3,500.
In Punjab, it is as high as Rs 18,000.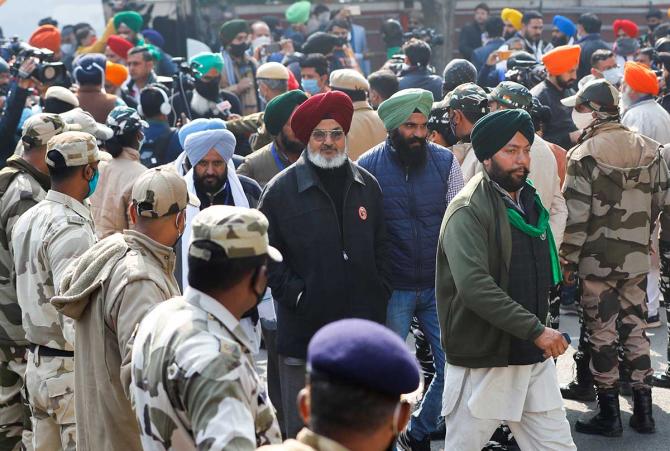 As the government led by Prime Minister Narendra Damodardas Modi ushers in another year, it has plenty to worry about.
It cannot ignore thousands of farmers demanding a repeal of the three contentious farm laws that Parliament hurriedly passed without a debate.
It could have been debated, discussed, tweaked after taking farmers into confidence.
Instead, the government chose to stealthily get it passed during the pandemic.
Not a single organisation of farmers was consulted before the laws were ushered in.
Why were these three crucial bills not strained through a select committee of Parliament?
Despite a request for an actual vote, the bills were pushed through with a voice vote!
To make it worse, requests for discussion were turned down.
Suspicions were sowed about the government's intentions.
The Shiromani Akali Dal, which was the Bharatiya Janata Party's longest-standing alliance partner, walked out of the government in protest. The Akali Dal unequivocally said the bills were not in the interest of farmers.
Take a look at the plummeting number of bills referred to a select committee before being passed.
In the Manmohan Singh government of 2009-2014, 71 percent of the bills were referred to select vommittees.
In 2014-19, it was only 25 percent.
In 2020, none.
Is this the shape of things to come in a parliamentary democracy where discussion and debate are paramount?
Making the Opposition redundant does not strengthen the government.
Nor does steamrolling legislation that has far-reaching consequences.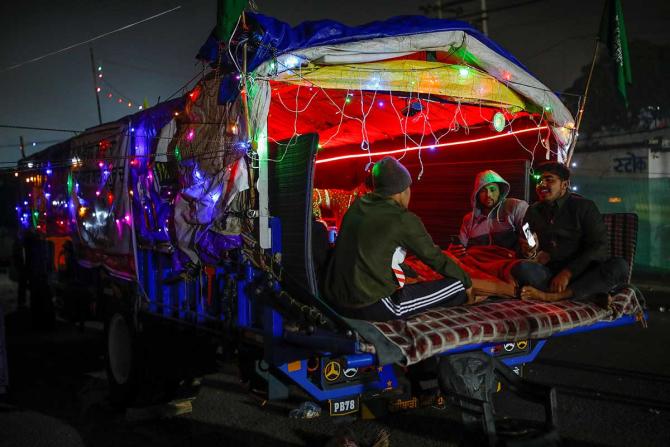 No political scientist had predicted that farmers would brave the COVID-19 epidemic and the harsh cold waves in northern India and launch a protest.
Most of them are from Punjab, the food bowl of India.
The issue of Minimum Support Price bothers them.
As 85 percent of the wheat procured from India comes from Punjab, Haryana and Madhya Pradesh.
One of the aged women protesting at the Singhu border said while she got Rs 14 for a kilo of peas a couple of months ago, it was selling at the same time for Rs 150 in cities like Delhi just a few weeks ago.
All over India, farmers will tell you of how they often did not harvest vegetables as the prices were so low that it was not worth investing in the harvesting.
They have sold tomatoes, potatoes and onions at ridiculously low prices forcing many to quit farming and look for daily wage jobs in urban India.
It is not that the farmers do not realise that they do not get reasonable prices at the mandis, but the symbiotic relationship they have built over the years cannot be wished away.
When they needed money to buy seeds, fertilisers and pesticides, it would be the mandi owners who would help and not the banks.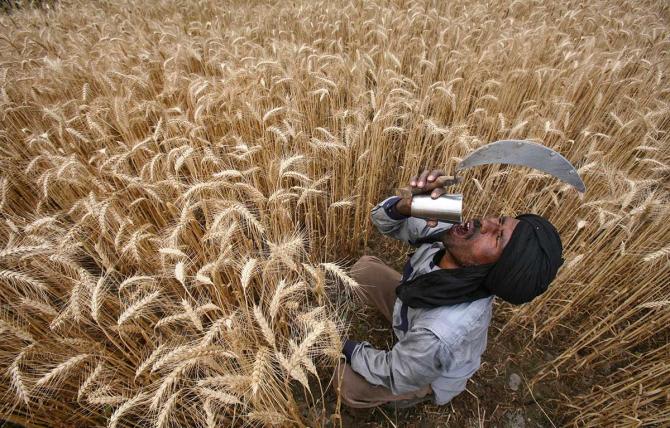 There have to be agricultural reforms if India has to grow.
India's strength as an agricultural economy was seen during the last global recession.
India was one of the countries least affected as there was money in rural India to keep the wheels of the economy moving.
But reforms cannot come like this when it is unleashed without discussion.
Says Devinder Sharma: "If the farming community in India has money, the economy will grow. Why is it that 0.4 percent of GDP is invested in agriculture while 6 percent of GDP goes towards offering tax concessions to corporates? India needs a new economic vision for rural India."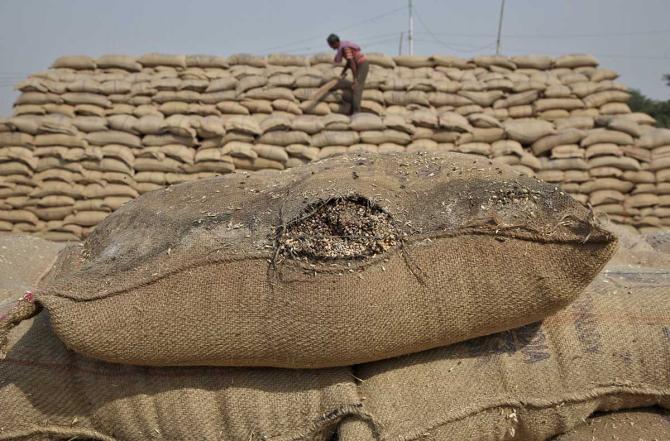 India needs huge silos to store foodgrain as millions of tonnes are rotting in the open as the government does not have a storehouse capacity.
Millions of tonnes of foodgrain stored in the open by the Food Corporation of India end up rotting or eaten by rats and insects.
The is criminal as millions go to bed hungry every day.
India needs cold storage facilities to reduce wastage of vegetables, fruits and other perishables.
India needs to relook its agricultural policies to incentivise those products that it needs and not just wheat and rice as it is in excess and food habits have changed down the years.
Rice is a water-intensive crop and with water tables falling all over India, we need to cut down on its cultivation.
Agriculture has to be made ecologically sustainable.
We badly need to cut down on pesticides, boost soil health, create avenues for organic fertiliser replacing the harmful chemical ones and look at community farming models that have been successful.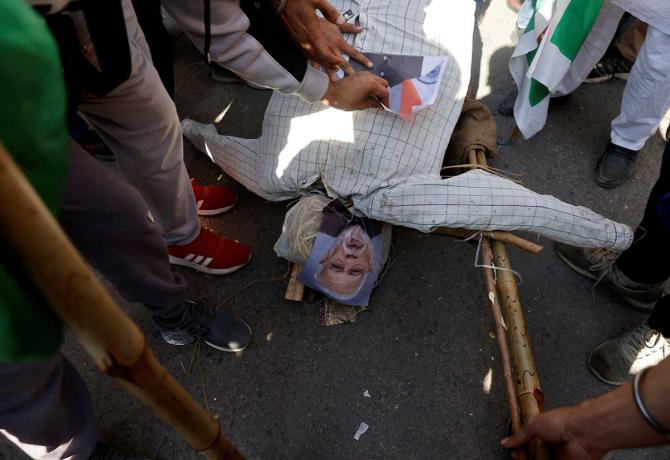 The misinformation campaign that it affected only the farmers of Punjab and Haryana did not help matters.
It said that only rich farmers were agitating.
That Khalistanis were behind it.
That Maoists and Urban Naxals were supporting it.
That foreign funds were flowing in to sustain the protest.
That the disgruntled and frustrated Opposition were fuelling the protests.
It showed how poor the negotiating skills of the Modi government and his ministers were.
When you degenerate into defaming the agitators, it is clear that you do not want to talk.
Modi meeting farmers in different states and praying at a gurdwara were seen by the agitators for what is was: Optics.
To have one uniform law in India is an anachronism.
Each state in India is like a different country in terms of its culture, food habits, agriculture preferences, ecological realities, value systems, language, and so many other factors.
Punjab and Tamil Nadu are so different.
Meghalaya is different from Bihar.
West Bengal is different from Rajasthan.
Maybe, we need to tweak agricultural laws to suit different geographical realities.
Government fixed Maximum Support Price may be crucial in Punjab and Haryana which form the food bowl of India.
MSP may not matter in a state like Jammu and Kashmir.
Or Nagaland.
It could have been a good idea to try these three laws in one state as a pilot project, correct its deficiencies and then unleash it on India.
Let us not forget that after Goods and Services Tax was whiplashed on India in July 2017, 376 changes were made in the first ten months.
It still has hiccups and loopholes.
If farmers are not ready to settle for vocal assurances, there is a good reason.
They want those assurances carved into laws.
Remember how the Centre lured the states to agree to a contentious GST by promising a very high rate of compensation?
Today, the Centre is not able to pay back the states as promised.
In 2020-2021, the states are owned as much as over Rs 2.35 lakh crore in dues to the states.
Modi will not want to give up his strong man image.
The Punjabi farmer knows that and is ready for the long haul.
Thousands of tractors are lined up at the Singhu border with tents, blankets, quilts, beds, food supplies, medicines, firewood, milk, and everything one would need to survive in the open.
The community spirit there helping the weakest to survive is something the whole country can learn from.
They are determined not to give up and fight disinformation and slander.
They have started their own newspaper called Trolley Times.
This confrontation could have been avoided by a less arrogant administration that initially listened, used whatever negotiating skills they had and tried to be more credible.
Just having a brute majority in Parliament is not enough.
This should be one of the biggest lessons from the farmers' agitation.
Ramesh Menon is an author, journalist, editor of The Leaflet, film-maker and corporate trainer.
Feature Presentation: Ashish Narsale/Rediff.com