'India needs offensive and defensive security measures to protect itself.'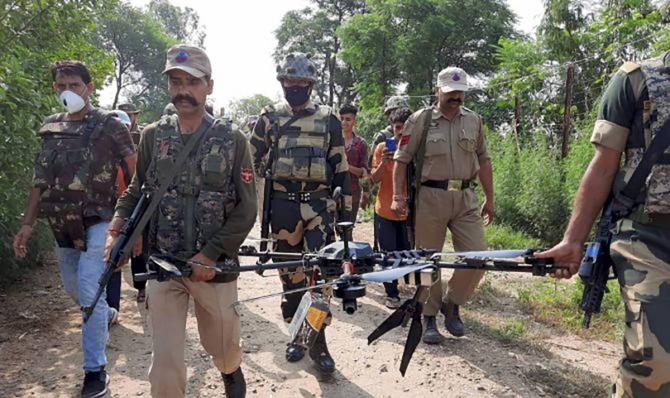 Why was India caught by surprise when there was a drone attack on an Indian Air Force base in Jammu on June 27, 2021?
Is this a new chink in India's defence armour?
In order to understand the latest defence challenge facing India, Rediff.com's Prasanna D Zore spoke to Group Captain Rajiv Kumar Narang (retd).
Group Captain Narang was awarded the Vayu Sena Medal for his services to the nation. His book, India's Quest for UAVs and Challenges includes an in-depth analysis of the Indian, Chinese and Pakistani drone industries.
Why couldn't we trace the trajectory and the flight path of the drone that was used to attack IAF's Jammu air base?
Tracing the trajectory of rogue drones is a matter of investigation.
It requires physical possession of the involved drone or its electronic tracks observed on the detection system.
Drone attack on the Jammu air base is under investigation and tracing the trajectory of rogue drones requires examination of drones and other activities.
Drones can be operated by a controller in line-of-sight mode or made to fly on pre-decided route on GPS and more capabilities are emerging.
I would like to emphasise that the threat posed by small drones is still evolving and no perfect solution has been found till now.
Take the example of the drone attack on the Russian air and naval bases in Syria in 2019, which indicates the evolving nature of this threat. Russia is one of the leading defence manufacturers, yet it could not prevent drone attacks in Syria.
Another example of this emerging threat is the drone attacks on Saudi Arabia.
Remember, Saudi Arabia is one of the richest countries in the world and its defence forces are equipped with best counter-drone technologies obtained from leading manufacturers. The Aramco oil factory was attacked by armed drones in 2019, which forced Saudi Arabia to institute newer counter-drone measures.
However, Saudi Arabia's Abha airport came under another drone attack in June 2021, despite the institution of counter drone measures highlights the need for regular updation of counter drone systems.
In India's case, its public and private sector companies are developing counter-drone technologies. However, India has been cautious in their induction. Most advanced countries are liberal in the induction of prototypes, which are improved and upgraded in due course.
India would need to induct counter drone systems and integrate them with existing air-defence systems.
In addition, there is need to integrate police and other security agencies in existing network, formulate SOPs (standard operating procedures), communication and reporting channels, re-orientate intelligence networks and ensure synergy among the various players to counter this threat.
Can small drones be used in an armed role?
The advancements in technology, miniaturisation of sensors and payloads and increasing use of artificial intelligence has enabled small drones to be used for armed attacks. Also, employment of small drones collaboratively or in a swarm can cause considerable damage.
The capture of the drones used in the attacks on the Russian air and naval bases in Syria in 2019 showed that multiple drones carrying small quantity of lightweight explosives could cause considerable damage to its intended targets.
Air defence systems across the world are being modified to counter the threat posed by small drones.
However, development of counter-drone systems and their integration is going to be an ongoing process for some time due to the evolving nature of this threat.
Therefore, India should focus on developing domestic drone and counter-drone capability, which will help it in creating a robust industrial base to prepare for future contingencies.
This would not only meet its domestic requirements, but also the needs of friendly countries in the foreseeable future.
What are the challenges in developing an effective counter-UAV and deterrence capability?
India needs offensive and defensive capabilities to counter the threat posed counter by small rogue drones; however, developing such technologies in India is a challenge.
Drone research, design and development is an essential pillar for developing offensive drone systems and defensive counter-drone technologies, which need to be strengthened.
The concerns about security in the aftermath of the Jammu drone attacks could lead to imposition of restrictions on drone operations. However, it would be prudent to examine whether restrictions on the domestic drone industry would help in reducing the drone threat or prove counterproductive.
Terrorists will not follow drone rules and carry out such attacks irrespective of whether stricter or liberal rules are formulated. Also, restrictions are defensive; they become a hurdle in innovation and make the country dependent on imports. The civil aeronautics and drone industry should ideally be provided an enabling environment.
Therefore, there is a need to create a balance between restrictions and an enabling environment to address safety and security concerns.
The procurement pattern has profound impact on the trajectory of domestic industry and capability building. Knee-jerk reactions lead to hasty acquisition of counter-UAV systems, which provide immediate solutions but adversely impact the domestic industry and make India dependent on imports for a long time.
Also, if the adversary comes up with innovative means to carry out drone attacks, India would need to go back to the manufacturers for upgrades, which will cost a lot of money.
Harnessing the capability of domestic manufacturers, and consistent drone and acquisition policies, can transform the Indian aeronautics and drone industry landscape.
Indian domestic industry has the potential to supply drone and counter-drone technologies.
However, these capabilities are available in silos with different public and private sector entities, which needs to be harnessed to build holistic counter-drone systems through enabling mechanisms like iDEX, TDF and Mehar Baba Competitions.
Also, separate procurement processes followed by the defence, paramilitary forces and central and state government agencies become a hurdle in increasing the size of the market.
India should learn from its own space industry to correct these anomalies and build a robust drone and counter-drone capability through domestic industry.
Learning from the Space Commission
Indians heading Microsoft, Google, etc, indicate that we have the intellectual capital to steer the development of niche technologies.
Why are Indians able to develop such technologies in other countries and not in India? It is because they have an enabling environment for entrepreneurship and innovation in those countries.
Space is one of the successful models in India; why did India succeed in space and not in aeronautics? It is the same country, the same public and private sector entities and yet we are succeeding in the space domain.
The space commission is the expert body that steers space development in India. It has financial powers and the mandate to synergise the activities of all the talent available in the country.
In my book, India's Quest For UAVs and Challenges, I have discussed the space sector and the necessity for an aeronautics commission. Leading countries like America have both an aeronautics commission and aeronautics development plans.
In India, there are individual manned and unmanned aircraft development programmes but there is no plan for developing an ecosystem, systems and sub-systems.
Now, the time has come to establish a drone commission/sub-commission.
If India wants to become a drone manufacturing nation, it needs to have a drone capability roadmap with a five, ten and 15-year plan that has clear goals and commitment from the government.
The enabling ecosystem including testing sites, a robust certification mechanism and an R&D plan is needed for integration of drone technologies into Indian air space and stimulating the drone industry.
The Indian drone industry has demonstrated their potential in developing civil-military systems as has been seen during the 2021 Army Day parade and other development programmes.
India has the intellectual might and if these brains are provided an enabling environment it could become one of leading global drone manufacturers in 10 years.
Group Captain R K Narang (retd), Vayu Sena medal, is a pilot, author policy analyst and drone expert. He has earned more than 4,700 hours of flying experience in his 31 years of service in the Indian Air Force.
An alumnus of the 57 Defence Services Staff College, Wellington, Tamil Nadu, he has an MSc in Defence and Strategic Studies and is pursuing his PhD.
He served as a Research/Senior Fellow at the Centre for Air Power Studies from 2014 to 2019.