'If the trial succeeds, it will become the success of Ayurveda.'
'If it's a failure, it's my failure alone.'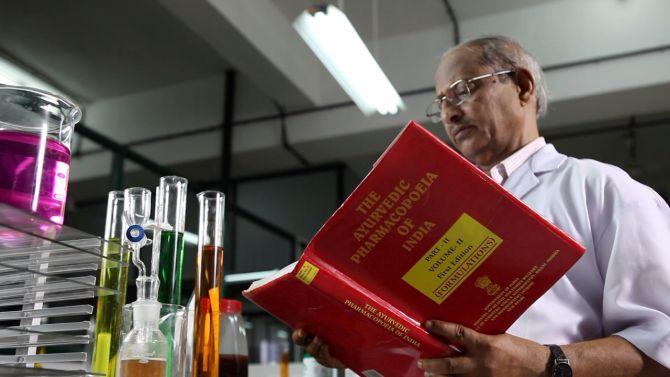 Dr J Hareendran Nair is the founder and managing director of Kerala's Pankajakasthuri group of enterprises which is into the production of Ayurveda medicines.
The group, which was formed in 1988 in a modest manner, has now turned into one of the major Ayurveda corporates in Kerala.
Dr Nair has applied for clinical trials for his anti-viral drug, ZingiVir-H, for the treatment of COVID-19 patients.
Dr Nair, below, says he has been treating patients for influenza and other viral infections with this medicine and has now thought of applying for approval to use in the treatment of coronavirus.
The Thiruvananthapuram-based Ayurveda physician, a Padma Shri awardee, spoke to Arun Lakshman on the wonders of Ayurveda and how ancient Indian manuscripts mention grave disease caused by microbes.
There are reports that you have developed an anti-COVID-19 drug and have started conducting clinical trials for it?
My product, ZingiVir-H tablets, is something which I have been using for so many years in my clinical practice for viral fevers, acute viral bronchitis, etc. It is found very effective in treating such ailments and based on the scientific evaluation.
After a toxicity study from the Rajiv Gandhi Centre for Biotechnology, we thought of approaching COVID-19 hospitals for clinical trial.
When the scientific evaluations showed the potency of the formula in curing viral infections like respiratory syncytial virus, influenza virus etc, I decided to proceed for further studies.
However, I have not yet tried this medicine on COVID-19 patients. That research is conducted at the Clinical Trial Registry of India to evaluate it.
So yours may be the first instance of an Ayurvedic medicine being lined up for clinical trials in the fight against COVID-19?
There are several projects in front of the Clinical Trial Registry of India to evaluate their efficacy. However, I believe that ZingiVir-H is the only proprietary Ayurvedic product for clinical trial among them.
Is this drug specifically developed for the treatment of COVID-19 or was it a medicine developed earlier by you?
It was a medicine developed much before, but I have taken a drug licence and started evaluating whether this can be used for treating this pandemic attack and to become a solace and hope for humanity.
Are you conducting research into other life-threatening diseases as well?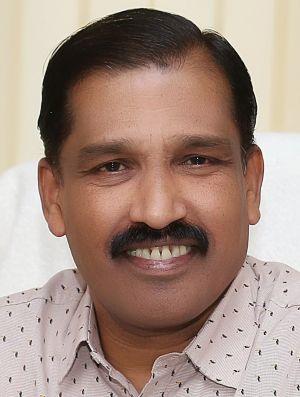 I have been in the field of clinical research for the past several years. I have developed more than 120 proprietary preparations for diseases like asthma, diabetes, etc and also for diseases of the liver, heart and kidney.
I am a practising Ayurveda doctor for several years and the country has bestowed upon me the Padma Shri for my work in the field of Ayurvedic medicines. I also run an Ayurveda medical college.
How do you feel that viral attacks like COVID-19 can be contained or even cured by an ancient system of medicine like Ayurveda?
We never studied about diseases like coronavirus or COVID-19. But our manuscripts detail these viral-like diseases under aganthuka roga (extraneous diseases) where minute, invisible microbes are described.
How these microbes spread, how they can be prevented, the signs and symptoms and, interestingly, treatment are also described in Ayurveda in detail.
Medicines prescribed in our texts are having very potent antiviral properties. We can see wonders when we analyse the mode of preparation of Ayurveda medicines and their cleansing procedures.
How effectively our saints used our science in containing contagious diseases can be seen, for example, when some medicinal ingredients are mashed for three hours in ginger extract, their anti-viral property increases 10-fold.
A meticulous analysis of these practices using modern technology can find miracles.
Have you obtained clearances from the Government of India, the Indian Council for Medical Research and the Ayush ministry for clinical trials?
Agencies like ICMR and Ayush are only for supporting the system and not for providing permission for clinical trials which is done only by the CTRI.
After the trials are completed, we will be providing the detailed results to Ayush for further proceedings.
Are there plans to launch this medicine for treatment of COVID-19 once the trials are done?
Let the results of the trials come out and let the approvals also come. I am keeping my fingers crossed.
If the trial succeeds, it will become the success of Ayurveda.
If it's a failure, it's my failure alone.