'These are lies that Priyanka Gandhi rung up Sachin Pilot.'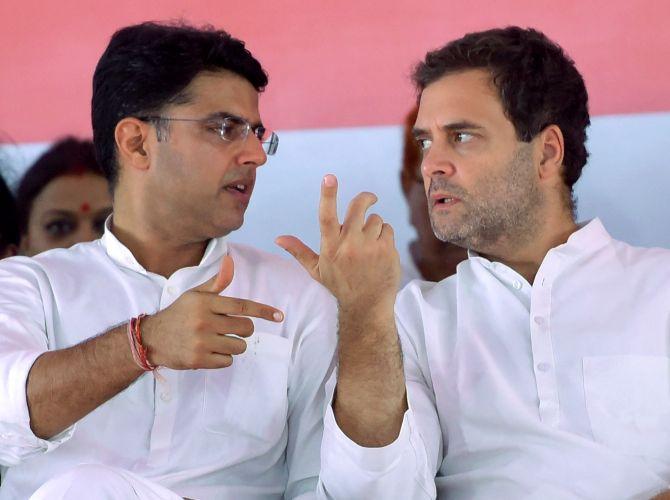 The most vocal and the most articulate among the 19 MLAs in the Sachin Pilot camp, who have been served notices by the assembly speaker, is Vishwendra Singh.
The MLA from Deeh-Kumher and ousted tourism minister in the Ashok Gehlot cabinet, Singh has been tweeted his grievances non-stop.
Laced with humour and shayari, Singh tweeted on Tuesday, 'It feels nice to become just an MLA from being a minister in just a day'.
'Today was just a 20-20. The test match begins tomorrow. Keep watching what happens next', Singh tweeted, tagging Chief Minister Gehlot.
"We just wanted to highlight people's grievances to the Congress high command. The charge that we are trying to ally with the BJP is a clever ploy to malign us before the people of Rajasthan," Singh, a Pilot loyalist, tells Rediff.com's Prasanna D Zore.
Why has the assembly speaker issued a notice to the 19 Congress MLAs who are with Sachin Pilot? Have you received the notice?
Let me be very clear about this notice.
It means nothing.
There is a Supreme Court ruling (external link) from Arunachal Pradesh which clearly overruled the speaker when a no-confidence motion was tabled against him.
The other argument is a three-line whip, or any such whip, can be issued only when the assembly or Parliament is in session.
That is not applicable in our case.
Like, if I invited you for tea and for some reason if you are unable to make it, then there is no way you can suspend or end our membership of the House.
This is a clear example of bullying us for speaking about people's issues.
What does the speaker's notice say?
The speaker says that by the 17th (of July), you please give a reply as to why you were not present for the CLP (Congress Legislature Party) meetings.
Will you be responding to the notice?
Yes, we are talking with our lawyers and soon we will send a reply to this notice.
Are you unhappy about the way events have unfolded in Rajasthan and the way Sachin Pilot was treated?
Not only Pilot sahab, but myself and Ramesh Meena too are being targeted.
They have sent us this notice with the aim of disqualifying us from the membership of the Rajasthan assembly.
But this is just not possible.
All of us will not cease to exist.
They can't disqualify us from being MLAs.
They can throw us out of the Congress. That's okay.
But they cannot throw us out of the assembly.
We are elected by the people of the state.
Such notices apply only when the assembly is in session.
Sachin Pilot has clearly stated that he will not join the Bharatiya Janata Party. So, what next for Sachin and the 19 MLAs who have been served this notice?
That only Pilot can answer.
I am not authorised to respond to such questions.
He is our leader and he will find the best way for the development of the state and for solving the issues of our people.
Chief Minister Ashok Gehlot has alleged that Pilot was in talks with the BJP to topple his government.
Some Congress leaders claim there is a taped telephonic conversation between Pilot and BJP leaders that indicate the same.
The point is the BJP has repeatedly said that this is the Congress's in-house fighting and it should not be dragged into it.
What wrong have we done?
We just wanted to highlight people's grievances to the Congress high command. The high command never reached out to us despite seeking appointments repeatedly.
These are all lies that Priyanka Gandhi rung up (and spoke with Sachin Pilot), this one rung up and that one rung up.
The charge that we are trying to ally with the BJP is a clever ploy to malign us before the people of Rajasthan.
Did discussions happen between Sachin Pilot and the BJP to topple the Gehlot government?
All this is nonsense plied by friendly media.
We have been waiting for three days to get a response (from the high command). But nobody has contacted us.
These are all lies.
Why is the Congress high command not interested in talking to Sachin Pilot and the 19 MLAs who are with him?
It is obvious that Mr Gehlot wants him (Pilot) out of the government and which he so far has succeeded in doing.
Won't that harm his government by putting it in a minority?
That is what is on right now.
They shouldn't think they can get away with this, by disqualifying us.
Do you think the Gehlot government will survive this crisis?
I think you better speak with Sachinji. You will get better responses.
You were a minister in the Gehlot government. What would be your message to the chief minister?
I have already sent a message out in a video. That is the message.
What is our fault? What anti-party activities have we done?
So you would still want to remain with the Congress?
We are still in the Congress.
What if the party disqualifies you? What will be the option then?
Then we'll think about it.
Let them dare to do that first.
How can I respond to something which is premature?