'That needs to change. And needs to change now.'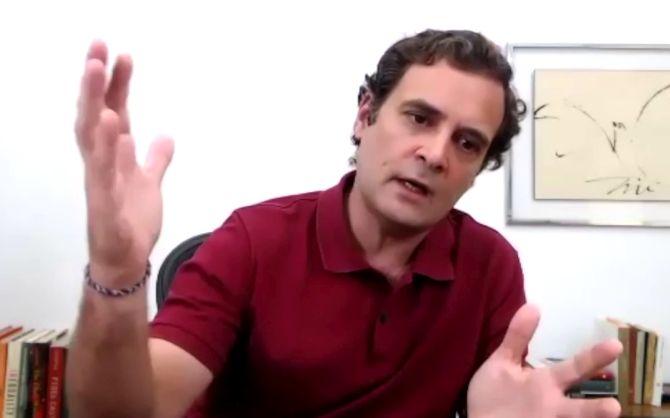 "The party dropped me as a spokesperson for showing a roadmap. It shows that the party either has a high level of arrogance or they are completely detached from ground realities," Sanjay Jha, who was abruptly removed as Congress spokesperson, tells Rediff.com's Syed Firdaus Ashraf in the concluding segment of a two-part interview.
What, according to you, is the BJP doing right and the Congress doing wrong?
The difference is between hunger.
In politics you don't get a runner-up award. You don't get a silver or bronze in politics. You either win or you don't. The winner takes all.
Therefore, the winner needs to have hunger to win and to defeat the opposition. The hunger to set up a goal and chase it.
In two elections, 2014 and 2019, the Congress got only 90-plus seats in the Lok Sabha and this is a party that had won 400-plus seats in 1984. On average they won 300-plus in its history.
It means the BJP of 2020 has replaced the Congress party of 1984. Does it mean just like it took the BJP 30 years to reach where it is today, the Congress will take another 30 years to reach back to its 1984 position?
More than the seats, the real disappointment is the way Congress party has allowed its vote share to collapse.
The only good thing is that even if you won 44 seats in 2014, you won 20 percent of the votes.
If you want to come back, then you need to win another 10 percent of votes and for that you need hard work.
You need to go out and communicate with people on what their problems are.
You cannot sit in Delhi with a high command culture.
You need to empower your leaders at the district level and block level.
The Congress has not demonstrated any appetite for power.
After the 2019 election loss you knew the only way to checkmate the BJP was in state elections, but instead we gave away Karnataka right under our nose.
What is the logic of losing Madhya Pradesh to the BJP?
These two states where the Congress was in power were literally given on a silver platter to the BJP.
You call it hunger? Goa and Manipur -- are they hunger?
Maybe Congress leaders are not cunning enough to play politics. Or they do not have enough money to stop their MLAs from joining the BJP.
I don't think it is a question of being cunning, but the Congress party lacks political instinct. It has become slow and unresponsive. It seems to have disconnected with its own people.
It doesn't seem the Congress wants to regain power.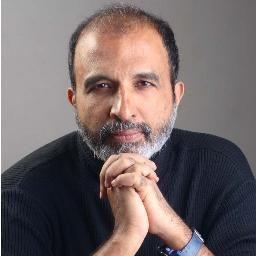 And what worries me most, is the Congress is out of power from Gujarat for the last 25 years.
In Madhya Pradesh more than 15 years now.
How many years out of power in Uttar Pradesh?
And how many years out of power in Tamil Nadu?
And in West Bengal?
Start looking at the data and you will get an idea that there is a disturbing trend that once the Congress begins to lose elections, very often it struggles for a long time to come back.
And if this syndrome happens in Delhi (in Parliamentary elections), the Congress will be in big trouble.
My articles were written with a message to the party. It is about time the Congress wins 2024 or else it will be very tough times for the party.
What about the Congress party leadership? Sharad Pawar said Rahul Gandhi should not have said what he said on China. Do you think Rahul is being wrongly advised?
I am no one to comment on the Congress leadership. Mr Gandhi is a former Congress president and he has enough political experience to know what calls he has to take.
I do believe, however, that when he resigned in 2019 saying he is not going to come back as Congress president and nobody from the family must become Congress president, the Congress should have elected a leader and it was the job of the CWC (Congress Working Committee) to elect a new leader.
The Congress party requested Mr Gandhi to take on the leadership, but he refused. Now without wasting any time, the Congress must get a new leadership and give the party direction that is required.
In the last 20 years the Congress has seen only two presidents, either Sonia Gandhi or Rahul Gandhi whereas the BJP has seen more than half a dozen party presidents. Internal democracy is clearly lacking in the Congress party.
How can one revive a party which is only the Gandhi family party?
That needs to change. And needs to change now.
Rahul Gandhi refused to become the Congress president after resigning and he has refused to come back.
The message he gave the Congress party was that they should get a new leader.
Then the question needs to be answered, why did the Congress not elect a new leader in the last one year? That is intriguing and letting down the party big time. And therefore, the Congress party cadres are so demoralised.
You have defended the party on numerous television debates in the last six years when it was almost indefensible. After you were relieved as party spokesperson, are you one step short of expulsion?
I was appointed national spokesperson without being told. The party appointed me when I was in New York for some work and I got this communication from the media that I was appointed a Congress media panellist.
I am grateful to the party for that opportunity and I discharged my duty to the best of my abilities.
I agree with you that I defended the party when many people were not willing to go on TV debates.
I was dropped as national spokesperson with immediate effect with a terse note and not a line of gratitude for what I did for the party for the last seven years.
It is a reflection on the party, and not me.
At the end of day that basically vindicates my criticism of the Congress which I wrote in my article, that it has not enough of internal democracy.
The decision must have hurt a lot.
I joined the Congress party as a loyal soldier.
I joined the Congress because I believed in the ideology of Mahatma Gandhi, Jawaharlal Nehru, Babasaheb Ambedkar, Netaji Bose, Sardar Patel and others.
I wrote that Nehru said the Congress party cannot afford to be so thin-skinned and hypersensitive that they cannot listen to one of its own. And my suggestions were constructive and that would have helped the party.
The party dropped me as a spokesperson for showing a roadmap, and it shows that the party either has a high level of arrogance or they are completely detached from ground realities. So, my article vindicates my stance.
And it further corroborates my fears and my apprehensions. Today, the Congress party has become cocooned in its own internal shell. And now probably lives in its own echo chambers.
If it allows itself to do that and chooses not to listen to other views and wilfully becomes blindfolded, then they would be committing hara-kiri.
I will continue to bat for the Congress because I am liberal, secular, progressive and tolerant.
I believe in India's Constitution.
I believe India needs inclusive growth and the Congress is the best party to do that.
And if the Congress does not understand it, either it will wither into extinction or make the BJP the sole party in the country.
The people of the country will never forgive the Congress (for it).