The Union minister of state for home is somewhat brash and rowdy, and has enormous confidence.
Some of this derives from the fact that he has independent sources of income (he reported assets amounting to Rs 18 crore in his 2019 Lok Sabha nomination papers).
Aditi Phadnis reports.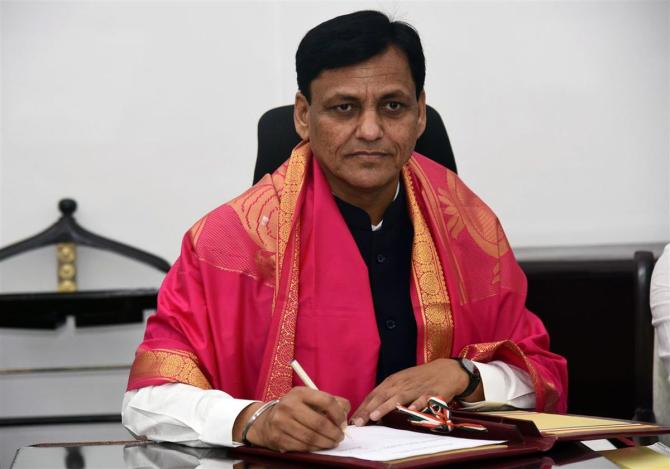 "This is the most boring poll ever," said a Bihar cadre bureaucrat.
"Rarely has Bihar had an election where the outcome was so obvious".
Barring some major mishap, the Janata Dal-United)-Bharatiya Janata Party alliance is set to return to power in November.
The BJP is, in a sense, discounting this election.
Its eyes are set on the next one, which will likely mark the beginning of the post-Nitish Kumar era.
And in that dispensation, the current minister of state for home, Nityanand Rai, could play a big role.
The central issue is not that Mr Rai, a Yadav, has the capacity to bring the powerful intermediate caste in Bihar to the BJP.
The question is whether he can act as a counterpoise for the tallest BJP leader in the state, Sushil Modi, and act as an instrument to recast the party in the vision of the central BJP.
For some years now, Mr Modi has been a thorn in the side of the state BJP.
In a way he owes his current position to strong backers in the state and in New Delhi.
When Govindacharya, RSS pracharak on loan to the BJP, handled things for the BJP in Bihar in the 1990s, leaders like Tarakant Jha, Kameshwar Paswan, Janardan Yadav, and Yashodanand Singh, who had all but captured the organisation, found their position threatened.
Govindacharya was deeply influenced by ideas of social justice and internal democracy.
He tried to break their stranglehold by encouraging young leaders like Mr Modi, Saryu Roy, Ravi Shankar Prasad, and, later, Rajiv Pratap Rudy.
The 'established' leaders launched a campaign against him.
When the Vajpayee government was formed, most of the party's Young Turks departed for Delhi.
It was only Mr Modi who stoutly resisted any move to uproot him from state politics and stayed on in Patna.
This was both good and bad for the BJP.
It stabilised the party: But many realised that over a period of time, Mr Modi had become the TINA factor in the BJP in Bihar.
Moreover, his affection/admiration for Nitish Kumar was obvious.
In 2012, he said Nitish Kumar was indisputable PM material.
As Narendra Modi had just begun to put in a bid to become the BJP's candidate for prime minister, this raised eyebrows all around.
If the party was to grow in a new trajectory, he needed to be uprooted and replaced by another pole of power.
Elections came and went.
Ironically, despite the party's best efforts, where Mr Sushil Modi exerted himself, the party notched up victories.
Where he didn't, it slumped.
The Bihar assembly elections were held in 2015.
The BJP and JD-U fought separately, although Mr Sushil Modi tried his best to save the coalition.
The BJP claimed it would get 150 seats in a House of 243. It got 56.
At around the same time, a young leader who had been active in student politics in the state was also nurtured and given a ticket.
Amit Shah spotted Nityanand Rai, who had established himself via the Akhil Bharatiya Vidyarthi Parishad.
Mr Rai had finished four terms in the legislative assembly.
In 2014 he contested the Ujiarpur Lok Sabha constituency and won.
It would take him five years to become a Union minister (he is currently minister of state for home, under the direct tutelage of Mr Shah).
Mr Sushil Modi, meanwhile went from strength to strength, now with the backing of Arun Jaitley.
Every Bihar BJP president who was appointed -- whether it was C P Thakur or Mangal Pandey -- found he had to pick his team from among lieutenants whose first loyalty was to Mr Modi.
In Mr Rai, the central leadership thought it was backing a winning horse to displace Mr Modi.
He is somewhat brash and rowdy, and has enormous confidence.
Some of this derives from the fact that he has independent sources of income (he reported assets amounting to Rs 18 crore in his 2019 Lok Sabha nomination papers).
However, in the 2015 election, the BJP, presumably on Mr Rai's advice, fielded 22 Yadavs -- no more than two or three won.
Obviously Mr Rai is not a caste leader of the stature of Lalu Prasad.
And this was a grievous blow to his standing. Mr Sushil Modi had scored again.
But this was by no means the end of the Centre's sponsorship of Mr Rai.
Ahead of this election, in consultation with Bhupender Yadav (another Bihar BJP leader who is supporting Rai), a 70-member committee to steer the elections was announced, headed by Mr Rai.
Many Sushil Modi supporters were absent from the list.
How things will pan out for the central leadership's plans for a leadership change in Bihar will depend on the outcome of this election and the BJP's strike rate.
But one thing is clear: Mr Rai is the BJP's new star in Bihar.
Feature Presentation: Aslam Hunani/Rediff.com