'We want to make sure that we are certainly targeting the entire Indian American community.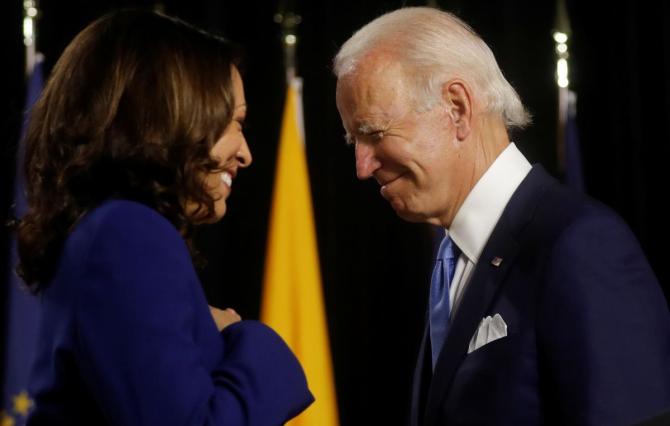 Long before Kamala Harris was picked as the vice-presidential candidate, a group of Indians were already working to get presidential candidate Joe Biden elected.
It has now come together as the Indians for Biden National Council, under the South Asians for Biden umbrella.
As Neha Dewan, national director of the SAB, said in a press release, 'Joe Biden's experience and know-how, along with Kamala Harris's unrelenting grit and passion for fighting for justice, is exactly what is needed for these unprecedented times.'
'That Senator Kamala Harris is the daughter of immigrants from Jamaica and India, adds another dimension to this moment,' Diwan added.
In a nod toward President Donald Trump's nativist rhetoric, Sanjeev Joshipura, director, IBNC, said the upcoming election could decide the future of the Indian-American community.
He argued that his group would also be "working to educate community members about Biden's long history of supporting India and the Indian American community, as well as educating voters about Senator Harris's illustrious career in public service, and highlighting Harris's Indian heritage."
Dewan and Joshipura spoke to Rediff.com'S Senior US Contributor P Rajendran about the nascent group and the steps it plans to take get to the diverse groups that make up the Indian community.
When you set up this organisation, what did you propose to achieve?
Neha Dewan: Before I get to that, with regard to SAB, we're a national grassroots organization.
What we are trying to do is get Biden elected, but it's through the engagement, education and mobilisation of the South Asian community -- and that's the entireSouth Asian Diaspora.
However, through our outreach, a process learned is that perhaps it might also be best if you had a little bit more of a surgical process, the kind that addresses the individual needs of the community.
So it makes sense to have these individual councils that fall under this SAB umbrella so that they're still benefiting sort of from the messaging, the training, the resources, but have their own sort of, you know, emphasis, especially in outreach with respect to the Indian American community, specifically ... with respect to this launch.
We've already been targeting the Indian American community, but we want to make sure that we are certainly targeting the entire Indian American community.
So really the purpose of the council is to address those efforts.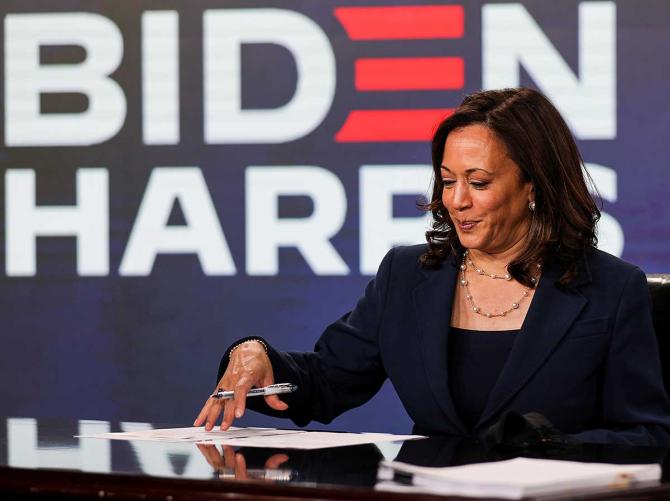 The Indian community is pretty fragmented in the way that it thinks right, like, for example, the older people.
They used to be generally Democrat, especially in the northern states, not so much in the southern.
But that's because of where you live decides how you behave, right?
So, the older people nowadays are turning or swinging more right.
Aren't they?
Neha Dewan: I mean I think it depends on you know who you speak to in which states, you sort of go into, But that's one of the concerns that we've had -- that a traditional Democratic voting bloc is voting Republican at times.
So that's one of the reasons what we thought was that if we actually had a dedicated council to do outreach to these particular individuals that are swinging right this time, we would be able to develop the appropriate messaging.
We are already doing that as part of SAB.
But we certainly want to make sure that we are listening to communities that we may not necessarily have been able to reach before.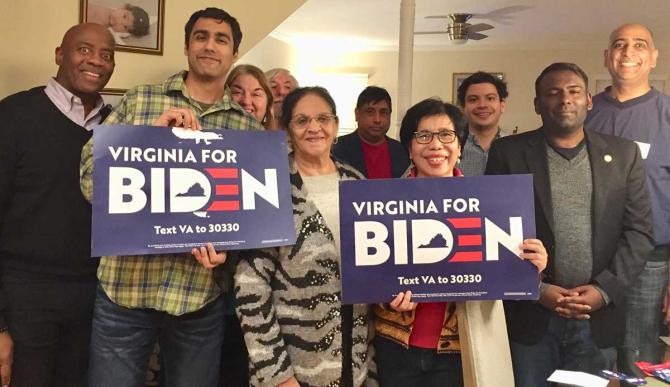 People who are highly motivated, like the supporters of Indian Prime Minister Narendra Modi, are likely to vote for Donald Trump (who stood with the Indian leader at a huge event in Houston and later visited him in India), while others are usually not that motivated to vote either way.
Besides, Indians who tilt further left in their politics have been a little disappointed by the fact that Bernie Sanders has lost out to Biden.
So, you know, at least as far as Indians go, things are uncertain.
Would that be accurate?
If so, are you looking to address that?
Neha Dewan: We're looking to address the entire needs of the Indian American community, right?
Which is why we sort of gave birth to the council -- to make sure that we are one hearing from everybody.
We can only hear from our reach, and if we don't have a reach to everybody within the community, certainly with respect to the generational differences, then we're not necessarily addressing it.
So within SAB our infrastructure ranges all the way from college students to retirees, but we really want to be very surgical with respect to this in some of the points that you've made -- to be able to speak to the voters directly, to be able to, you know, speak to sort of Biden's policies and agendas and things of that nature, and just also highlight policies that affect the South Asian community specifically.
Sanjeev Joshipura: Let me just add to that a little bit.
So three quick points I'll make one is one you're already kind of alluded to yourself: The community is not a monolith.
I will acknowledge that in certain segments of the community there are some questions about Biden-Harris and there is some leaning towards Donald Trump-Mike Pence.
However, I have heard in my work with not only with Indians for Biden, but I've been a volunteer with the Biden campaign in different capacities even before this... that there is a very significant bloc, a large bloc, of Indian American voters who are also strong Biden supporters.
There is a lot of disinformation floating around in the media right now which I have read, that there are some Indian supporters of the Trump campaign who are claiming that the entire Indian community or the vast majority would vote for Trump en masse and blindly.
And that is really not true because there are no surveys, no legitimacy to back this up.
The last point is you alluded to is about the bit of tension in the Democratic party between the moderate centre and the more left flank of the party.
The only thing I would say to that is that if you look at the campaign platform that Biden had himself released, Joe Biden has incorporated ideas from the progressive (side) as well -- and very strongly and enthusiastically so -- and specifically the Indian Diaspora platform that has been recently released, and the US-India platform, he is very, very strongly pro-Diaspora.
But the younger people generally tend to be more progressive, I guess -- the Saikat Chakravarti kind of group.
There are others.
Look at Kshama Sawant, or Pramila Jayapal.
They are generally young.
That group is is leaning farther left and supporting the Black Lives Matter movement and similar issues in a way the older people have not quite embraced.
Particularly we Indians often do have race issue ourselves.
Sanjeev Joshipura: No, I don't disagree with you and that is why, as I said, that is why, as Neha said, this council has been created.
What are the actual things on the ground, you'd be doing to make changes?
How are you planning to reach out?
Neha Dewan: I'll just give you at least the SAB perspective.
We're already developing some of the talking points.
We have a rapid response team that works on messaging with respect to graphics and videos and things like that with respect at least to primarily dispelling some of the incorrect and false and mythical information that's out there.
And then second, to highlight some of the other aspects that are not necessarily being focused upon.
So, our hope is that we can work with the council to disseminate that information.
Sanjeev Joshipura: First of all, I'll just divided into two pieces.
The August 15 event that you know that the Biden-Harris campaign did was a tremendous event.
Frankly, no other event has received this kind of attention in terms of videos by Biden.
That itself is a testament to that outreach to the community. That's number one.
Number two, in terms of forward looking in future, I think we are going to be focused on four or five very specific things at the Indians for Biden National Council.
The overarching theme you've already mentioned is outreach to a generation of voters who might not consider themselves South Asian but consider consider themselves more Indian; outreach in swing states; outreach including to people who have some questions about Biden and to increase the enthusiasm among those that don't have any questions about Biden.
So all of these are the overarching themes.
Within that, in terms of tactical implementation, we will be looking at media outreach, sort of like we're doing now; direct voter outreach -- get out the vote, that kind of thing -- then outreach to leaders of organisations that are active in the Indian community in various swing states and so forth; and a tremendous social media push, which we already just started.
It will take up from a life of its own.
I'm building an advisory council of prominent folks in the community who can support this effort.
We are looking at a very preliminary way right now -- this is not something that I can talk to you about with any degree of certainty or confidence at this moment because I literally took this job two days ago as a volunteer -- but we are looking at further events/fundraisers potentially down the road.
So much of a social media, what, what is it the tack you are planning to take?
Some people have been using ridicule because that seems to work for some.
Is there any strategy out there in place or is it still up in the air.
Yeah, we're not we're not looking at going low.
We have a social media Facebook page and a Twitter handle already.
If you look at those you will find that they are all positive proclamations, positive article, promoting) empathy.
They are not hitting below the belt.
They are not resorting to the kind of tactics that the other side resorts to.
Feature Presentation: Ashish Narsale/Rediff.com