'Where are the 1.3 billion people?'
'I am overwhelmed when I saw my country, my country had come to a standstill.'
Bharatbala Ganapathy of Vande Mataram ]and Jana Gana Mana fame, has created a film on the lockdown.
#UthengeHum, according to him, is the commemoration of India's lockdown, a record of the collective human experience of the world's most populous democracy.
The story of 1.3 billion Indians locked down for more than 70 days to prevent the spread of the coronavirus pandemic.
Bharatbala spoke to Rediff.com's A Ganesh Nadar about the making of this film with 117 people involved in putting it together -- while under lockdown.
What made you think of making this film?
On March 24, 2020, the prime minister declared a lockdown. On the 25th morning I realised that what was happening was unprecedented.
I had to document it, we need to capture it.
At that time I didn't know how long it will last.
In the West documentaries will come out later. It is important to preserve the images for history. That is why I decided to make this film.
How did you get 117 people on board? And how long did it get for everything to roll?
After getting the idea I decided that it had to be pan-India. The police were handling law and order.
I had to get permission, that was the biggest challenge. The 117 people involved, most of them are my crew and some new talent.
We were already spread out. I was lucky to have them.
When you are hungry, you find a solution. Uttar Pradesh was the first to give us permission, that helped in getting us permission in a few other places.
Officials were involved with Covid activities and we had to get permission from them.
Four days later we got permission from Delhi and then the railways.
We had a control room in Mumbai where two editors were working. Everything was virtual.
Did you write a script before you started shooting the film?
No! We just went out and started shooting. I wanted to capture the silence of India, the emptiness.
Where are the 1.3 billion people?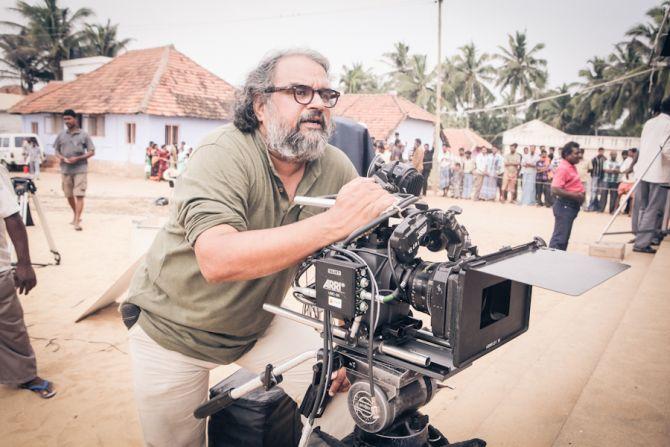 Roads, stations, stadiums, the country was empty.
We filmed the Ganga, we could see the pebbles, it was so clear.
What kind of instructions did you give others who were shooting in various parts of the country?
Each location we knew what we wanted. There was a research team working on that.
At 6 am the shoot would start in Varanasi. They would show me the scene on WhatsApp video, I would accordingly advise them.
So I could watch the shooting in Guwahati, Lucknow, Cochin, Delhi and Tuticorin. I also interviewed people on WhatsApp video.
How difficult was it to compile the film and edit it?
In one way it was difficult as we got more than 100 plus hours of high quality images from all over India.
We had to first compile it and then edit it. I saw the rushes in the last week of May.
When Unlock 1 started we decided to show the emptiness, the pain that people had gone through.
I decided to use the voice of a migrant woman, a mother who says I have to get up and move the next morning. #UthengeHum.
We have not used the entire footage now. This film is four minutes (long).
With almost everyone stuck indoors, how did you co-ordinate the effort?
In Mumbai I went out with the team. Other places, it was done on the phone, WhatsApp, Facetime and Zoom.
Mere ghar mein paani hai, mere ghar mein zoom bhi hai.
Are you satisfied with the end product?
I am overwhelmed when I saw my country, my country had come to a standstill.
The emptiness, the loneliness, I was moved by it, I was emotionally engaged by it.
If you don't feel it, how can you create it?
I am satisfied and also grateful to the people who were outside to work for it.
Do you think your film will inspire people, as the name suggests? How do you think it will inspire people?
I think that everybody has to get up and move on.
Everybody wants to move forward. I have just presented it.
The audience will find an emotional connection.
How do you think film-making will change after the lockdown?
I think the process will be different. We will be making the same films, but with precautions.
It depends on what kind of stories we want to tell.
There will be more purposeful ones, there will be more engaging stories.